The parents of an NBC News freelance cameraman who caught Ebola while working in Liberia say their son is "tender but cheerful today" as he awaits his return home to the United States.
"Obviously he is scared and worried," Dr. Mitchell Levy told TODAY's Tamron Hall Friday. His son, Ashoka Mukpo, has been "seeing the death and tragedy and now it's really hit home for him. But his spirits are better today."
Mukpo so far has shown mild symptoms of the disease. He is being treated in the Liberian capital of Monrovia and will be flown back this weekend to the United States for treatment, said his mother, Diana Mukpo.
"I think the enormous anxiety that I have as a mother or that we share as parents is the delay between now and him leaving on Sunday," she told Hall. She said her son has received medical attention from the Doctors without Borders unit in Monrovia and great assistance from the U.S. State Department.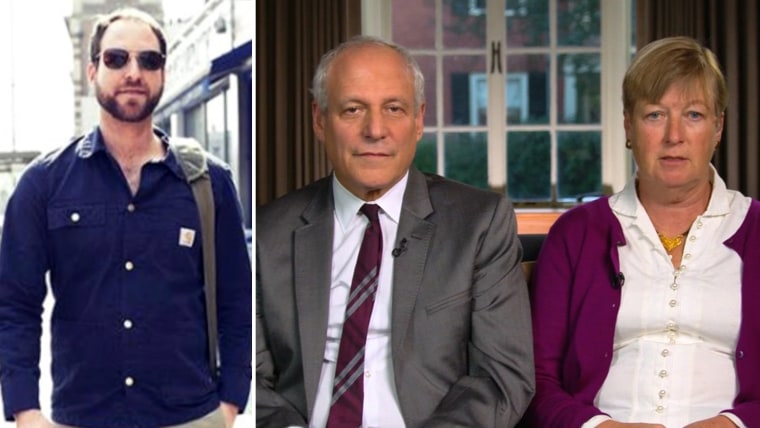 "I believe they're doing things as quickly as they can but that doesn't take away from the fact that we know he's going to be in Liberia until Sunday, and I really can only hope and pray that his symptoms don't worsen too quickly," she said.
NBC News hired the American cameraman on Tuesday to be the second cameraman for its chief medical editor and correspondent, Dr. Nancy Snyderman, who spoke Friday to TODAY's Matt Lauer by phone because all of the camera gear she and her team used were being disinfected.
Snyderman said Ashoka Mukpo had joined her 72 hours prior to realizing he felt ill.
"We shared a work space. We shared vehicles. We shared equipment," she said. "But everyone here is hyper-alert. We have not been in close proximity. No one shakes hands. There's no hugging."

Because her team has been "hyper-vigilant" about taking other precautions, Snyderman believes everyone is at an extremely low risk of falling sick. They are being flown back to the United States "to send the right message" and plan to quarantine and monitor themselves upon their return.
Nancy Writebol, an American missionary who contracted Ebola while working in Liberia but was cured following treatment in Atlanta, sent Lauer an email to express "how sorry we were to hear the news" about Mukpo.
"Please know that we will be praying for all of you. We're praying that God will bring this deadly virus to an end," she said in her note.
Follow TODAY.com writer Eun Kyung Kim on Google+ or on Twitter.