Kevin Bond and fiance Samantha Stevens know what it's like to feel the isolation and exhausting highs and lows of having a child in need of an organ transplant, so now they want to help other families in need.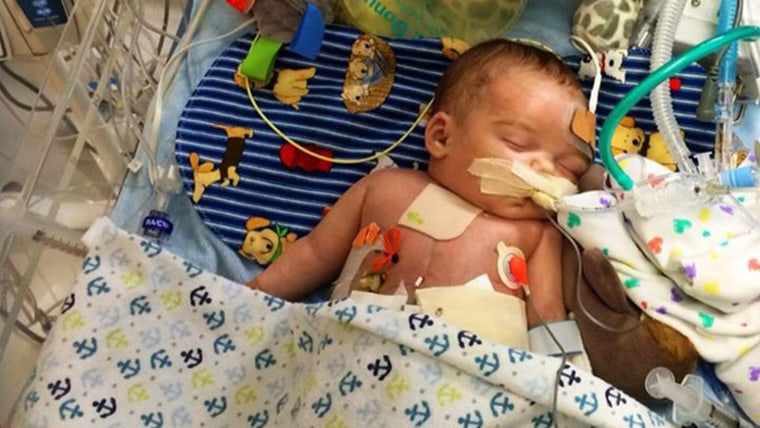 After a generous outpouring of support exceeded their fundraising goal to help with expenses related to a heart transplant for their 2-month-old son, Hudson, the couple are now donating any additional money raised to help other families in similar situations. They have estimated they will need $125,000 for Hudson's care, and have raised $138,000 thus far on their donation page on the Children's Organ Transplant Association website. 
"I don't want anyone to ever feel like we did and to feel isolated,'' Bond told TODAY.com. "All the goodwill that we've received from around the world, I want to pay that forward." 
Seven days after Hudson was born, he began struggling to breathe, and by that night he was attached to a heart-lung machine. There had been no indication when he was in the womb or first born that there was a problem.
Hudson was diagnosed with cardiomyopathy, a disease of the heart muscle, and needs a heart transplant. The couple have since relocated from Atlanta to Durham, North Carolina, to be with their son while he is treated at Duke University Hospital.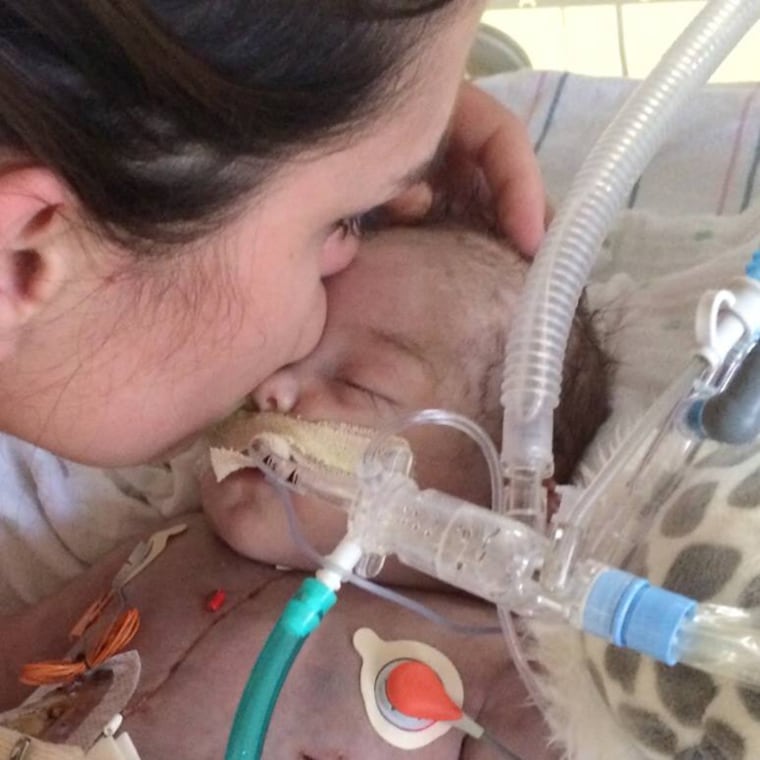 "It's a roller coaster,'' said Bond, a freelance photographer and videographer for NBC. "The ups are very high and the downs are absolutely frightening. When he's having a bad day and he's really sick, I've never been so terrified in my life. When he's awake and happy, it's the best feeling in the world. It's incredibly exhausting."

After Hudson was diagnosed, one of the first organizations to reach out was Hayden's Hope, started by ESPN host Dari Nowkah and his wife, Jenn, whose son, Hayden, died at 39 days old in 2011 while waiting for a heart transplant. Hayden's Hope, which works in conjunction with the Children's Organ Transplant Association (COTA), looks to help families cover transplant-related expenses along with travel costs, long stays away from home and potential job loss. 
"Hayden's Hope was the first one to reach out and tell us about COTA,'' Bond said. "They gave us a donation in Hayden's name, and that meant so much to us that we want to pay it forward."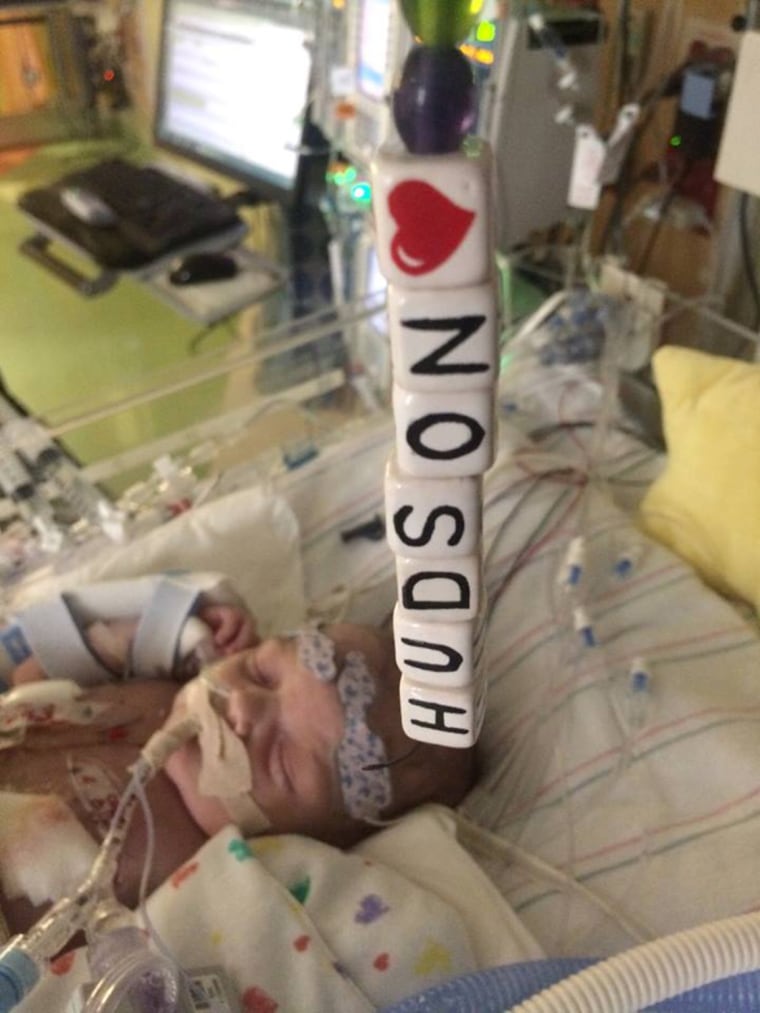 Hudson's cause also benefited from a controversy involving Facebook. After Bond and Stevens paid for a boosted post to promote their Facebook page, Hudson's Heart, Bond said that he was notified on Sept. 4 by Facebook that it had been rejected. The social media giant said the ad would not be allowed because the image associated with it, which showed Hudson in a hospital bed, was "scary, gory, or sensational and evokes a negative response."
After the story was publicized and provoked an outcry against Facebook's policy, the company responded with an apology a week later and gave the family a $10,000 credit in advertising money for Facebook, according to Bond. Bond and Stevens used half for Hudson's cause and gave the other $5,000 to the family of a 4-year-old girl in Columbia, South Carolina, who is awaiting a transplant. The attention generated by the Facebook controversy also jump-started donations for Hudson, helping the Bond and Stevens achieve their fund-raising goal and more. 
"To be honest, we were at a pretty low point [when Facebook initially rejected the ad],'' Bond said. "We were trying to raise funds, and we had that venue shut off by Facebook. Now it's just been the polar opposite. It's kind of a peak after the valley, and it was a really nice turnaround. [The controversy] turned out to be something that helped our son and a lot of other kids." 
The ordeal also made Bond and Stevens realize they weren't alone. 
"When Hudson's story and the story of his photo being rejected came out, people in droves posted pictures of their own kids in the hospital, looking just like Hudson looked, in solidarity with us,'' Bond said. "That was pretty amazing."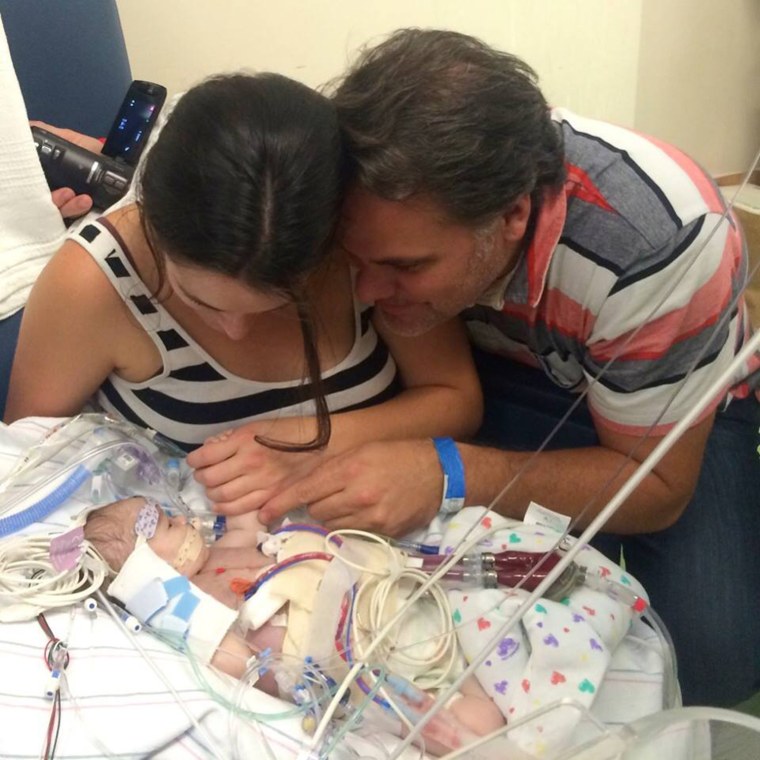 The extra money raised by Bond and Stevens will go to a pool of funding disbursed by COTA, which allocates it to member families in need. 

"Every one of our families across the country is eligible for reimbursement,'' COTA president and CEO Rick Lofgren told TODAY.com. "Any of our families who didn't have as much success with fundraising, or the funds raised for their child have already been used, they would be able to access the funds that are raised here. [Bond] has taken the whole issue and paid it forward. He believes that it's a much bigger issue than just his own child." 
Families working with COTA have raised sums ranging from $200 to $100,000. Lofgren said the typical range is $25,000 to $40,000, so the money raised by Bond and Stevens is well above average. It will go to help with copays, insurance premiums, immune system medication and future transplants for Hudson later in life.
There is no timetable for when Hudson will receive his heart transplant. "There's so many factors — geography, blood type, where are we on the list,'' Bond said. "It could be tomorrow, it could be months. We just try to keep him stable and healthy so when one is available, he can undergo surgery and successfully complete it." 
As Bond and Stevens wait for that day, they hope to help give other parents the peace of mind that the medical care for their child is covered and will not bury them financially. 
"Whatever we don't need, we just want other families to have,'' Bond said. "No one should feel like they are going through this alone."