Matt Ficarra wasn't going to let the 2011 boating accident that left him paralyzed stop him from achieving his dream: to walk down the aisle at his own wedding.
With the help of staffers at Good Shepherd Rehabilitation Network in Allentown, Pennsylvania, Ficarra used a mechanical exoskeleton to help him stand, walk, and reach his bride-to-be, Jordan Basile, at their Oct. 18 ceremony in Syracuse, New York.
"It was an amazing sense of accomplishment!" Ficarra told TODAY.com via email, while honeymooning in Jamaica. "I knew I could do it, but I was very anxious the hour leading up to it. It was a mix of many different emotions, but I definitely enjoyed the ride."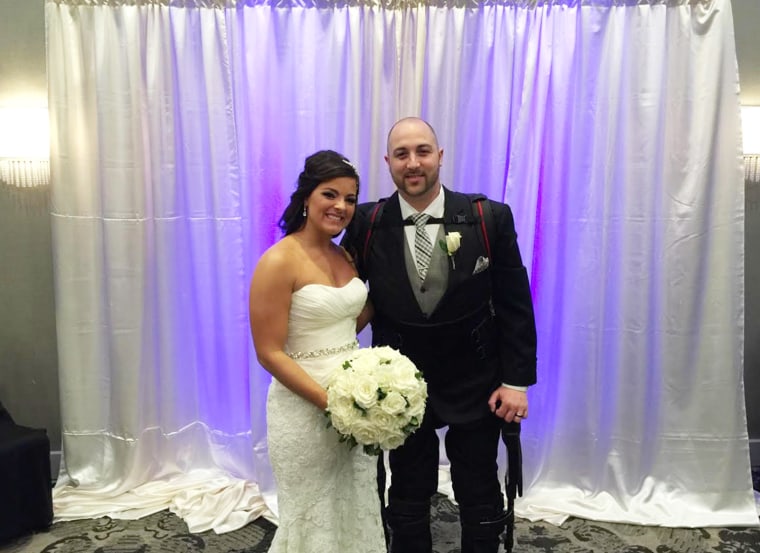 Flanked by physical therapists Frank Hyland and Nicole Smith, Ficarra was showered with applause as he used the exoskeleton and a walker to walk down the aisle for his wedding last Saturday. Syracuse.com photojournalist Dennis Nett captured video highlights from the ceremony, including some of the vows Ficarra exchanged with Basile.
"Jordan, you are my best friend," Ficarra told her. "I'm a far better person than I was before we got together."
Basile offered her own rave reviews. "You manage to make me laugh, smile and relax, even in the most difficult of times," she said, choking up. "My love for you is indescribable."
After officiant Ted Limpert pronounced them husband and wife, the couple strolled back down the aisle, while Stevie Wonder's "Signed, Sealed, Delivered I'm Yours" played in the background.
Hyland, vice president of rehabilitation services at Good Shepherd, told TODAY.com he was moved by the ceremony. "I've been to many weddings, but this is probably the most powerful wedding that I've ever been to," he said. "When they turned around and walked down the aisle, seriously — I'm not trying to be corny — there wasn't a dry eye. And when he got to the end of the aisle, they played Elton John's 'I'm Still Standing.'"
For Ficarra, it's been a long journey since July 30, 2011, when he slipped while jumping off a boat into shallow water, an accident which left him paralyzed from the chest down. Although physical therapy would be trying at times, the years that followed would see him driving, working and living on his own — as well as proposing to Basile last December.
"Jordan is my rock, always there for me, giving me tough love," he told TODAY.com. "[She] will help if I need it but not if I'm just being lazy. Since day one, when I couldn't drive, work, take care of myself, etc., she has never once made me feel like I had a disability — probably because I've never accepted it as one."
After his engagement, Ficarra learned about the exoskeleton, which would enable him to stand and walk. Since a Syracuse veterans' hospital limited exoskeleton use to military personnel, Ficarra contacted the next-closest option: Good Shepherd — a 3½-hour drive from his Syracuse home.
There, he trained for seven months with Hyland and Smith with the goal of walking for less than an hour, so that he could walk down the aisle and make it through his wedding ceremony on his feet.
"We were pretty confident after his first sessions that we could get him walking down the aisle," said Hyland,.
"He has a really wonderful work ethic," added Smith. "He was a lacrosse player in college, so he still had that athlete's mentality of achieving any goal that he wanted to."
The night before the wedding, Ficarra did one more test walk with the exoskeleton, and once again, Hyland and Smith were there to make sure everything was OK.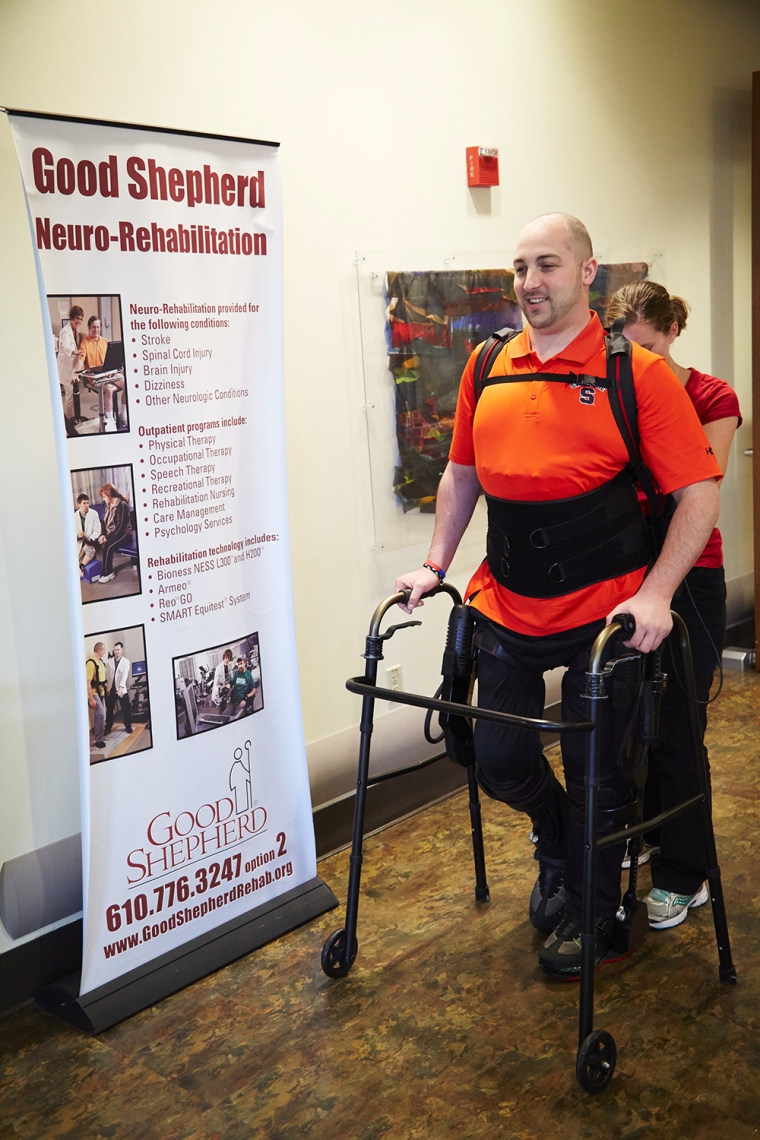 Ficarra said he was grateful for their support. "They put me at ease while making me feel like a part of their amazing culture at Good Shepherd," he wrote. "I started there as a patient, became great friends, and we are now family. I will forever be in their debt as they truly made a dream come true!"
Even when rehab yielded moments of frustration, Ficarra found motivation in another friend: Massachusetts resident Chris Boshar, who is paralyzed below the neck. "Through all his struggles, [he] remains positive, and stays hopeful," Ficarra said. "[I know] if he had a shot at [walking, he] would've worked equally [hard], if not harder to achieve his goals and regain a desirable quality of life."
Ficarra hopes his story serves as an example for other people who live with disabilities. "I really want people who are paralyzed to realize it always can, and will, get better," he said. "If they remain positive, work hard, and try and set personal goals for themselves, and work hard each day, it will get better."
His friends are doing their part. They've set up a YouCaring.com page with the hope that crowd-sourced fundraising effort will pay for Ficarra's own exoskeleton for home use. According to that page, about $1,900 had been raised toward the $130,000 goal as of Tuesday afternoon, and the home version of the device won't be available until next summer.
That may require more patience for Ficarra, but he's remaining optimistic.
"We are in an era of science and technology where anything is possible," he said, "and the future is now."
Follow TODAY.com writer Chris Serico on Twitter.