Paralyzed five years ago while making a tackle in a Luther College football game, Chris Norton recently made some significant strides toward a promising future.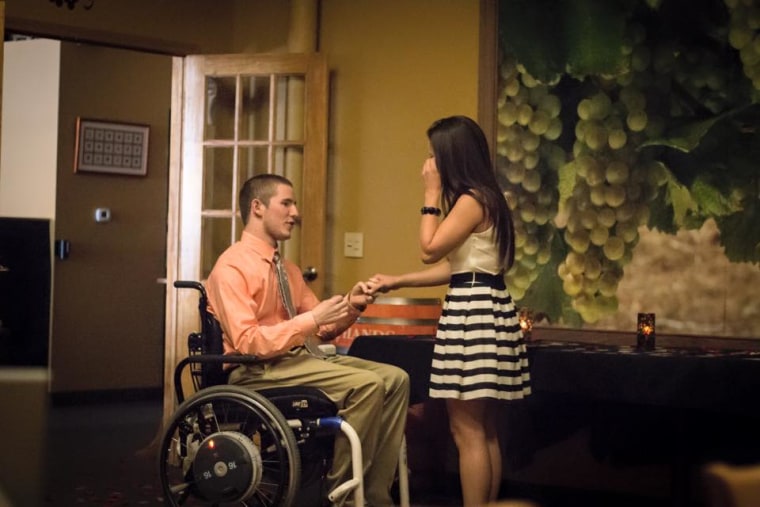 On Saturday, the Altoona, Iowa, resident proposed to his girlfriend, Emily Summers, who not only said yes, but also helped him rise to his feet the next day to accept his college diploma.
"I was nervous [about the walk], because I just wanted to really showcase how far I've come," Norton told TODAY.com. "I just really wanted to show everyone that I succeeded, that I've really come a long way."
Norton has endured nearly five years of grueling rehabilitation to recover from the Oct. 16, 2010 collision that compressed his spine and left him numb below the neck. There's still more work to be done, but for the moment, he's happy he can take a moment to reflect on his progress.
"[Doctors said] I had a 3 percent chance of ever regaining feeling below my neck," Norton said. "The only thing I could do after surgery was nod my head, and I could hardly move my head."
Norton focused on his faith, and found a strong support system in his family. His older sister, Alex, dedicated herself to her brother's recovery after graduating from nursing school. That involved moving to a nearby town in Iowa, and driving him twice a week to physical therapy at the Mayo Clinic in Rochester, Minnesota — three hours in each direction.
"I wouldn't have been able to walk on the stage [to receive a diploma] if it wasn't for her," he said. "She literally made me feel comfortable enough to go back to school, and helped with that transition."
When he met Summers in August 2013 while visiting friends at Iowa State University, Norton found a new source of motivation. Summers was a student at the time, and they started dating almost exactly two years after his injury — on Oct. 19, 2013. According to Norton, "we've been inseparable ever since," and for Summers, it "didn't take long to fall in love with him."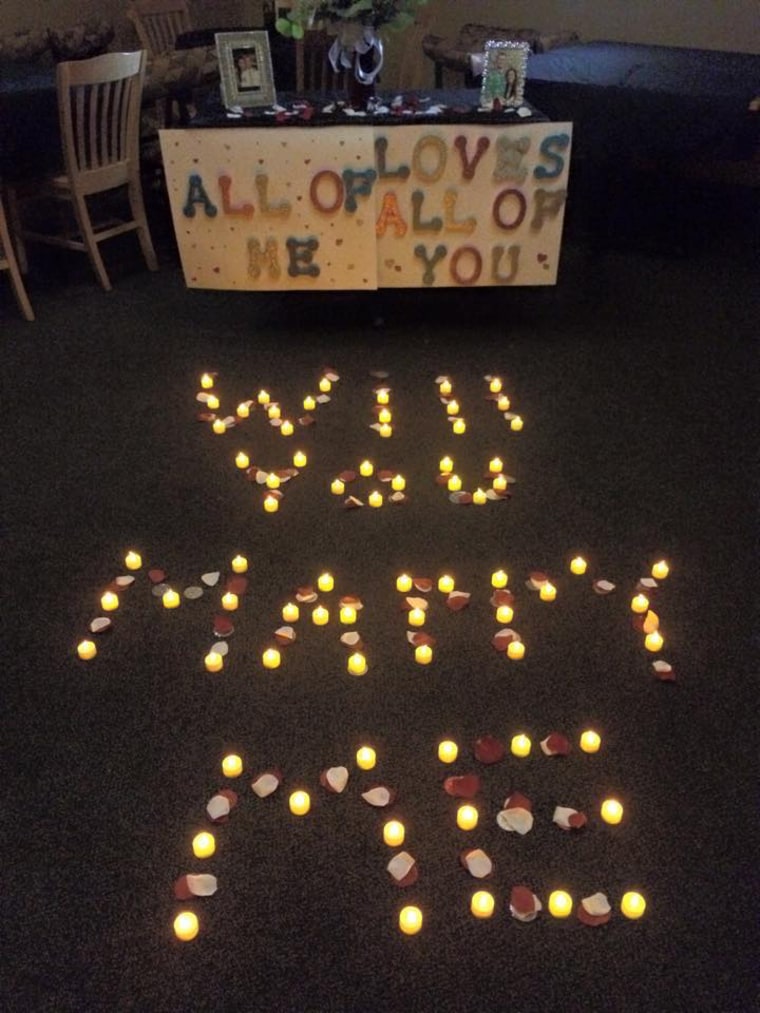 His injury didn't have any negative impact on their relationship, she said. "For me, I did not see him in a wheelchair at all," she said. "I just saw who he was as a person."
Summers had always been a sucker for grandiose marriage proposals that went viral online, so Norton knew he had to step it up when the time came to pop the question. With the help of family and friends, he filled the banquet room of the Rubaiyat restaurant in Decorah, Iowa, with photos, signs that read "All of me loves all of you" (lyrics from a John Legend song), and rose petals and candles that spelled out "Will you marry me?" He told her a graduation gift awaited her at the restaurant.
"I knew I had to set the bar high for this and make it as romantic as I could," Norton said. "I was so nervous, I couldn't eat the whole day."
Summers said yes, of course.
"I remember seeing the ring, sitting on his lap, and I was like, 'Oh, my gosh!'" she said, laughing. "I think I kept saying that, because I was in shock. I forgot a little bit of what he said at first, because I was in shock, and then he got a little bit emotional, because I started crying."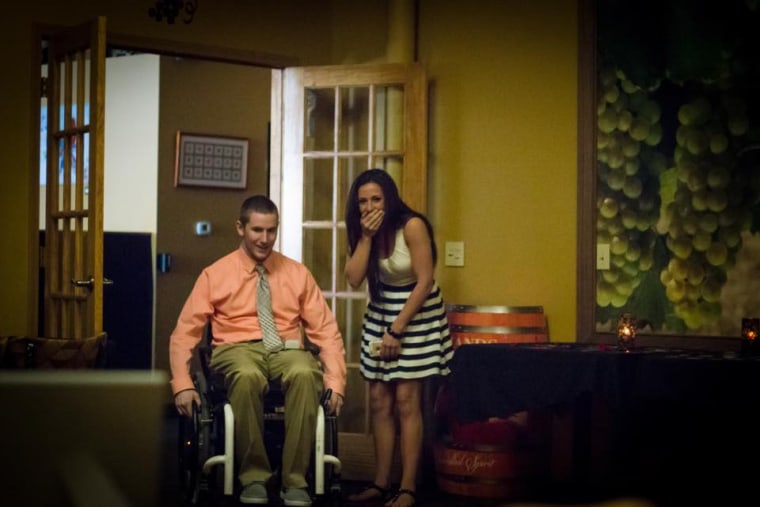 There would be even more emotion the next day, when the engaged couple teamed up for Norton's graduation ceremony. There, Summers helped Norton to his feet to accept his diploma, inspiring cheers from family, friends and total strangers in attendance.
It was something Norton dedicated himself to one year earlier, when he declared that he'd stand, walk and grab that degree. "I didn't know how I was going to do it, even a couple of weeks before graduation," he said. "Emily was just a huge support. Just to be able to do it with her left me at ease, and when it came time to walk, I just focused on what I had to do. [But] you couldn't block out the noise from the audience; there was so much energy, and it caught me off-guard."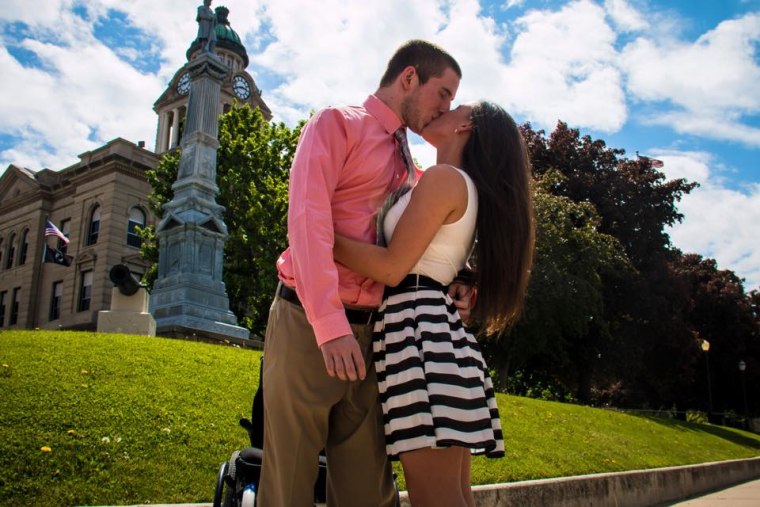 For Summers, the combination of the emotion and ovation was overwhelming. "I was trying to stay focused, but [it was great] just hearing everyone cheer so loud, and just the atmosphere in the room," she said. "I remember looking at him and just smiling, and then thinking, 'Wait a second, I gotta focus!' But it was amazing. Being there, and seeing all of the hard work that Chris has put into making it happen, you can just tell how much he has inspired other people."
That inspiration has led to new opportunities for Norton. Since 2012, he's been working as a motivational speaker. He teamed up with his father, Terry, and Christy Hayes to write a book, "The Power of Faith When Tragedy Strikes," slated for release this summer or fall. And on Tuesday, his Sci Can Foundation — which aims to help individuals with spinal cord injuries and other neuromuscular deficiencies — donated $60,000 in grant money to Des Moines University.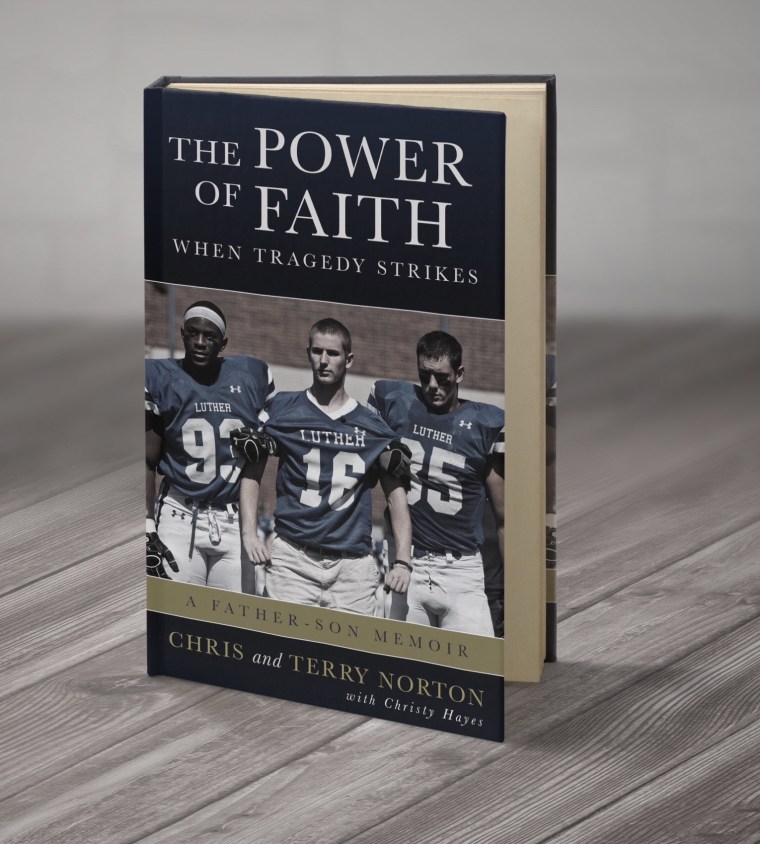 "I just share my story, and spread my message: Life is about your responses, not your circumstances," he said. "You determine your success and happiness by how you respond to those obstacles."
Follow TODAY.com writer Chris Serico on Twitter.