Right now, 115,000 people are waiting for an organ transplant, and someone is added to the national waiting list every 10 minutes. Sadly, 20 people die each day waiting for a transplant.
For Sarra Rexroad, a transplant wasn't an option. Rexroad, 33, was diagnosed with liver failure in June 2017. Her health declined so rapidly, it was too late to consider a transplant and she passed away in September.
Her parents, Teri and John Rexroad of Killingworth, Connecticut, have barely had time to grieve: Teri, 71, was diagnosed with end-stage kidney failure last June and was fighting for her life. Yet for Teri, an organ transplant was an option, and her husband immediately volunteered.
"We went to that first meeting to discuss the possibility for her being able to receive a transplant. And I went saying, 'I want to be a candidate,'" John, 58, recounted. "I knew I was going to pursue organ donation as soon as our daughter became sick."
But at 58, was he too old to donate? John went through months of testing to confirm he didn't have any underlying medical issues. A multidisciplinary committee including a surgeon, nephrologist, dietitian, social worker, pharmacist and living donor advocate met with him and reviewed all of his medical records. In December, the committee gave John the all clear: He was a match for his wife.
Had he not been, the couple would have pursued a "paired match," which is a transplant option for candidates who have a living donor who is medically able and willing, but cannot donate a kidney to their intended candidate because they are incompatible.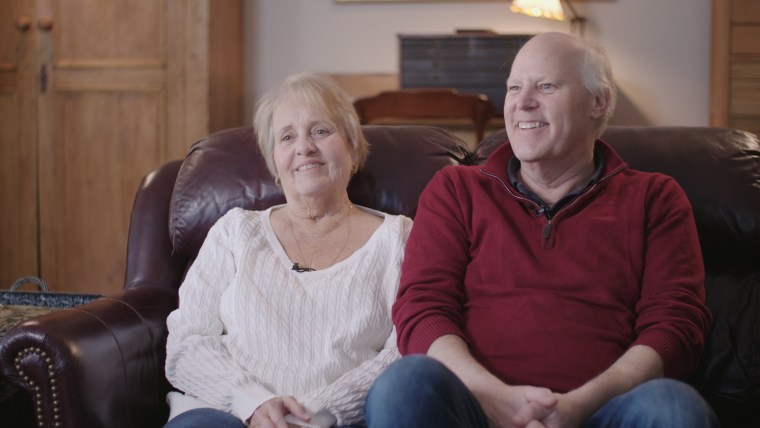 "It's almost a miracle," Teri said. "It's certainly a blessing that it worked out the way it did ... We were optimistic, but it was a journey."
The end of that journey came in early January, when Teri and John underwent surgeries on the same day.
"I'm just thrilled to be able to do it," John told TODAY, the day before they left home for the hospital. "We've been together for 40 years. I married my best friend. I mean, who wouldn't help their best friend?"
Teri had been on dialysis for six months, which required her to go to the treatment center every other day for over 3 hours each time. She experienced side effects like muscle cramps, dizziness, nausea and general fatigue.
"It's been watching (her) decline since she's been on dialysis," John noted. "It doesn't just steal the time that you're in dialysis. It steals the rest of that time from you."
While John was eager for surgery day, his procedure was arguably more involved and serious than his wife's surgery.
"It's serious because we're taking a healthy person and putting them through a surgery that they don't need," explained Dr. Bejon Maneckshana, a transplant surgeon at Hartford HealthCare. "It is a complicated and complex surgery because of the risk of injury to surrounding organs and the risk of bleeding. Plus, the long-term risk of leaving them with one kidney. But these operations have good outcomes."
Maneckshana added that living donation is safe and effective, and allows the donor to get back to his or her usual life and lifestyle quickly.
Doctors were happy with how the surgeries went, and the couple returned home four days later.
"She was dancing circles around me in the hospital," John remembered. "(It was) an instant feeling better for her ... I was surprised at how long my recovery was going to be and how much more of a major surgery it was for me. But it's still worth it in every aspect, so I'd do it again in a heartbeat."
John doesn't need to change anything about his life, post-surgery. He just needs to keep himself healthy as any normal person would by monitoring his blood pressure, body weight and blood sugar, noted Maneckshana.
Teri should have many healthy years ahead of her: Living kidneys tend to last longer than deceased donor kidneys, Maneckshana said. Though, she will be on anti-rejection medications for the rest of her life. While her box of pills seemed overwhelming at first, "it's very doable," she said after a few days on the new regimen.
"It's all good. All good," Teri said. "We're very, very lucky people. And we don't forget that."
If you're interested in becoming a living organ donor, call your local transplant center to learn more. Some centers may have age maximums and minimums. For example, at Hartford Hospital, you must be over 20 years old to donate.