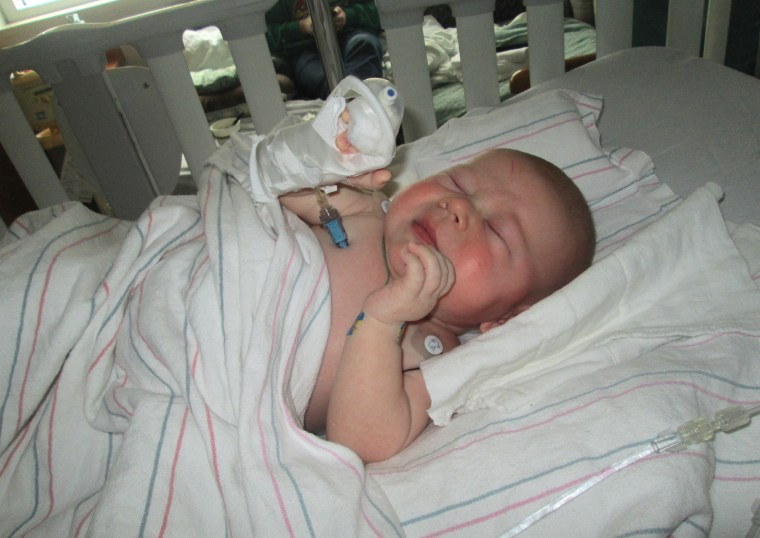 A young mother who survived a rare form of cancer and who wanted to help others has ended up saving the life of her own newborn son, researchers reported on Monday.

Megan Flynn discovered she had a rare genetic mutation that caused her own case of ovarian cancer when she was just 17. When doctors saw it, they advised her to get her kids tested. 
Flynn, who was pregnant, discovered her baby had the same mutation. He grew an extremely rare lung tumor, which surgeons found and removed when he was just three months old.
"We went into this really just hoping that we could help other people," Flynn told NBC News. "I wouldn't have wished we would be helping ourselves, but we really did."
Doctors are reporting on the series of discoveries that link Flynn's rare childhood ovarian tumor with a genetic mutation that caused her baby boy's seemingly unrelated lung tumor. The team at Children's Hospitals and Clinics of Minnesota were mostly trying to gather information on tumors caused by the mutation in a gene called DICER1.
They never expected that their cancer registry would save a child's life, and in so dramatic a fashion, they told the annual meeting of the American Society of Clinical Oncology.
"The person that she really helped was her baby," said Dr. Kris Ann Schultz, who is helping organize the registry. "I think she saved her baby's life."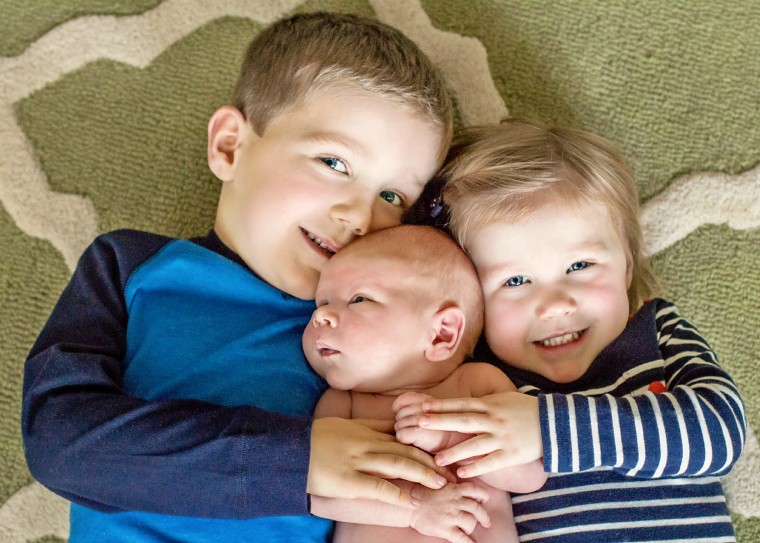 And the case shows how genetic research can connect the dots between seemingly unrelated types of cancer.
Flynn, now 34, had ovarian cancer when she was just 17 years old. It was an extremely rare type of cancer called an ovarian stromal tumor.
She learned that a team at Children's Hospitals and Clinics of Minnesota had started a cancer registry – a list of people with rare genetic cancers. She signed up, got a blood test, and learned she had a mutation in a gene called DICER1.
In 2009, the same team found that DICER1 mutations could cause a seemingly unrelated form of childhood cancer called pleuropulmonary blastoma, or PPB. It's so rare that only 10 to 20 children a year are diagnosed with it, but it's unusually aggressive. Identified and treated early, it has a 90 percent cure rate but doctors rarely expect to find lung cancer in newborns or young children.
If not treated correctly, children only have about a 40 percent chance of survival. The mutation is also associated with some rare thyroid cancers, kidney cancers, and several other types of tumor.
So when Flynn tested positive for DICER1, Schultz worried about Flynn's kids. Flynn had two children and was pregnant with a third when she had the test.
Flynn was thinking about ovarian cancer, like the type she had, and the risk she might pass the mutation to her daughter Olivia, who is now 3.
Schultz was thinking about PPB.
As soon as Andrew was born last October, he was tested. And the test came back positive.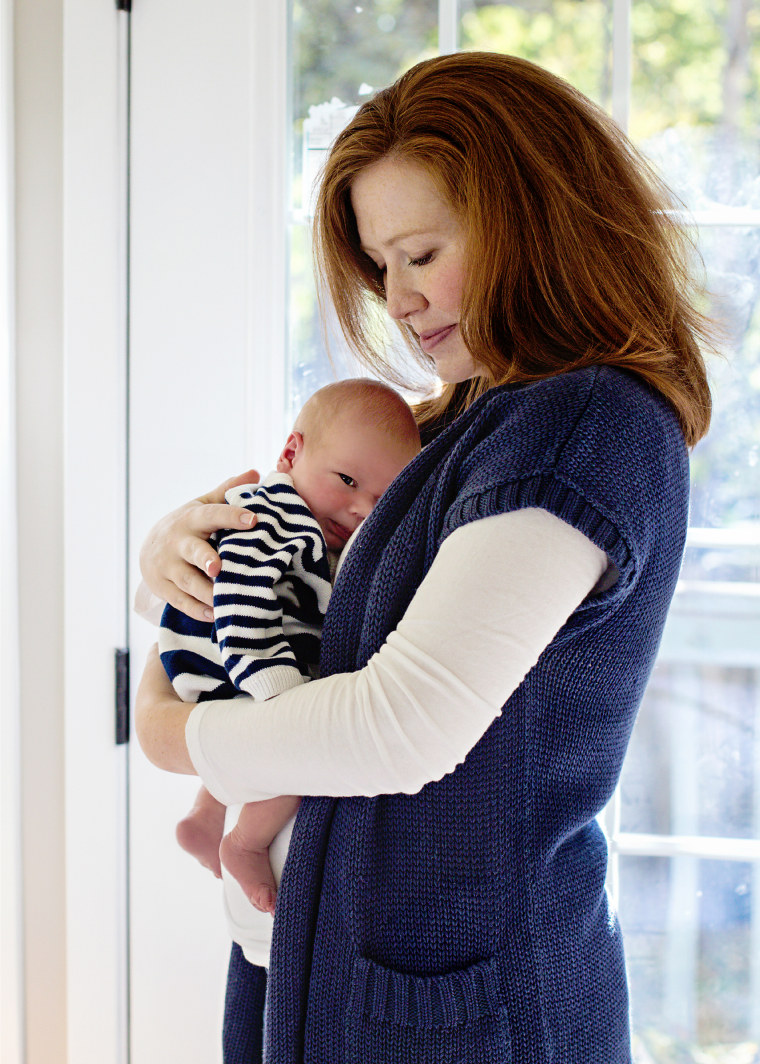 "I knew there's a chance you could pass it on to your kids," Flynn said, choking up as she spoke. "At the time I thought maybe it stops with me. It was hard for me as his mom knowing that I gave that to him, feeling it was my fault."

Andrew had a chest x-ray the day he was born. "We had to explain to everybody why he was having it," Flynn said. He looked fine.
But Schultz knew it was important to stay on top of the matter, just in case. "One of the great hopes of this research is to help doctors find these tumors when they are still type 1," she said. At that early stage, they can be removed safely.
The odds were vanishingly rare that Andrew would develop PPB. But he did. When he was just three months old, a second CT scan proved Flynn's worst fears true, and a surgical team at Children's pulled a golf-ball-sized tumor out of Andrew's tiny lung.
"Now that we know what to look for, we were able to do the surgery in a way that accounted for what the tumor was," Schultz said. "It came out as early as it could." It's important to remove this type of tumor carefully, not breaking or cutting it open to spill cells back into the lung, and the surgical team knew what to do.
Andrew had seemed perfectly healthy and had no symptoms at all. "We could be with our 7-month-old baby now with a big old lump in his chest and not knowing anything was wrong," Flynn said.
He'll still have to be monitored, but Andrew has recovered beautifully, said Flynn, who works in international finance for General Mills. "He's been super normal," she said. "I was able to return to work on schedule in February and he was in day care. His scar is becoming almost invisible. I don't know how he is going to pick up chicks."
The process was surreal for Flynn's husband, Michael. He works for the company that makes the software used to image Andrew's tumor.
"I have seen patients on that table all the time," Michael Flynn said. "We would never have been able to see that lump inside Andrew without that technology."
Schultz says it's impossible to say right now how many tumors are caused by DICER1 mutations, or even what type.
"I know the numbers are falsely low," she said. "The big cancer registries for the United States don't include many, many, many people with these tumors."
Using cash raised by charities such as St. Baldrick's Foundation in Minneapolis and the Pine Tree Apple Tennis Classic, the team at Children's has enrolled 63 people in its ovarian cancer stromal tumor registry so far. "Our focus at the moment is trying to understand the relationship between DICER1 and these rare tumors of the ovary," Schultz said. They're collecting information from families and trying to persuade people to get blood tests for the mutation.
And its PPB registry has helped identify 400 cases.
Flynn had her two other children, Olivia 5 and Thomas, 3, tested for DICER1. Olivia doesn't have the mutation, but Thomas does. However, he's almost past the dangerous young age when PPB tumors develop and so far he shows no sign of any disease.
Flynn's close relatives are also considering testing. It's a frightening prospect for those who have not yet begun families, she said. But it's important, says Schultz. Only by pooling information from lots of people can doctors figure out the causes of such rare cancers, and find the best ways to treat them.
And in this case, it flagged the danger before anyone would ever have known to look for it.
"Andrew is super cute and healthy and we are so, so thankful," says Flynn.
"We feel like we are very, very, very lucky parents," echoes her husband Michael.
NBC News producer Stacey Naggiar contributed to this story.