At age 12, Dana Vollmer was the youngest swimmer competing at the 2000 U.S. Olympic trials — and she hasn't stopped swimming since.
Today, Vollmer is 28 years old and has already earned four Olympic gold medals, 32 international medals and set six (yes, six!) world records. Just this week, 17 months after having a baby, Vollmer won a bronze medal in the 100 butterfly and a silver medal in the 4x100 freestyle.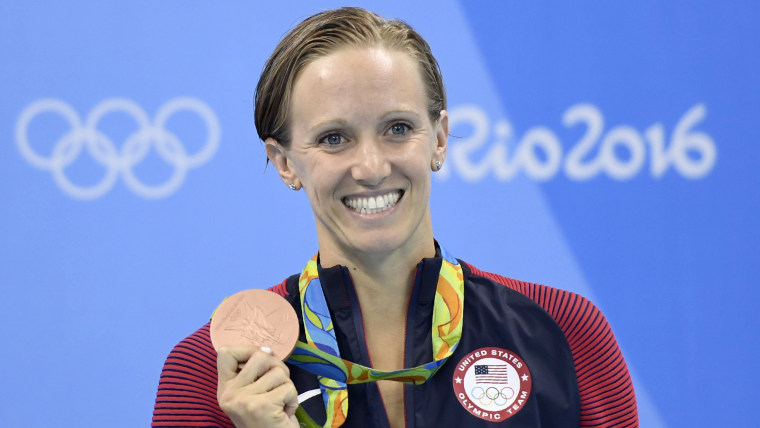 WATCH ON NBCOLYMPICS.COM: Dana Vollmer, Cody Miller and Chase Kalisz talk about their performances
The big question everyone asks: How do you manage it all — and do it all so well?
"Time management is key," she told TODAY. "I kind of retired in 2013 and had my son. And my whole goal with this comeback was that I would always feel like my son came first. I have tons of super supportive moms I talk to all the time, and they always said you need some alone time for yourself. And that's what swimming became for me."
RELATED: The ancient practice that has Michael Phelps sporting mysterious spots
Below, Vollmer shared a few other secrets to her success, in life and in the pool:
1. Wake up early.
Vollmer wakes up at 4:30 a.m., which gives her time to train before her son, Arlen, wakes up at 7:30 or 8 a.m.
"I get home at 11:30 a.m. and don't feel like I've missed that much. Then I have the rest of the day with him," she explained.
2. Stick to a routine.
"I'm here to compete, I'm here to win medals for the U.S. There's plenty of time for me to tour around and see things," Vollmer said. "It can be overwhelming at first, especially if it's your first Olympic Games … The veterans keep reminding everyone (to) stay calm, stay in your routine, go to bed when you would go to bed."
RELATED: Is the US women's gymnastics team the best squad ever?
3. Eat breakfast.
Vollmer swears by a recipe from Shane Gould, an Australian women's swimmer who won three gold medals at the 1972 Games in Munich.
It's plain white rice with peanut butter, shredded sliced almonds and a little honey. Vollmer is gluten-free and has an egg allergy, but the rice, almonds and honey are easy to come by in the village cafeteria. (She brought her own peanut butter!)
Vollmer ate it every morning at the London Olympics and has continued to eat it every day in Rio.
RELATED: Gisele Bundchen almost cried from nerves before her opening ceremony runway walk
4. Find your motivation.
Before she competes, Vollmer writes one word on her right foot, since it's the front leg that she jumps off with. It's the last thing she sees before diving into the pool.
"I try to find one word that when I think about that word, it's energizing and it makes my whole body work," she said.
For the preliminaries and semifinals, she used "forward." For the finals, she wrote her son's name, "Arlen."
"For finals, I actually missed my son so much that day that I decided I would write his name on my foot," she explained. "Instead of being sad that I missed him, that I wanted him to be really proud of me, it was about standing up there and making him proud. I wouldn't want him to look back and be like, 'Mommy missed me so bad that she didn't have a good swim.' I wanted him to know he empowered me to swim really well."
This #mommaonamission, as she calls herself, is on a roll!
For more health and wellness advice, sign up for our One Small Thing newsletter.