Olympic figure skater Gracie Gold has announced that she is taking time off "to seek some professional help" only five months before the start of the Winter Olympics.
Gold, 22, a two-time U.S. champion and a 2014 Olympic bronze medalist, released a statement to USA Today saying she would be stepping away from the sport until November.
She did not specify what type of help she will be receiving and what she will be treated for.
"My passion for skating and training remains strong," Gold said in the statement. "However, after recent struggles on and off the ice, I realize I need to seek some professional help and will be taking some time off while preparing for my Grand Prix assignments. This time will help me become a stronger person, which I believe will be reflected in my skating performances as well."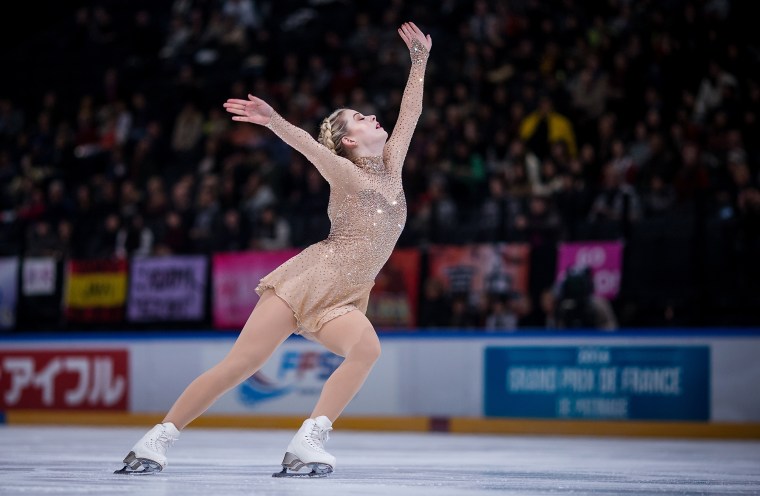 There are three women's spots on the U.S. Olympic figure skating team for the 2018 Winter Games in Pyeongchang, South Korea, which begin in February. After winning the U.S. championships last year, Gold is coming off a sixth-place finish at this year's event, which meant she failed to qualify for the world championships for the first time since 2012.
Gold has admitted in the past to struggles with body-image issues.
"A lot of us struggle with (weight issues)," she told TODAY Style in July. "And maybe it's a bit closeted — I don't want to speak for all figure skaters. But I don't blame the sport for it. I think that we all have to take responsibility for ourselves. That's the game I got into, and it comes with the territory."
She described figure skating as "a lean-body sport."
"Definitely athletes in the spotlight — figure skaters, especially — are under pressure to fit a certain mold, and fit a certain body type," Gold said. "It's really easy to be critical of ourselves in that way ... oh, this person's arms look a little bigger. It's easy to start playing that game. But people have different builds. I think a lot of athletes struggle with that."
Earlier this week, the mother of Russian figure skater Yulia Lipnitskaya, told Russian news agency Tass that her daughter was retiring from the sport at 19 after undergoing a three-month treatment for anorexia. Lipnitskaya became the youngest Winter Olympic gold medalist in Russian history at 15 years old when she was part of the team that took gold in Sochi.
Gold's family has also been going through a difficult time.
Her father, Dr. Carl Gold, has been suspended from practicing medicine for one year after state officials in Illinois were informed that he had "diverted Schedule II Controlled Substances" from a local hospital for personal use, according to The State Journal-Register. He filed a lawsuit in February with the aim of getting his license reinstated.
Follow TODAY.com writer Scott Stump on Twitter.