For Amy Van Dyken-Rouen, Thursday marked another great stride in the wake of her spinal-cord injury. 
The six-time Olympic swimming champion was released from Craig Hospital in Denver, where she has been receiving treatment since severing her spinal cord in June in an accident that left her paralyzed below the waist.
"I'm a thousand times better," she said on Thursday at the time of her release. "Physically ... and mentally as well."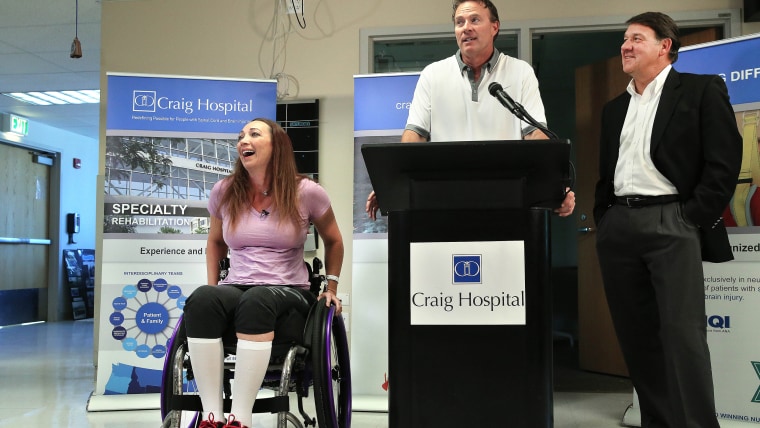 The Colorado native thanked the medical staff before leaving and spoke about the highs and lows of her hospital stay. She said her hardest moment was entering the pool for the first time since the accident and realizing she could no longer swim laps.

"There's been a lot of tears shed for sure," Van Dyken-Rouen said. "This is not easy and I don't want to portray the fact that because I have a smile on my face, it really is easy. It's really not."
Van Dyken-Rouen severed her spine in early June when an ATV rolled on top of her after dinner with her husband in Arizona. The injury was so severe that she and her husband, former Denver Broncos punter Tom Rouen, said their goodbyes before the Olympian was rushed into surgery.

"One of the things I told her was if ... all this was too much and she wanted to go, she could go and I'd understand," Rouen told TODAY's Matt Lauer in June. Van Dyken-Rouen not only made it through the surgery, but she has been fighting for a full recovery ever since.
"It's a set back; that's all it is," she told Lauer three weeks after the accident. "And then we're gonna rock and roll." 

Van Dyken-Rouen and her husband are planning to stay in Colorado for a few weeks before heading back to their home in Arizona. She will be returning to Colorado later this fall to continue outpatient work, and while she told Lauer her ultimate goal is to walk again, Van Dyken-Rouen took the time on Thursday to applaud her current wheelchair skills.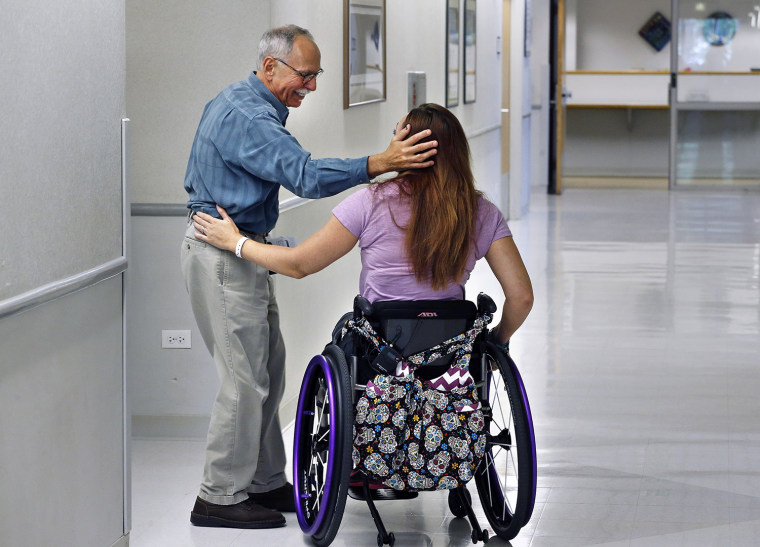 "I am the wheelie queen," she said. "I can wheelie everywhere. It's my favorite thing to do." 
In her time at Craig Hospital, Van Dyken-Rouen says she has made lifelong friends among the staff.
"I've met some amazing people here," she said. "They've really changed the way I think."
The gold medalist, who has been sharing her progress with fans via social media, posted video of her last call to her nurse.
In the future, she says she plans to advocate for spinal injury awareness and hopes to see a cure one day, though her immediate goal is to simply relax.
"I'm going to go somewhere where I don't hear this: 'How's your vitals? How's your pain? Are you sleeping?' Not anymore!"
Van Dyken-Rouen also says she's looking forward to getting her driver's license in her home state of Arizona. It'll make me feel "like a free bird."