Champion swimmer Amy Van Dyken-Rouen says she's a more spiritual person since the June ATV accident that severed her spine and left her paralyzed.
"You're like, you know what, there's something bigger and better than me," the Olympic gold medalist told TODAY's Matt Lauer in an exclusive interview Friday. "Maybe you should focus on it a little bit — because I'd like to meet that person later rather than sooner."
Van Dyken-Rouen is about to return to her Arizona home, now modified for her wheelchair, for the first time since the June 6 accident. For the past several months, the Olympian has spent grueling days in rehabilitation. She has chronicled both her good days and her challenging ones via social media through her Instagram and Twitter  accounts.
"She's been very, very positive. There's been, obviously, a couple of down days, but it usually was from pain and that was usually it," said her husband, former Denver Broncos punter Tom Rouen. "She never was like, 'Why me?' or anything like that."
Last month, Van Dyken-Rouen stood on her own and walked with the aid of a walker and mechanical device attached to her legs and waist. 

She told Lauer that one of her goals is to walk again on her own, and she's been working closely with a trainer on muscle activation.
"He helped me get back to the Olympics after two shoulder surgeries, why can't he get me back up on my feet now?" she said. "We've been working with him, we'll see what happens."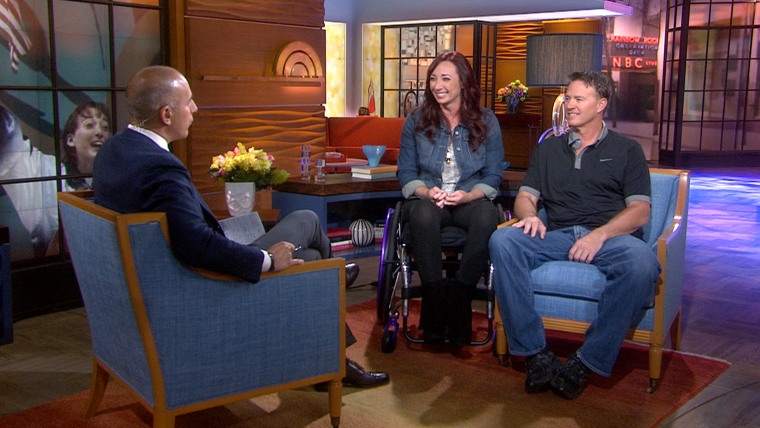 Van Dyken-Rouen severed her spine after the ATV she was riding on rolled over and on top of her. The injury was so severe that she and her husband said their goodbyes before the Olympian was rushed into surgery. 
Shortly before that moment, Van Dyken-Rouen said she had an unusual experience when she temporarily stopped breathing.

"It was like a whitish green hue around me, and I felt very, very at peace, and I remember just going through it and all of a sudden I woke up and I'm in the hospital," she said. "I don't know what it was. Was it the tunnel? I don't know."
After initial treatment in a Scottsdale, Arizona, hospital, she spent extensive time in a Denver facility that specializes exclusively in the rehabilitation and research of patients with spinal cord injury and traumatic brain injury.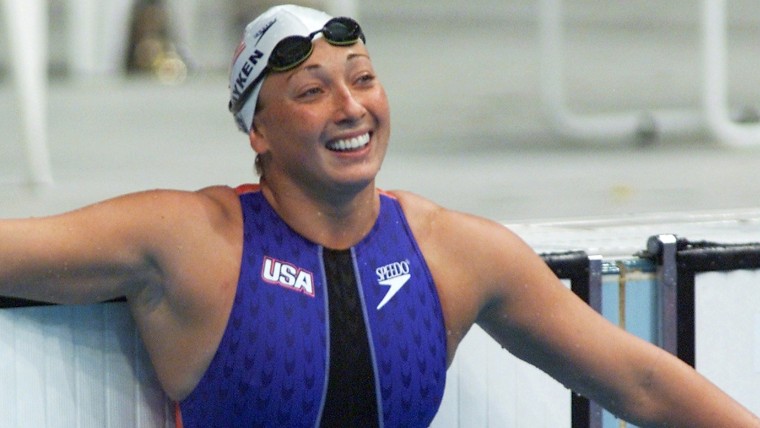 Van Dyken-Rouen won four gold medals at the 1996 Summer Olympics in Atlanta. She won another two gold medals at the Sydney games in 2000.

Follow TODAY.com writer Eun Kyung Kim on Google+ or on Twitter.