Olivia Newton-John said her most recent bout with breast cancer is "not as frightening" as her first battle 25 years ago when she had a young daughter to care for.
"I've had a wonderful life, so I'm not as freaked out as I was when I had a young child," the singer and actress told TODAY in a U.S. exclusive interview.
Newton-John, 68, revealed she was fighting a second battle with breast cancer in May after she had to postpone her North American tour because of treatment.
Speaking to Natalie Morales in Australia at the Olivia Newton-John Cancer Wellness & Research Centre, the legendary "Grease" star explained that her now grown-daughter was only 8 or 9 the first time she was diagnosed with breast cancer.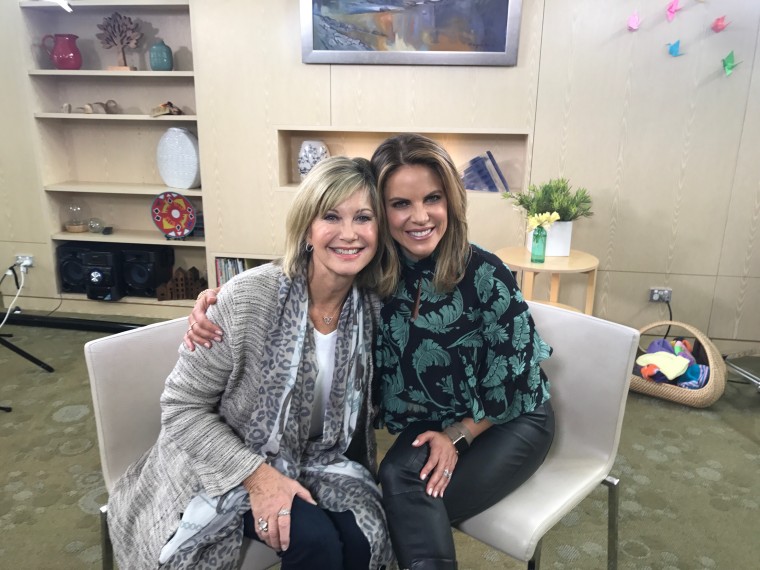 "That part of it was just probably the most frightening the first time, when you have a young child — I need to be around to raise her," she said in a preview of the exclusive interview airing next week on TODAY and Access Hollywood. "Well, I did it, and she's okay, so it wasn't as scary."
Her daughter, Chloe, is now 31 and "she has a life of her own," she said.
Newton-John said she also had the support of team members from her research center during this year's battle, particularly as she went through radiation (which she did not do during her first bout), for which she feels "very grateful."
"I didn't the first time, so now I know what that's like," she said. "So when I talk to a patient that's going through that, I understand what that means."