/ Source: TODAY contributor
Fifty years is a long time, for just about anything — particularly a marriage.
Two people, my parents, got married on March 3, 1962.
When I asked them recently what their expectations were when they set off on this adventure, they just laughed.
"I didn't have a clue," said my mother, Susan. 
"I don't think we had any expectations," my father, Tom, responded. "When we got married, I was an assistant U.S. Attorney and the salary was $7,000 a year."
The world has changed a lot since then. Susan Daly and Tom Cahill got married in what we now see as the "Mad Men" era — JFK was president, the country was in the grip of the Cold War, and the biggest news story in the country was John Glenn's successful mission as the first American to orbit the Earth. In fact, the day they got their wedding license — on March 1, at New York's City Hall — they caught a glimpse of the ticker-tape parade honoring Glenn's feat. The New York Times cost a nickel, a New York subway fare cost 15 cents and a gallon of gas cost 31 cents. 
They met during a day at the beach in the Hamptons with mutual friends and had known each other for about a year before they started dating and eventually married.
On the weekend they married, The New York Times' wedding announcements were filled with WASPs marrying WASPs, Catholics marrying Catholics and the occasional Jewish couple. There were no announcements about anyone who wasn't white — never mind any interracial or gay couples.
And the brides' photos, often accompanied with elaborate descriptions of their "white peau de soie" gowns and bouquets, were routinely captioned, "Mrs. W.L. Wrightson  Jr., formerly Anastasia Ludlow" or "Mrs. John H. Dunlap the 3rd, who was Miss Beckwith." The women had gotten married, so their identity immediately changed: Now they were "Mrs. Their Husbands Name." (The tradition of women adopting their husband's last name continues to this day, but it's by choice — not automatic.)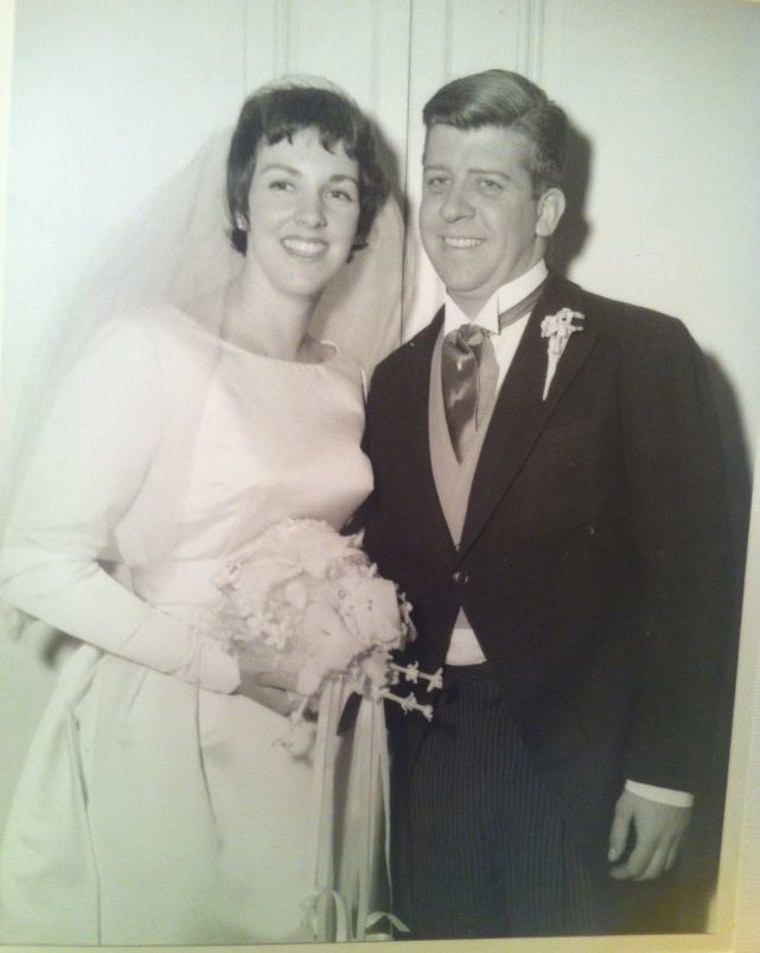 Those 1962 wedding announcements are a reflection of a time when birth control pills weren't yet legal, and American women hadn't fully integrated into the workplace.
And the Civil Rights movement was just gaining momentum. Interracial marriages didn't became legalnationwide until five years later, when a Supreme Court ruling in 1967, Loving v. Virginia, deemed anti-miscegenation laws unconstitutional.
We've come a long way since then — today, one out of every 12 marriages in the U.S. is an interracial couple, according to a recent Pew Research Center Study. But far fewer people are married now. In 1960, 72 percent of all adults over 18 were married; today just 51 percent are, according to another Pew Research Center Study.
Somehow my parents made it through — happily. Six children, three son-in-laws, one daughter-in-law and four grandchildren later, they are still married. As their golden anniversary came by, I wondered what they saw as the biggest social change they've seen over the course of their marriage.
Women's movement

"I would say, in my opinion, it was the Pill," my dad answered. "It changed the whole situation with how people used to live, changed it completely,"



To him, the birth control pill and its byproduct, the feminist movement, clearly gave women more control over their lives. "And job opportunities, for crying out loud. Before, women were limited."
Now a sprightly, white-haired 80-year-old, my father spent his career working as a lawyer in both public and private practice. When he graduated from Georgetown Law School in 1959, there were just six women out of a class of 312 students, barely 2 percent of the graduating class. In contrast, in 2011, Georgetown Law School had 645 students graduate with a juris doctor law degree, and 307 of them — 48 percent — were women. 
As the father of four daughters, including two with law degrees, my dad appreciates the changes in the workplace. He recalled some brilliant female lawyers he knew who really struggled with their role in a male-dominated environment.
As for my mother, she remembered a time when a woman was expected to be married by the time she was 21 — or else be considered a social outcast.
"I certainly didn't want to get married when I was 21. I thought, well, maybe when I'm 25, I'll start looking around for somebody, but not before then," she said. That got a chuckle out of my dad: They married when she was 23 and he was 30. "When you were 25, honey, you had three kids," he pointed out.
"That was not my goal," my mother replied with a smile. (In fact, she had twins in 1963 and my brother came along 16 months later, so she was actually 25 by the time she had three kids).
Cost of living

Just as with many young, optimistic couples, money didn't seem to be a large concern when they started out. Not because they had any — just the opposite: Both my parents were children of Irish immigrants who had arrived with virtually nothing. And yet they were each the first in their family to attend college.
Asked if they thought about the cost of having all those college tuitions to pay when they set out to have a family, they gave a definitive answer: No.
"He assumed the government would pick up the tab," my mother said.  They both laughed at their naiveté, although my father denied he made that assumption. The truth is that the government had paid for him to finish college and go to law school thanks to the G.I. Bill, for his service in the U.S. Marine Corps during the Korean War.
Still, he added, "tuition, in those days, for colleges was maybe at most a couple of thousand dollars… it was nothing like what it is today — just no comparison at all."
He's right on that front. Iona College, north of Manhattan, where he got his undergrad degree in 1956 cost $410 in 1955. Today tuition costs $28,192 per school year. And 50 years ago, Georgetown Law School cost $950, plus $70 in fees, according to an archival copy of Georgetown University Law Center Bulletin for 1961-62. Today tuition costs at the law school are $23,432.50 a semester— not including room and board.
From the outset, my folks were counting every dollar. And somehow they remember to the dollar how much rent they paid for their first apartment in New York City's Stuyvesant Town — $94 a month.
Still, they didn't worry too much about the future costs of children. "You'd have a baby a year or so after you got married. I never remember hearing anyone talking about planning ahead to put them in college. People didn't think like that then."
They now say that paying for their six children's undergraduate educations was probably one of the biggest challenges of their marriage. "We're still paying for it," my dad said, 15 years after their youngest graduated from college. Though he's 80, he retired only three years ago; my mother, 73, still sells real estate in Greenwich, Conn., where they live, a job she has had since the early 1980s.
Best part

So was it all worth it?
"Oh certainly," said my dad.
"Of course," chimed in my mom, adding as a side note to me: "Hang in there, honey!" ( I was married last June.)
"The best thing is having six of the best kids in the world," said my dad. "And every kid is an only child, mama's recipe. There are no pets." By which he means: No favorites. That is their most fundamental parenting rule: treating every child equally.
My mother attributed the longevity of their marriage to the fact that they are both "pretty easy-going."  All in all, they consider themselves very fortunate to have survived 50 years together. "We've been very lucky," said my mom.
What's your story?

Have you been married for 50 years? Or have your parents? What's their story? How have social changes affected them?
Are you an interracial couple married in a time when it was still illegal in parts of the country? Or part of a religiously mixed couple from an era when that was uncommon? Or were you one of those women who was graduating from law school or medical school during the first wave of feminism and managed to juggle a marriage and a profession all those years? Are you part of a gay couple that was not allowed to marry (and still isn't in some parts of the country)?
Share your experiences in the comments, below or send them to petra.cahill@msnbc.com
Petra Cahill is a senior news editor for msnbc.com based in New York. She works with NBC News correspondents and producers around the world to cover the latest news and is the editor of msnbc.com's World Blog and Behind the Wall blog.