Pizza is one of the most popular foods for many children and teenagers, with a surprisingly high number eating cheesy slices every day. Researchers are now calling for parents to to curb its consumption.

Loaded with calories, saturated fat and salt, pizza is the second highest calorie source—running second only to grain-based desserts like cookies and cakes—in the diets of kids aged 2 to 18, researchers reported Monday in the journal Pediatrics.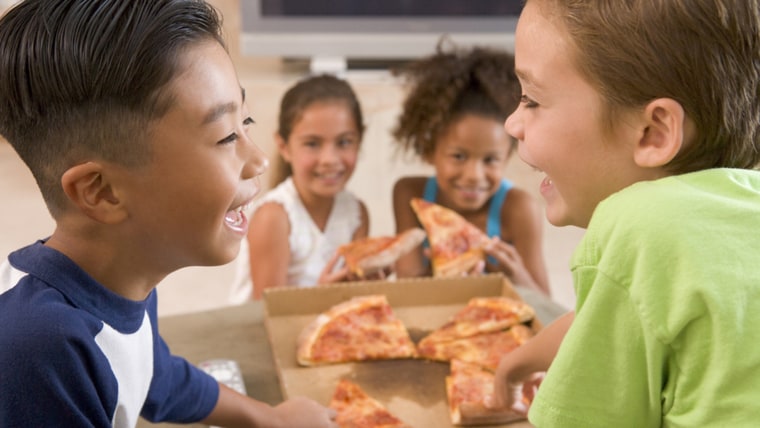 "Pizza is a significant source of calories in the diets of children and teens," says study co-author Dr. William Dietz, director of the Redstone Global Center for Prevention and Wellness at the Milken Institute School of Public Health at George Washington University. "It was surprising to me to learn that on any given day 20 percent of children and teenagers are eating pizza."

The Washington University researchers analyzed dietary data from eight years of questionnaires that were part of the National Health and Nutrition Examination Survey (NHANES).  
On the days pizza was consumed, it accounted for 20 percent of the calories in kids' diets, the researchers found. The George Washington University researchers studied dietary data from eight years of questionnaires that were part of the National Health and Nutrition Examination Survey (NHANES).  
On those pizza days, kids tended to consume 600 calories more than they should, even though kids were eating fewer than 300 calories worth at dinner time. Dietz wasn't sure about the source for the extra calories, although it might be that kids were having pizza more than once on those days.
Dietz says he isn't asking parents to go cold turkey on completely removing pizza from the menu. He'd just like to see them cut back—way back. 
"Stay away from the ones that are swimming in cheese," says Dietz. "Reduce the frequency; have smaller slices; and choose healthier options like mushrooms, onions and peppers instead of pepperoni and sausage."
But giving up pizza may not be easy for busy parents.
Mary Talbot, a working mom from Barrington, Rhode Island, says evenings when the family barely has a half hour to squeeze in dinner, pizza is the perfect choice. 
"It's imperative some nights as a single parent," says the mother of two tween boys. "It's fast and you figure it's got some carbs and some protein from the cheese. You just can't overdo it."

For some, grabbing pizza for dinner means more family time.
"Obviously, it's a convenient food and, obviously, we don't recommend having it at every meal," says Scott Kelly, a dad from Chandler, Arizona. "Not a lot of fruit and vegetable companies deliver. And at the end of a 13- or 14-hour day, my wife and I would rather spend time with our kids than spend time cooking and cleaning. The other night, we had pizza because I wanted to be there for my son's lacrosse practice."
The new research is not about being "the pizza police," says Dietz, but "it's important for people to be aware of what they are consuming, particularly since obesity is a prevalent as it is and because obesity has so many adverse consequences."
Moderation and meal planning are key to making pizza more healthy, says child psychologist and mom Dana Rofey.

"Have fruit or vegetables or a salad before you order the pizza," says Rofey, an assistant professor of psychiatry at the University of Pittsburgh and a psychologist at the Children's Hospital of Pittsburgh. "Also, I always daub off the top of the pizza to remove the excess grease. And I top it with vegetables."
Families should eat pizza no more than once a week, with the serving size no more than two slices per child, says Miranda Westfall, program manager and dietician at the Fit for Healthy Weight Program at the Mattel Children's Hospital at the University of California, Los Angeles.

"Choose whole grain pizza dough, top it with low fat or nonfat mozzarella cheese and a lean protein source like Canadian bacon, and load it full of vegetables," says Westfall.

For some parents, once a week isn't enough.
Glenna Murillo, a stay-at-home mom from San Jose, California, says there are few things her daughter, who has autism spectrum disorder, will eat besides pizza and grilled cheese sandwiches.
"I think the demonizing of pizza, or any one kind of food, is a mistake," Murillo says. "I have a kid who won't eat anything green. But ... [pizza] is not something I would want to give her every day."

Murillo uses pizza making to teach her daughter about food preparation and eating options.
"We will actually prepare it together," Murillo says. "We make the dough and roll it out and that way she can see what's in it. We put turkey pepperoni on it, which has 70 percent less fat that regular pepperoni."