Whether you're traveling for work, running to the grocery store or picking up the kids, it can be hard to keep up with your diet and fitness goals while always on-the-go. Mitzi Dulan, a Kansas City nutritionist, says Pinterest can serve as a portable personal trainer.
"What is great is you can be in a grocery store and look up the recipe on Pinterest to find the ingredients you need," Dulan, author of The Pinterest Diet: How to Pin Your Way Thin, told TODAY. "Or, you can be traveling for work and pull up a great workout … you've been wanting to try."
Pinterest, the social media site that allows you to "pin" and organize anything online that you love, can help you find fresh ideas on weight loss workouts and healthy recipes. But just like other social media sites, you need to be aware of the credibility of what you're reading.
"Pinterest is on fire because it's so visually pleasing, but you also need to read the words and who wrote them," said Bonnie Taub-Dix, R.D. Pinterest boards may get attention because they include attractive photos of slender figures or delicious-looking dishes, but this doesn't mean they come from knowledgeable sources, she says.
When you are looking for weight-loss Pinterest boards to follow, Dulan suggests looking for those that are hosted by people with an educational background in nutrition and fitness or top health magazines.
Which are the most effective boards you can follow to lose weight? Dulan recommends those that provide "inspiration and motivation to develop healthy habits and lose weight by eating clean and doing high-intensity interval training workouts."
5 healthy boards to get you started
1.    Weekly Eats from the Lean Green Bean:
What does a nutrition expert eat on a daily basis? Lindsay Livingston, R.D. and healthy living blogger, started this board to give a snapshot of what she eats and provide ideas for people to plan their meals for the entire week.
2.    Workouts from BodyRock TV/TheDailyHiit.com: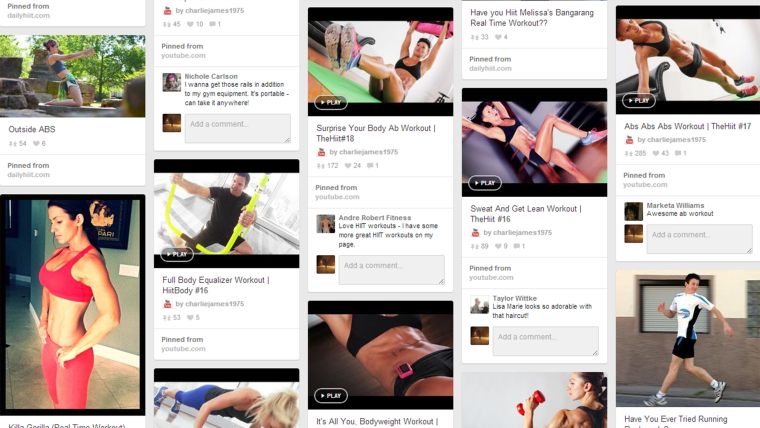 No need to go to the gym. Whether your goal is to flatten your abs, tighten your legs or work your total body, this board focuses on exercises you can do at home from TheDailyHiit's high-intensity interval training.
3.    Most Pinned Posts from Fit Bottomed Girls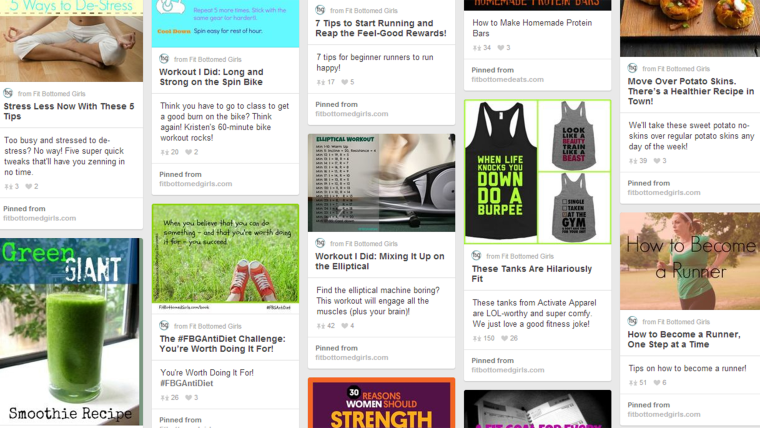 These posts from fitness blog Fit Bottomed Girl had its followers passionately pinning. Check out "How to Burn 100 Calories in 50 Fun Ways," "The 25 Best Workout Songs EVER" and "How to Make Your Own Protein Ice Cream."
4.    Healthier Desserts from ChooseMyPlate.gov: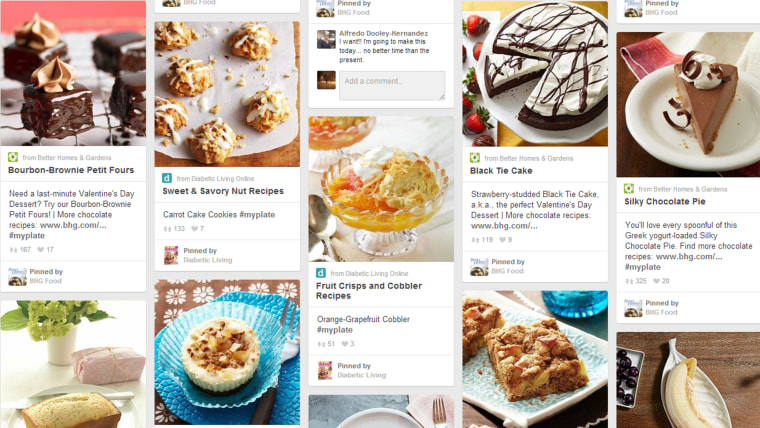 From whole grain scones and Greek yogurt chocolate pie to strawberry-watermelon floats and frozen yogurt pops, you can satisfy your sweet tooth while maintaining your health with these suggestions from the Center for Nutrition Policy and Promotion.
5.    Salads and Veggies from Serious Eats: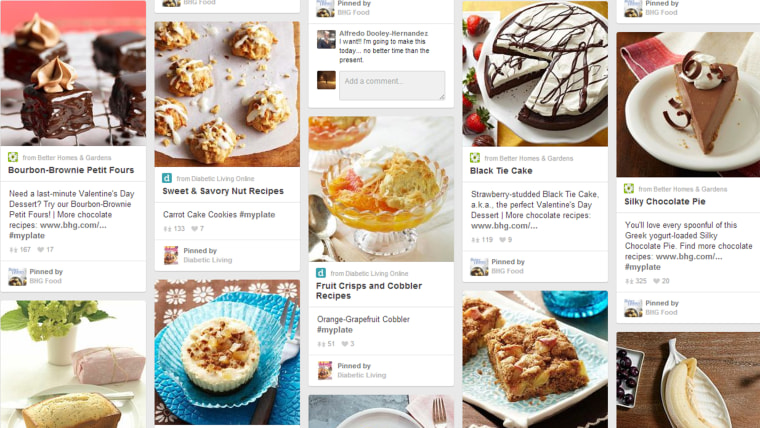 Eat more veggies and actually enjoy it with more than 80 salad ideas from Serious Eats, tested by recipe columnists, chefs and cookbook authors.