A 25-year-old nurse found herself in the middle of a medical drama in the air this week when passengers began to fall ill on board a SkyWest Airlines flight and she turned out to be the only health worker on board.
The plane descended quickly (some described it as a "nose dive") and made an emergency landing on Wednesday after concerns about a possible cabin pressure problem, though the airline later said there was never an issue with the aircraft.
Mary Cunningham, who works in the emergency room at Yale-New Haven Hospital in Connecticut, was coming back from vacation in Florida when she boarded the flight from Chicago to Hartford, Connecticut.
"I was scared that we would all lose consciousness. I was hoping we'd be able to land in time," Cunningham told TODAY about the moment the plane sped toward the nearest airport as three passengers lost consciousness.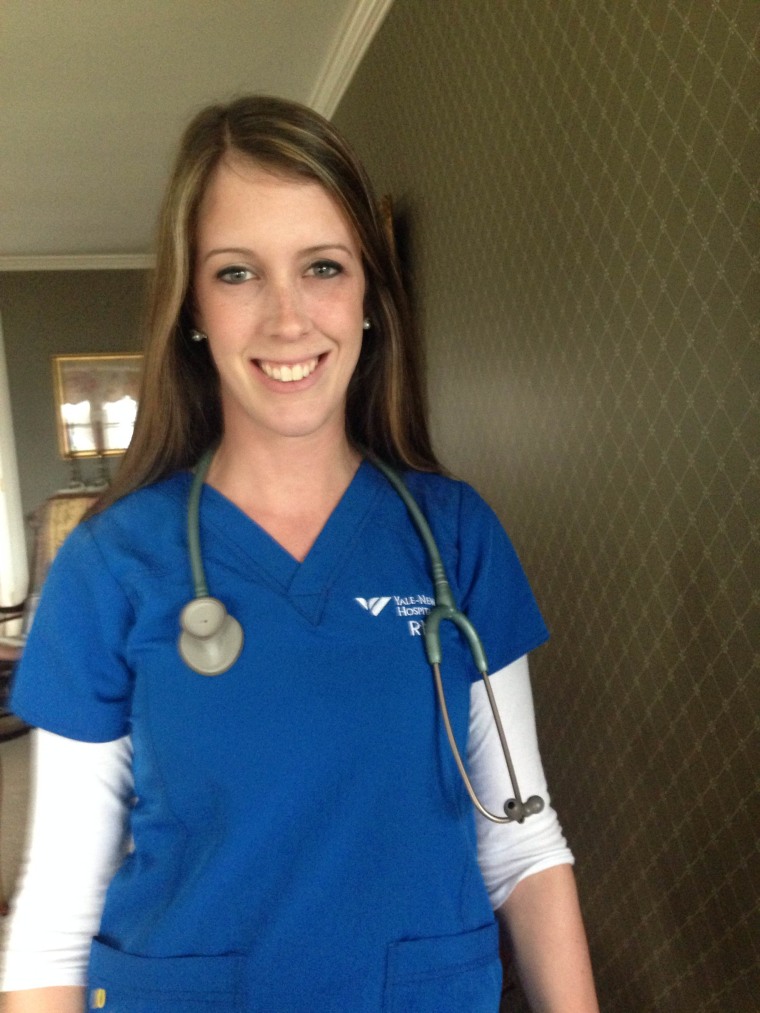 Everything seemed routine until a little after halfway through the flight, she recalled. Suddenly, the crew asked if there were any medical professionals on board, so Cunningham — who was seated in the last row — identified herself as a nurse.
The flight attendant told her a woman sitting in the middle of the plane had fallen ill.
"I went to go check on her and when I saw her, her color was gray, grayish blue. She was leaning forward and barely responsive. She could answer questions but she seemed pretty out of it," Cunningham recalled.
"I could tell that she needed oxygen… once she got the oxygen, she improved quite a bit. She became alert, she was able to answer questions and she said she was feeling better."
When the passenger seemed stable, Cunningham headed back to her seat. But the flight attendants immediately called her back. A woman who was seated right behind the first sick traveler was unconscious. With two fliers now experiencing problems, Cunningham grew alarmed. Worse, she was starting to feel unsteady herself.
"From a medical perspective, I could tell it was an oxygenation issue. While I was helping the second woman, I myself became very short of breath and felt really faint. I thought I was going to pass out," Cunningham said.
She shared her concerns with the flight attendant. Soon, the crew instructed everyone to prepare for an emergency landing, Cunningham recalled. The flight would land in Buffalo in 20 minutes.
Somehow, air traffic controllers got word the plane's cabin door might be leaking oxygen, NBC's Tom Costello reported. But it appeared to be a case of miscommunication and the airline later tweeted there was no problem with the door.
The flight descended quickly — up to 7,000 feet per minute, according to flight tracking service FlightAware, and more than 20,000 feet in just minutes. The goal was to get to an altitude of 10,000 feet — where the air is breathable. The oxygen masks never dropped.
"It felt almost like the plane was taking a nose dive," Cunningham said. "It was pretty grave… some people were praying, some people were trying to reach loved ones. I was trying to see if I could get through to my family — I couldn't."
In all, three passengers passed out on the flight, all seated in the middle of the plane. Many more reported feeling sick. The flight landed safely in Buffalo, where paramedics treated the ill. Fifteen other adults and two children were evaluated, likely because of the rapid speed of the descent, but no one went to the hospital.
Cunningham said she can't speak to what could have gone wrong on the flight, and said she did what any nurse would do.
"We're trained to handle emergency situations like this… it's just a different setting," she said. "I want to give a lot of credit to the pilots and the flight attendants. They kept everybody calm and they did a phenomenal job in making sure that we were as comfortable as we could be. They really did a wonderful job."