During morning rounds at Lucile Packard Children's Hospital Stanford last month, pediatrics resident Brandon Seminatore and nurse Vilma Wong each were jolted by a blast from the past.
Wong, 54, has worked at the neonatal intensive care unit at the hospital in Palo Alto, California, for 32 years. Seeing the name Seminatore on a young doctor's ID badge caused her nursing senses to tingle.
"Vilma walked up to me when she saw my name tag," Seminatore, 28, told TODAY. "You could see it jogged something in her mind."
Nearly three decades ago, there was a preemie with the same name that Wong had cared for in the NICU. The boy was born at 29 weeks on April 19, 1990, and weighed just 2 pounds and 6 ounces.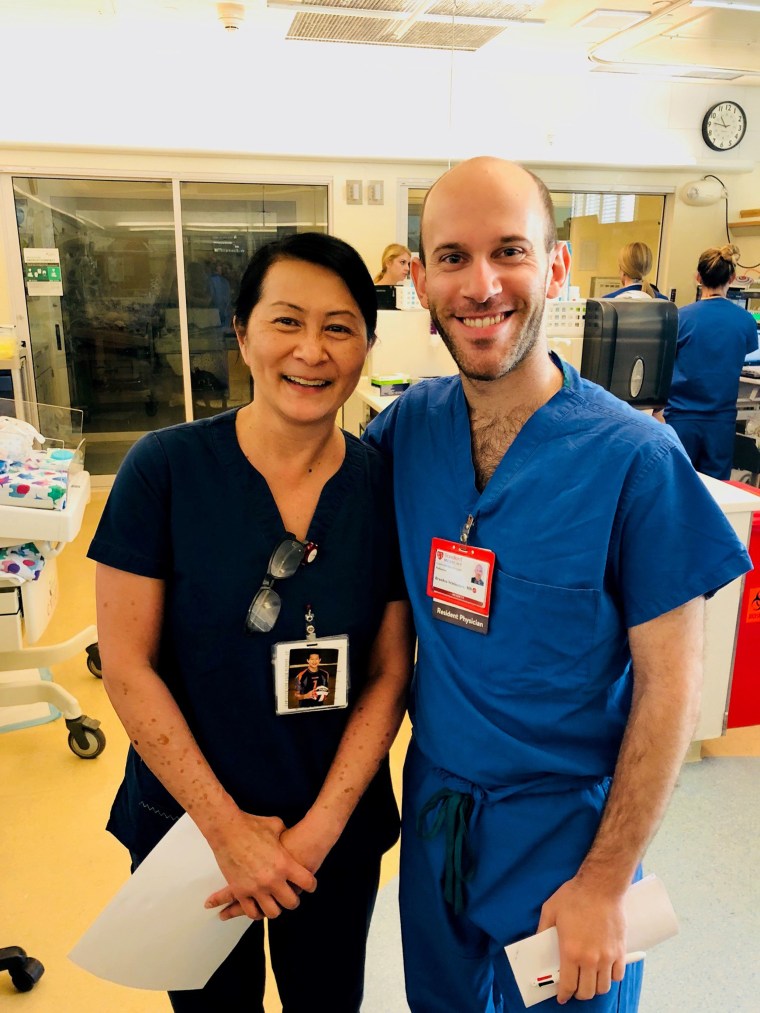 "She asked me if I grew up in this area. I said, 'Yes, I was actually born in this hospital,'" Seminatore said.
"She furrowed her brow. Then she asked if my dad was a cop," he continued. "I said, 'He's retired now, but, yes, he used to be one.'"
Wong paused. She was almost certain she had cared for him as a baby.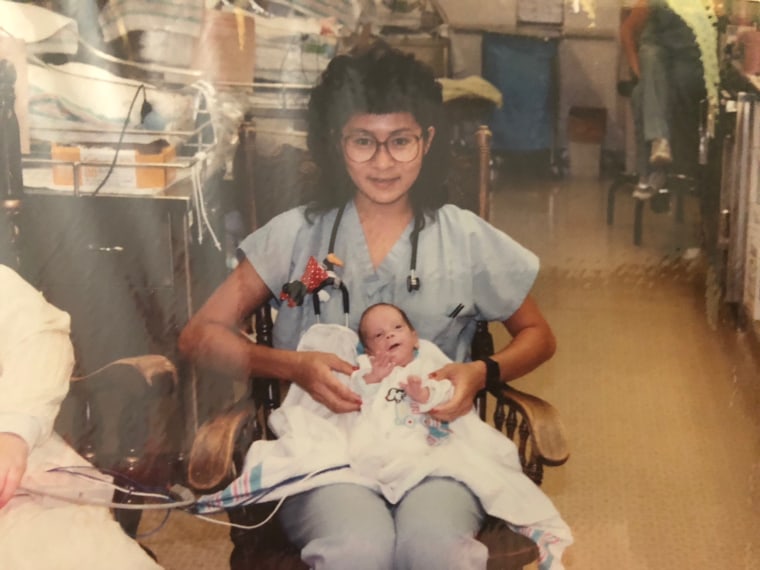 It was a lightbulb moment for the young resident.
A week before his rotation started, Seminatore's mother told him about a nurse she and his father had bonded with during the more than 40 days he spent in the NICU.
"My mother said, 'Look for Vilma," Seminatore recalled. "'She was our favorite nurse. She took care of you.'"
After the face-to-face meeting, Seminatore texted his parents with the news. His father texted back a photograph of Wong holding him as a baby.
"I showed Vilma the picture and she lit up," Seminatore said.
"In the end I didn't have to look for Vilma," he said. "She found me. We smiled that whole day."
The endearing story of the health pros' reunion last month, first reported the local Mercury News, made the hospital's Facebook account light up too. It has drawn more than 900 comments, with many hailing Wong's dedication to a career of caring for infants.
"The world needs more Vilmas," noted one commenter.
The daughter of Chinese parents, Wong grew up in Nicaragua and moved to the U.S. when was 16. For her, the reunion was total elation and a complete surprise.
"I was overjoyed," Wong told TODAY. "I took care of this patient, and now he's treating the patients he was part of. What are the chances? It all came full circle. Working next to a patient I cared for is the best reward a nurse could get."
Seminatore, who is studying to be a childhood neurologist, is grateful for the care he received early in his life.
"I'm in good shape, and have no chronic issues," he said. "I'm very lucky."