Jaclyn Stout, a nurse practitioner, had been caring for cancer patients at Memorial Sloan Kettering Cancer Center in New York City when she got the news that she would become a patient herself.
A few years into her decadelong career as a nurse, Stout received a breast cancer diagnosis at age 26.
"I was at work when I had gotten the results," Stout said on TODAY. "Unfortunately it was cancer."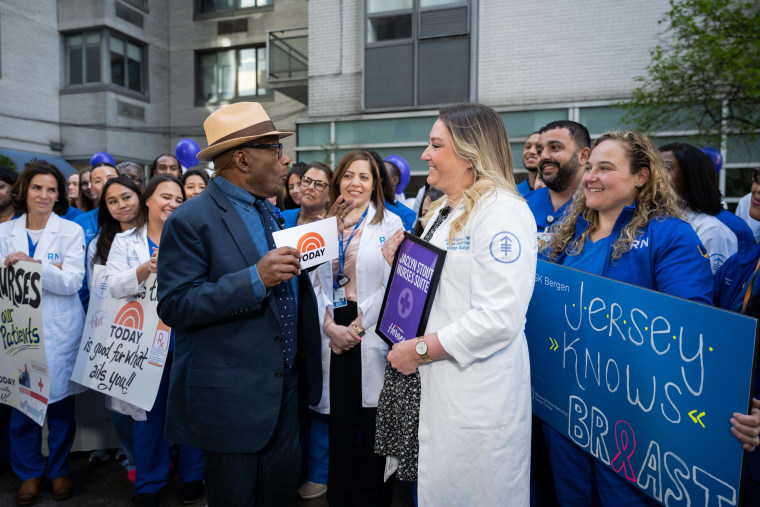 But Stout didn't let cancer stop her from tending to her patients amid her own health challenges.
"Being a nurse was a part of my identity," she said. "I wanted to be able to care for patients as long as I could."
And before long, her own colleagues became her caregivers as her treatments progressed.
"Waking up from surgery, having one of my co-workers be the first person I saw, and knowing my colleagues are in the waiting room with my mom when she's getting the news that everything went okay — it was amazing," she shared.
Now Stout is three years cancer-free, and she said her experience has made her a better nurse.
"I think it definitely gave me more compassion and more understanding for what the patients are truly going through," she said.
TODAY's Al Roker told Stout the hospital would be naming the fifth floor nurses suite in her honor.
"To be able to have been taken care of by the best nurses in the entire world, and get to go back to work and work amongst them is nothing but an honor," Stout said. "I am so lucky to be able to be with these incredible people."
TODAY celebrated nurses on May 8 as part of its Heroes Week, which will also feature teachers and moms throughout the week.
O'Dea Parson, a critical care nurse at Memorial Sloan Kettering, also has another uniform she puts on when she changes out of her scrubs.
"I am a major in the Army Nurse Corps, in the Pennsylvania Army National Guard," Parson said on TODAY. "My current job is to ensure the medical readiness of the soldiers."
"My ability to help somebody that's in a very fragile state, (to) try and take the weight off their shoulders a little bit, that's the most rewarding thing," she added.
Parson, a mom of two, has juggled the two jobs for nearly two decades, but she said her fellow soldiers encourage her.
Outside of the cancer center, she was surprised by her fellow soldiers First Sgt. Franco and First Sgt. Miller, and she burst into tears.
"The clashing of my worlds and my professions and everything that I love and care so much about is just completely unbelievable," she said through tears. "You all are amazing. I don't deserve this."
Al responded: "You absolutely deserve this."