Libby Horton, 13, and her sister, Hadley, 8, have no real memories of what their father was like before he was diagnosed with Parkinson's disease 10 years ago.
Luckily for them, a host of Don Horton's players from his years as an assistant football coach at Boston College and North Carolina State are happy to tell the girls just how special their father was to them.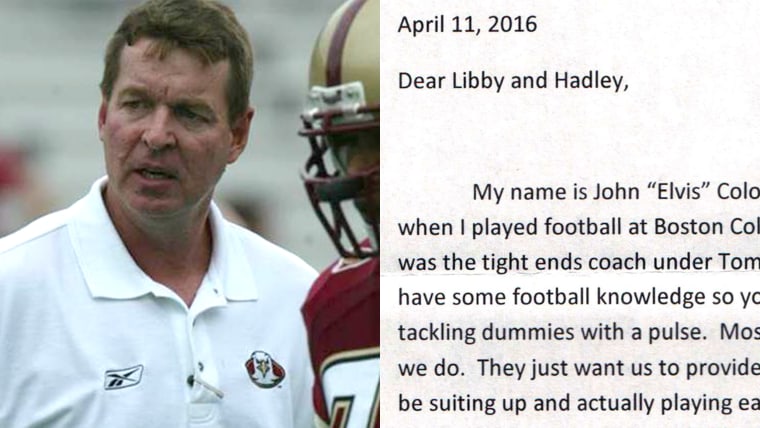 Starting about two months ago, a group of current and former NFL players has poured their hearts out in touching letters about Horton addressed to the two girls. Horton, 58, who retired after a 30-year coaching career in 2013, died on May 27 at a hospice facility near the family's home in Raleigh, N.C.
"I know his older daughter might have an idea, but they've really never seen Coach fully healthy,'' Tampa Bay Buccaneers offensive lineman Gosder Cherilus told TODAY. "The fact that they won't get to experience the same thing with Coach we got to experience, whether it was being playful or as a father figure, is heartbreaking."
"Even though the kids might not have had him there all the time in their lives, they can still hear the stories about him and see how their dad made a difference in people's lives," Don's widow, Maura Horton, told TODAY about the letters.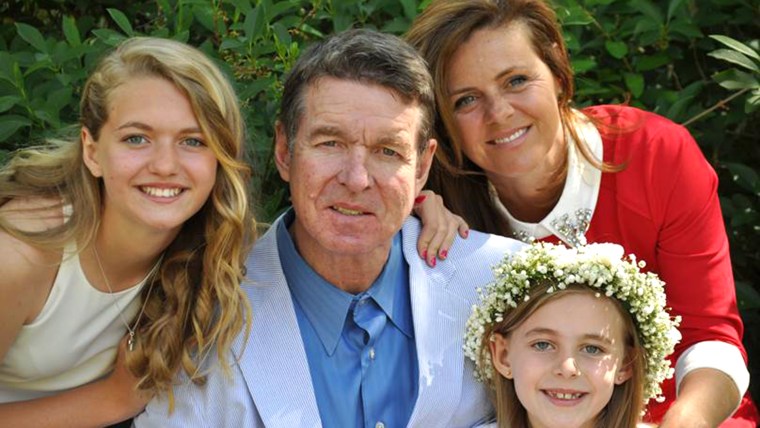 Friends and former players began to reach out after family friend Melanie Walker came up with the idea for the letters.
"In life, God puts us in position to come into contact with special people, but often times people do not take the time to smell the roses and understand that the time we have with them is special, we take things for granted,'' former Boston College player DuJuan Daniels, now a scout with the Patriots, wrote in his letter.
"I am happy that your dad, Don Horton, always smelled the roses. He knew what relationships and family were about and did not take any of them for granted. I personally am so grateful that he let me know I was special to him, because he is one of the most special people to ever come into my life. He changed my life."
Horton's care didn't just extend to the star players, as detailed in the letter from former Boston College walk-on John "Elvis" Colontrelle, who played from 1996 to 1999.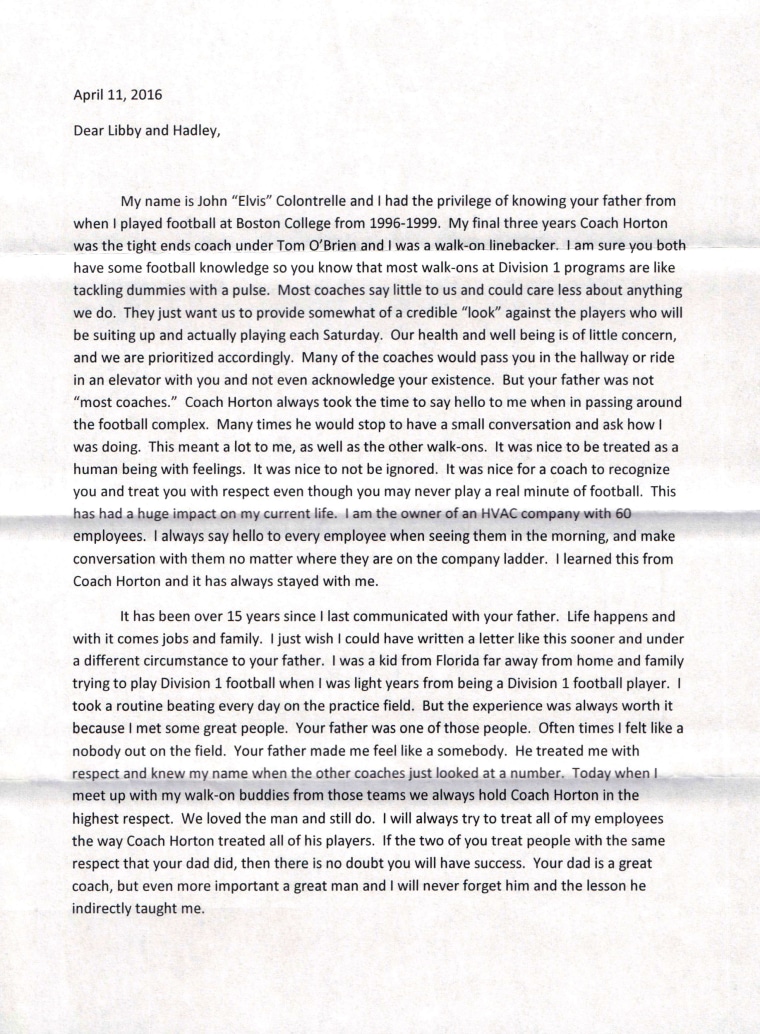 "It was nice to be treated as a human being with feelings,'' he wrote. "It was nice to not be ignored. It was nice for coach to recognize you and treat you with respect even though you may never play a real minute of football. This has had a huge impact on my life."
RELATED: Walking works more magic – this time in Parkinson's
Former Boston College players Paul Zukauskas, Ricky Brown and Al Washington started a GoFundMe page for their old offensive line coach that has raised nearly $50,000 to help the family. Zukauskas, a retired offensive lineman who played for the Cleveland Browns, is looking to put the money from the fund toward the girls' education.
"I think what separated him was you could tell he really cared about you outside of the football part of it,'' Zukauskas told TODAY. "He was a guy you could call and talk to when you were done playing and he wasn't your coach any more."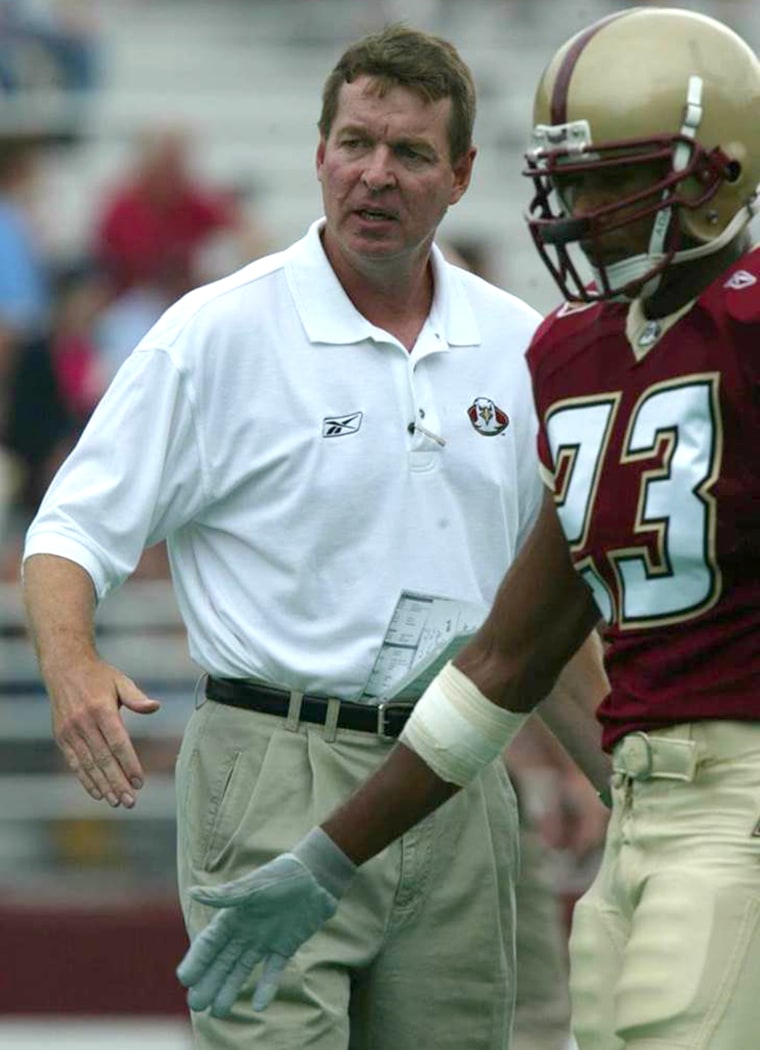 Maura has also channeled her energy during a difficult time into MagnaReady, a company she founded that designs shirts with magnetic buttons for people with disabilities.
RELATED: How this mom's football family helped her tackle breast cancer
The idea came after Don was struggling with his shirt following an N.C. State game, and current Seattle Seahawks star quarterback Russell Wilson quietly helped him button it. MagnaReady has licensed the technology to Phillips-Van Heusen Corporation for mass distribution in retail stores, according to Maura.
Current NFL players like Cherilus and Atlanta Falcons quarterback Matt Ryan have also donated to help the family. Cherilus is so close with the Hortons that when Libby was in preschool, he showed up for a "bring your parents to school" day as a stand-in for Horton when he was out on the road recruiting for Boston College.
"Libby is this little white tow-headed blonde and Gos is a 6-foot-8 African-American player from Haiti, and the kids were like, 'Is this your husband?!''" Maura said, laughing at the memory. "It was an awesome day."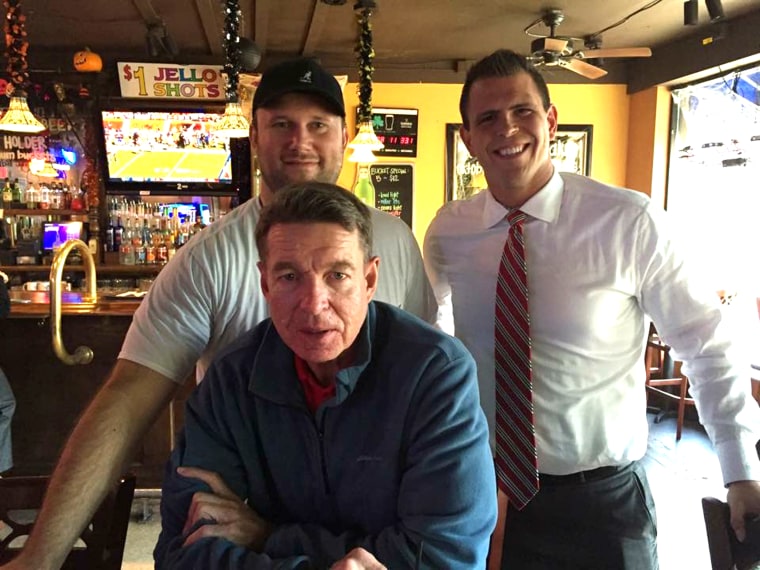 "I was blown away by the fact that he asked me to do that for him,'' Cherilus said. "It was so much fun, and it made you feel like you were family."
During a heart-wrenching time, the letters served as solace for the family in Don's final days.
RELATED: Football coach takes player into his home after death of his parents
"It's pretty hard to explain to your children some of those forms like DNR (do not resuscitate) and others,'' Maura said tearfully after Don was put into hospice on May 15.
"We have done everything we could to fight the fight, but sometimes you have to know when to concede. Giving up was hard."
In the wake of Don's death, Maura will still have a job for his former players when Libby and Hadley get older.
"I tell the guys, 'The girls haven't started dating yet, and I'm going to need you because we're going to have to put some of these guys through the test,'' she said. "They all say, 'We'll be right here for you.' The girls will always have those guys watching out for them."
Follow TODAY.com writer Scott Stump on Twitter.