From his Houston Texans teammates and National Football League opponents to family members and an 8-year-old superfan, David Quessenberry has countless allies in his fight against non-Hodgkin's lymphoma.
At Thursday morning's practice in Houston, players and coaches sported "Texans for DQ" T-shirts for DQ Strong Day, the team's tribute to the second-year offensive tackle in support of the Lymphoma Research Foundation.
"It's overwhelming, and it motivates me to fight my fight even harder," Quessenberry told TODAY.com. "I wake up every day knowing that I have an army behind me."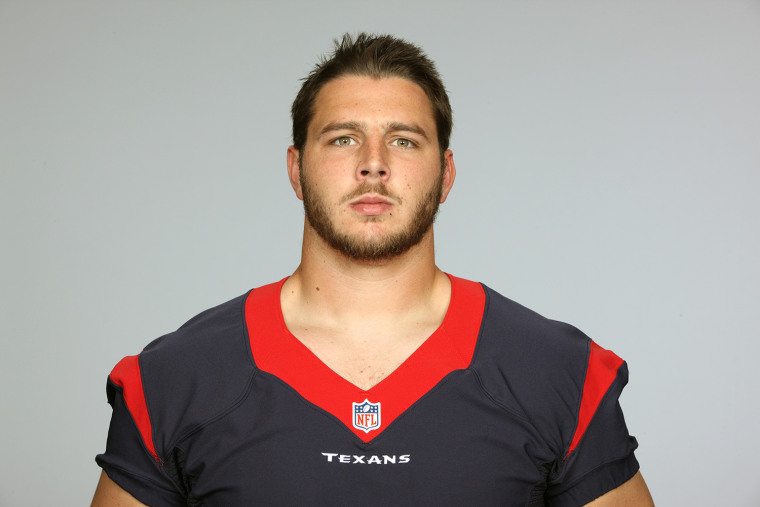 Listed at 6-foot-5 and 307 pounds, the 23-year-old entered the preseason with hopes of playing in his first NFL game, especially since he missed all of his rookie season with a broken foot. While training in May, he tried to power through chest congestion that he'd chalked up to a bad cold. But when Quessenberry struggled to breathe at a practice in early June, Texans head trainer Geoff Kaplan implored him to see the team doctor. Medical staff not only discovered that his lungs contained two liters of fluid, which had to be drained immediately, but also found lymphoma in his chest.
"If I hadn't had gotten that treated, I might have drowned out on the practice field," said Quessenberry, who expects to miss the whole season.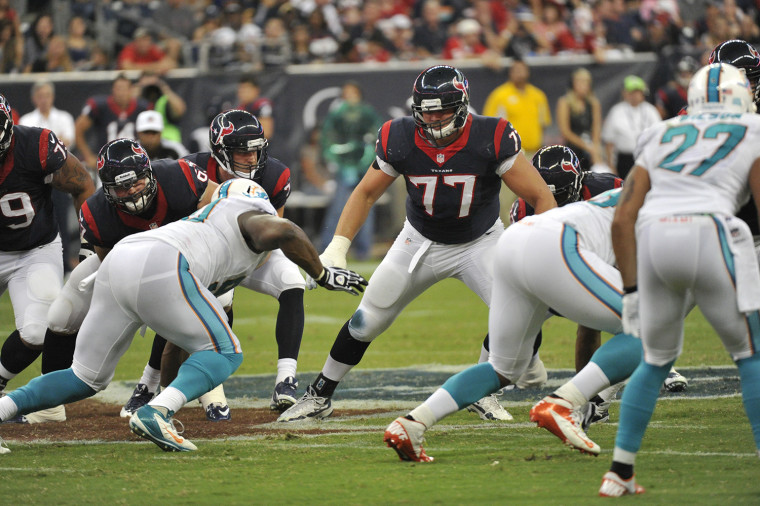 Since then, he said, he's had occasional trouble getting a good night's sleep and keeping food down. Between chemotheraphy treatments, he's tried to work out, but only when his white blood-cell count is high enough to stave off infection. And he's continuing to receive trial drug treatments over the span of 10 visits to the University of Texas' MD Anderson Cancer Center.
"It's also an intense mental battle," he said. "I was in great physical shape and I had everything kind of going the way it was supposed to go for the season in my second year of the NFL, and then you kind of get blindsided."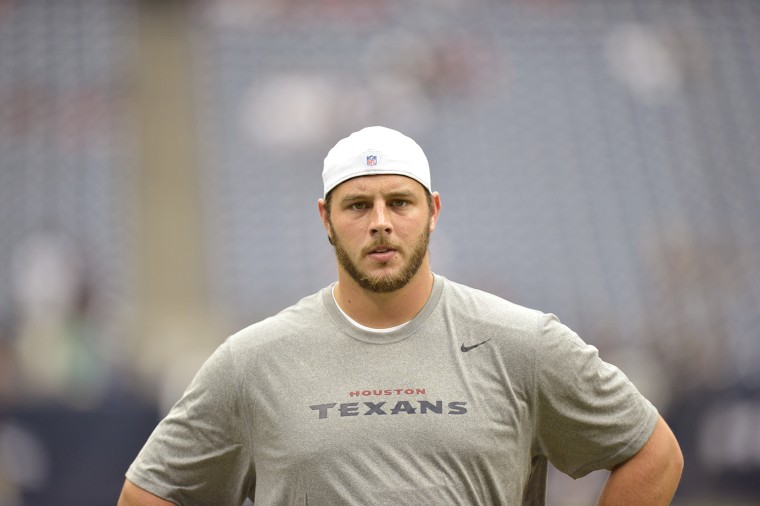 Teammates Chris Myers and Duane Brown aren't just dedicating their season to Quessenberry; they're aiming to raise at least $100,000 for the Lymphoma Research Foundation through the sale of "Texans for DQ" T-shirts. At $20 apiece, the shirts are being sold on the team's website to benefit the foundation.
Myers told TODAY.com that he and Quessenberry bonded when they roomed together for the May 31 wedding of their Texans teammate, Ben Jones — just days before the diagnosis. The 10-year NFL veteran said he's admired Quessenberry since they met at last year's training camp.
"He's just a high-quality character guy that would do anything for you, and, in turn, you want to do anything for him," said Myers, a two-time Pro Bowler. "He became one of our brothers."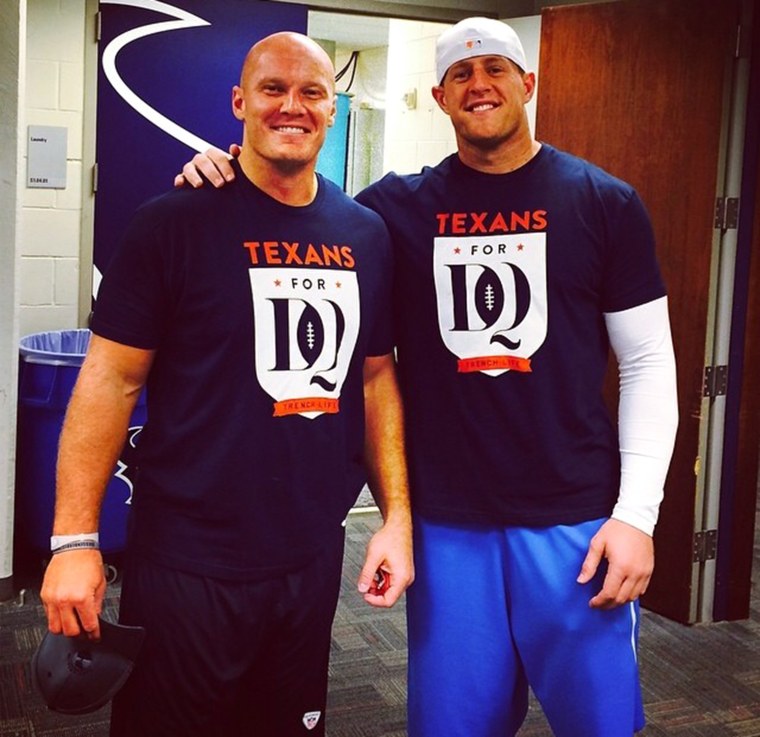 But the pros aren't alone in cheering on No. 77. In June, Quessenberry got a pep talk from then-7-year-old Jake Daniel of Mont Belvieu, Texas. The boy, who received the same lymphoma diagnosis in December and has been cancer-free since May, offered the athlete plenty of advice in a 28-second YouTube video.
"No. 1: Keep praying," Jake says in the video, which now has more than 10,000 views. "No. 2: Keep your head up. No. 3: Never give up. No. 4: When you get the mouth sores, always eat Jell-O. No. 5: Always flirt with nurses!"
Quessenberry said he loves the video, and laughed as he recalled the line about the nurses. "That was probably one of the coolest messages I've gotten since I've been diagnosed," he said.
Jake's mother, Bonnie, said her son needed time to find that optimism. "In the very beginning, it was very difficult for him, because all he'd heard about cancer was you can die from it," she said. "But once he realized we can fight it, and we can make it, his outlook was amazing."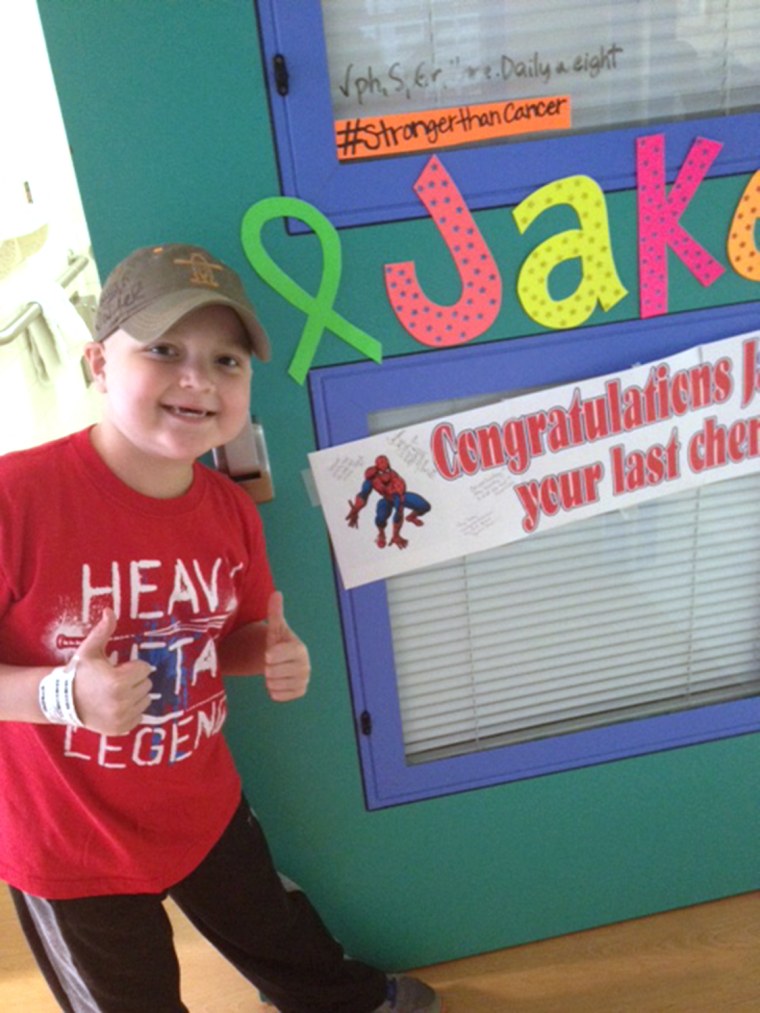 Revealing that his favorite Jell-O flavor is "green" and admitting he "didn't flirt with (nurses); I just talked to them," Jake told TODAY.com it "feels pretty cool" to know Quessenberry likes his YouTube video. Now 8, Jake offered a new tip to Quessenberry and others with lymphoma: "Don't be afraid."
Elizabeth Thompson, the CEO of the Lymphoma Research Foundation, said she spent three hours with Quessenberry's family on Aug. 6. She said she's inspired by his fight, as well as the Houston Texans' initiative to raise awareness and money for the cause. 
"It's so humbling and really uplifting," Thompson said. "(They understand) this is a larger community."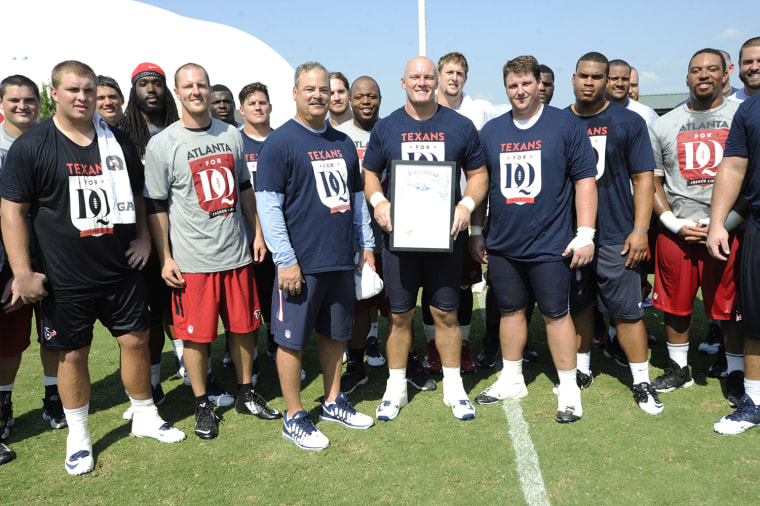 Some of Quessenberry's biggest backers are tied to rival squads.
On Tuesday, he tweeted that he was "honored" to see Indianapolis Colts head coach Chuck Pagano in an "Indianapolis for DQ" T-shirt; Pagano missed much of the 2012 season to combat leukemia, which went into remission that November. And Atlanta Falcons quarterback T.J. Yates may be battling Houston in a preseason game this Saturday, but on Wednesday he was among the first to show off the Atlanta version of the DQ shirt that some of his teammates wore during Thursday's scrimmage with the Texans.
But Quessenberry's original fan club is his family. On Instagram, Quessenberry raved about his football-playing younger siblings — Paul, a senior at the U.S. Naval Academy, and Scotty, a sophomore at UCLA — who'd shaved their heads in solidarity. "They're in this fight with me every day," said the oldest brother, who added that his mother planned to join him in Houston for the duration of his lymphoma fight.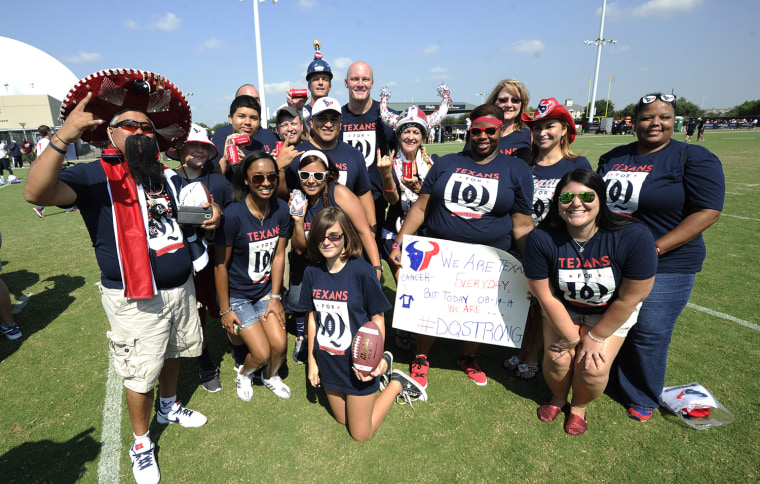 With intentions of returning to the field someday, Quessenberry said he's continued to study team film. "I won't be playing any football this season, because my chemo won't be done until this season's over, probably," he added. "But I do plan on getting my body back once the chemo is done."
Even if game action will have to wait, his treatment won't stop him from trying to achieve his short-term goal of attending the Texans' home opener Sept. 7.
"I want to be at all the home games, just being around my team," Quessenberry said. "And feeling the support from the fans would be amazing."
Follow TODAY.com writer Chris Serico on Twitter.