Over the weekend, Elton John, 76, was treated and then later released from the hospital after falling at his villa in Nice, France.
"Following a slip yesterday at his home in the south of France, Elton visited the local hospital as a precautionary measure," a statement from John's representative shared with TODAY.com read. "Following checkups, he was immediately discharged this morning and (he is) now back at home and in good health."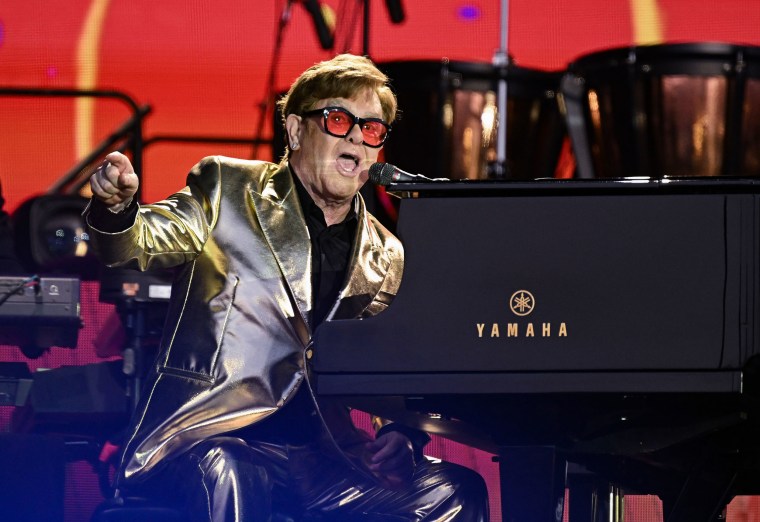 Fans previously worried that John faced worsening health after tabloids reported he was using a wheelchair in 2022. He took to Instagram to share more details about his wellbeing at the time.
"The true story is that I'm in top health, loving my shows and playing and singing at my very best. I give 100% every night and never want to disappoint, especially after everyone has waited so long to get back to seeing shows. Your response to every show has been phenomenal and I'm loving every minute of it," he wrote.
He added that he was using a wheelchair following a concert to reduce stress on his body.
"After another rousing 2.5 hour show, we arrived at Leipzig airport, just before curfew, to find part of the airport had closed," he said. "It was an extremely long walk to get to the plane, so my team kindly laid on a wheelchair so I could rest my hip after doing the show. That's all folks."
In September 2021, John announced in a tweet that he would need to undergo hip surgery after he "fell awkwardly on a hard surface." To recover, he postponed some dates of his farewell tour.
"I have been advised to have an operation as soon as possible to get me back to full fitness and make sure there are no long-term complications," he shared on Twitter, now known as X. "I will be undertaking a program of intensive physiotherapy that will ensure a full recovery and turn to full mobility without pain."
John's hip surgery wasn't the only time his health delayed his farewell tour. After contracting COVID-19 in January 2022, John postponed two concerts. The "Benny and the Jets" star, who was vaccinated and received a booster, experienced "mild symptoms," the Associated Press reported at the time.
Last month, the "Candle in the Wind" singer concluded his Farewell Yellow Brick Road tour, wrapping up 50 years of touring.
John said in a press release at the time: "When we set off on my final tour in 2018, I couldn't have foreseen in my wildest dreams the twists and turns and the highs and lows this tour — and the whole world — would have experienced in the next five years."