Bronny James, the son of NBA great LeBron James, has been discharged from Cedars-Sinai Medical Center, three days after suffering a cardiac arrest during a University of Southern California basketball practice.
The hospital and a consulting cardiologist for the younger James announced his release in a statement July 27.
"Thanks to the swift and effective response by the USC athletics' medical staff, Bronny James was successfully treated for a sudden cardiac arrest. He arrived at Cedars-Sinai Medical Center fully conscious, neurologically intact and stable," the statement said.
"Mr. James was cared for promptly by highly-trained staff and has been discharged home, where he is resting. Although his workup will be ongoing, we are hopeful for his continued progress and are encouraged by his response, resilience, and his family and community support," it added.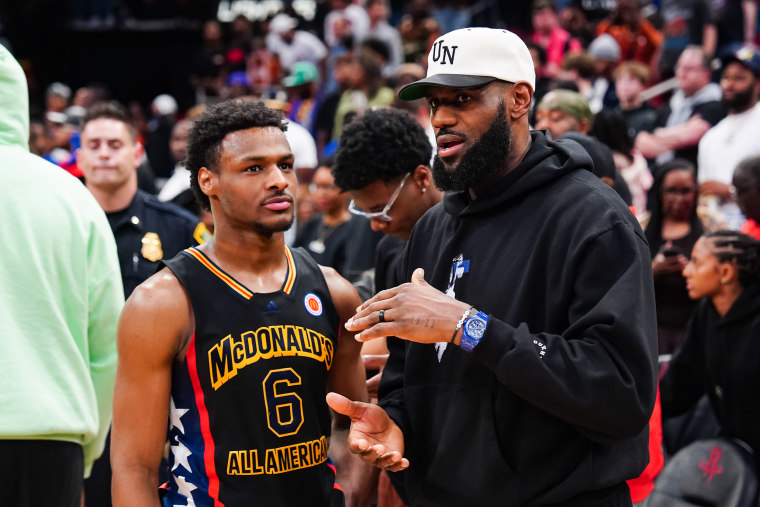 The health update about Bronny James comes just hours after LeBron James, 38, who shares Bronny and two younger children with his wife, Savannah, thanked fans for sending his family their well wishes following his son's medical emergency.
"I want to thank the countless people sending my family love and prayers. We feel you and I'm so grateful. Everyone doing great. We have our family together, safe and healthy, and we feel your love," the Los Angeles Lakers star wrote July 27 on the social media site X, formerly known as Twitter.
"Will have more to say when we're ready but I wanted to tell everyone how much your support has meant to all of us!" he added, along with the hashtag #JamesGang and a crown emoji.
A freshman guard for the USC Trojans, Bronny James was practicing with his teammates on July 24 when he suffered a cardiac arrest, a spokesperson for the family announced the next day. USC's medical staff took the young athlete to a hospital, where he was admitted to the ICU.
The spokesperson added at the time that Bronny James was in stable condition, and was no longer in the ICU.
Bronny James has followed in his father's footsteps when it comes to his basketball prowess. Prior to joining the USC basketball team, he was one of the nation's top recruits as a senior for Sierra Canyon School in Los Angeles. He announced his commitment to the Trojans in May.