A new treatment for children with "bubble baby" conditions means a pair of California twins can finally have their chubby cheeks kissed.

A team at the University of California Los Angeles has combined two techniques — gene therapy and stem cell therapy — to treat 18 children with a genetically inherited immune condition called ADA-deficient severe combined immunodeficiency or SCID. They think it may be a true cure, but will have to wait a few more years to be sure.

It's made all the difference for two-year-old Evangelina Padilla-Vaccaro, who was diagnosed just weeks after she and her twin sister Annabella were born.
"Hearing that news, you just figure your kid is dead," said Alysia Padilla-Vaccaro. "You're supposed to be showing off your kids, not thinking you're going to be burying one," she added, wiping away tears.
A bone marrow transplant can cure the condition, but Annabella wasn't a match for Evangelina. That meant isolation, because with ADA-SCID, even a common cold can kill.
"So there was no kissing of our babies," Padilla-Vaccaro said. "You just want to bite those chubby cheeks and kiss that face and we didn't get that until they were about 18 months old," she added.
The UCLA medical team at UCLA's Eli and Edythe Broad Center of Regenerative Medicine and Stem Cell Research, led by Dr. Donald Kohn, announced it has cured 18 children with severe combined immunodeficiency. 
SCID is really rare and ADA-SCID even rarer — affecting maybe one in a million children. It's caused by defective genes and in the case of ADA-SCID it's the gene responsible for an immune system component called adenosine deaminase.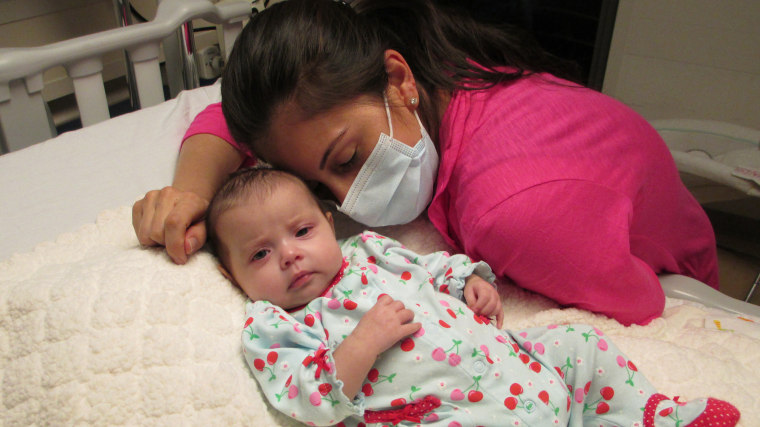 The current treatment is to regularly dose kids with the ADA enzyme, but the treatment doesn't work well and it is very expensive.

To keep Evangelina and Annabella safe as the family considered their treatment options, they lived in extreme isolation. Only seven immediate relatives were allowed to enter their home in southern California. "You showered before you came into my house. You wore a mask. You sanitized your hands. You sanitized — I mean, literally, your cell phones went into a bucket because that is the dirtiest thing you could be having," explained Padilla-Vaccaro.
Her husband, Christian, said the hardest part was not being able to kiss his newborn daughters. "They're the cutest things, and I just want to kiss them all over. And just being deprived of that, it was literally torture."
The family's local hospital referred them the ongoing clinical trials at UCLA. "They gave us the option of Dr. Kohn's trial, and he had one spot and he would hold it for her," said Padilla-Vaccaro, who combed through research with her husband before deciding to enroll Evangelina. "We made the best decision we could possibly make because we were gambling. We were gambling with our child's life."
Kohn's team had been trying gene therapy but it didn't work well, and the technique can itself cause cancer and other side-effects. In 2012, they figured out how to perfect the technique for SCID. They took faulty blood stem cells from affected children, used a virus to put in a working version of the ADA gene, and then infused the cells back into the kids.
"It's like a bone marrow transplant with her own bone marrow, essentially Kohn said. "Because they were her own cells, they were a perfect match and so they engrafted. They grew in her bone marrow and over several months, she developed an immune system."
It worked for Evangelina and now 17 others. "And now I am kissing her all the time," Padilla-Vaccaro said.
The team plans to try the method against more common diseases. Clinical trials using the same technique are set to begin in January on adults with sickle cell disease.
The Padilla-Vaccaros credit the gene therapy with allowing their toddlers to live like normal kids.
"I gave birth to my daughters, but Dr. Kohn gave them life," Padilla-Vaccaro said.