You never like hearing, "you were an extreme case." But that's how my orthopedic surgeon described the damage he found in my lower back when he operated on me in late April.
Like millions of Americans, I'd struggled with lower back pain over the last few years. At first, I chalked it up to a fact of life when you're in your 40s.  I went to see orthopedic specialists, physical therapists, and chiropractors in search of relief. But the pain was always nagging, never really going away. 
Then, while covering the preparations for the Super Bowl this year in Indianapolis, I suddenly started experiencing shooting pains down my right leg.  I'd never felt that before. Walking down the field and interviewing Homeland Security Secretary Janet Napolitano was quite painful.
When I returned to Washington, my doctor had me undergo another MRI to see what had changed in my lower back. The cause was readily apparent.  The vertebrae at L5 did not look like the others. The opening was far narrower than the other vertebrae and it was possible my sciatic nerve was being pinched. The sciatic nerve runs from your spinal cord down the back of each leg. You might say, it's the mother of all nerves.
In February and March, I underwent epidural injections to try to reduce swelling in my lower back, but the pain only grew in intensity. By mid-April, I wasn't able to sit, sleep or work.  On April 20th, I was in the operating room at Holy Cross Hospital in Maryland, one of an estimated 600,000 Americans to undergo back surgery each year. 
It turns out that 80-90 percent of us will experience back pain in our lives that keeps us off our feet for at least a few days. Dr. Kevin McGuire, the chief of the orthopedic spine service at Beth Israel Deaconess Medical Center in Boston, says "Thirty percent of the people who are in their 30s will experience a serious episode of back pain. By the time you're in your 40s, it's 40 percent. Fifty percent by the time you're in your 50s, and so on."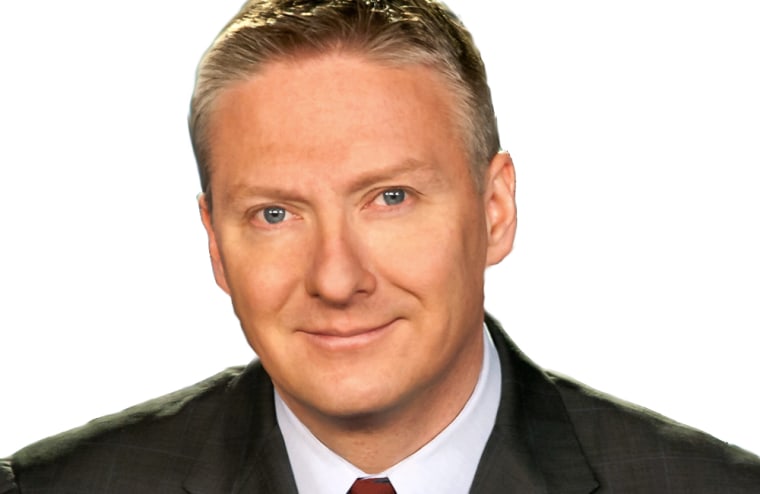 Most back pain, I've learned, can be treated with rest, anti-inflammatory medicines and therapy. For some poor souls, the pain is chronic, leading to a life-time of pain management. 
In my case, Dr. Philip Schneider, the director of spine surgery at Holy Cross, found the sciatic nerve had been "crushed" when the vertebrae collapsed. My disc was virtually gone, probably the result of years of falls as I grew up skiing in Colorado. Dr. Schneider put in a new "cage" where the disc once was, then used screws and rods to fuse and stabilize my lower back.  I also have a bone graft to keep it all stable.
Amazingly, during the 2 ½ hour operation, Dr. Schneider was able to use minimally-invasive techniques, which meant he didn't have to cut through muscle. That significantly reduced the healing time.  I was up walking at the hospital the next morning. The operation was on a Friday evening and I was discharged on Monday morning.
A month later, I was back reporting for the Today Show and NBC Nightly News. 
The pain in my lower back was gone very quickly. The sciatic nerve pain, however, took longer to dissipate. It turns out, nerves heal, but they do so at their own pace. And the longer a nerve is "crushed," as Dr. Schneider discovered, the longer it takes to recover.  And as he told me, I had been an "extreme case."
Through the summer, I was able to manage the pain with painkillers while I was working, but it wasn't pleasant.  There were days and weeks when I was miserable dealing with it all.  But by the first week of July, as I covered the massive power outages across the Mid-Atlantic region, I was having longer stretches without any pain. By the end of August, thankfully, the sciatic pain was almost completely gone.
I recently told a friend who is having similar symptoms not to delay in getting help. The longer you delay in relieving pressure on a pinched or crushed nerve, the greater the risk of permanent damage.  Find a surgeon that you're sure you can trust and get the best opinion you can.  
But surgery truly isn't the option for everyone. Because not all back pain is the same!
Tom Costello is an NBC News Correspondent based in Washington, DC. He reports daily for the Today Show and NBC Nightly News.
Related:
Spinal injections may not aid lower back pain
Back pain tends to improve quickly, not completely
Doctors call for change in painkiller labels
More from TODAY health:
Overweight teens may actually eat fewer calories
More kids eating colorful detergent capsules