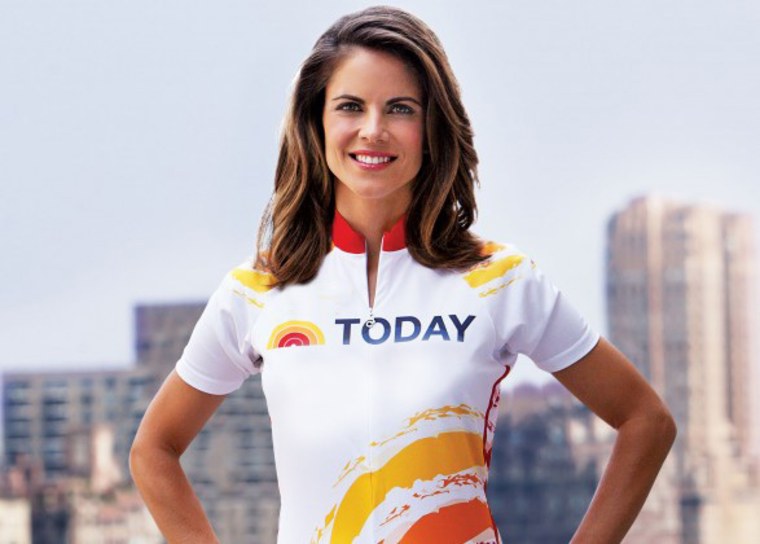 As part of TODAY's Shine a Light series, a campaign to support worthy causes throughout the year, Natalie Morales is shining a light on those still recovering from the bombing of last year's Boston Marathon. If you want to help Natalie raise money or donate to the One Fund or Challenged Athletes Foundation, visit her fundraising page at Crowdrise.com/Natalie. 
After Natalie Morales had her sons Josh and Luke, she hung up her marathon shoes. She'd had a good run, finishing five marathons, including New York three times. For the past eight years she's been happy and plenty challenged doing a half-marathon once a year.

Then Boston happened. When she got the chance to run the Boston marathon this year and raise money for victims of the 2013 marathon bombing as well as for athletes with disabilities, she couldn't pass up that opportunity.
"I figured, some day I'll get back into it," Natalie says. Running Boston "has always been on my bucket list... And in this case, for such a great cause, to be able to do something so positive... I love a good challenge."
She's learning that training for a marathon after age 40 is no walk in the park. "Things are definitely more painful," she says. "I'm old. It hurts!"
Check out marathon legend Uta Pippig's daily tips for Natalie
She tries to run 50 miles a week, running five days every week, though work and training injuries sometimes slow her down. She's dealing with a common distance running injury, proximal hamstring strain ("literally a pain in my butt!"), which she's hoping she'll be able to overcome for the race. She says she has to be flexible with her training schedule, aiming to do a couple long runs each week to build up her endurance.
"It's always something. You're always fighting through the pain," she says.
For marathon moms, guilt is a hazard as common as shin splints. Any mom with a time-consuming hobby knows the pangs of "should I be doing this?"
"You do feel a little guilty," she says. "It can feel like a self-indulgence when you're working out for two and a half hours, even though half the time you're grumbling about it to yourself."
But she also feels like she's setting an important example for her sons about working hard and pursuing your goals. "What better message to send to my kids that mom is going to run this incredible marathon?"
While Natalie doesn't think they quite understand how big a deal Boston is for runners, she knows they're aware of last year's bombing through the stories she has covered, including the inspirational story of the Corcoran family. Her oldest, Josh, did express concern about safety at this year's marathon.
"I said it's going to be the safest place in the world, and security is going to be over the top. We talked about security checkpoints and what you can and can't bring into the race. He seemed OK with that," Natalie says.
As she enters the home stretch before the big race, the TODAY anchor says she knows the weekend before will be super exciting. While she says her goal is just to finish in a respectable time, and to raise money for her charities, she admits that she'd love to finish in under 3:30. "My last marathon, I missed 3:30 by one minute and it was infuriating!" she says. "But, knowing that my body is older and things don't work the way they used to, anything under 3:40 would be great."