As part of TODAY's Shine a Light series, a campaign to support worthy causes throughout the year, Natalie has chosen to shine a light on those still recovering from the horrific events of last year's Boston Marathon.
If you want to help Natalie fundraise or donate to the One Fund or Challenged Athletes Foundation, visit her fundraising page at Crowdrise.com/Natalie. 
Running the Boston Marathon has been a long-time dream of mine. After all, to runners, this is the marathon of all marathons — the most prestigious and one of the most historic races in the country. Every year, it takes place on Patriots' Day, and nowhere is that Boston pride more visible than along that 26.2-mile course.

But this year, the famed race carries even more meaning.
We all watched in horror last year as news of the bomb blasts broke, claiming three victims and shattering so many lives. In the tragedy and its aftermath we saw heroes who saved lives, and we saw the courage of those injured by the blasts as they showed us all what it really means to be Boston Strong. I am truly inspired by their stories of perseverance and strength.

Celeste and Sydney Corcoran are two of the bombing victims; they were there that day, as fate would have it, to cheer on Celeste's sister. The mother and daughter were right at the finish, and Celeste's sister was just two-tenths of a mile from the finish line when the first blast went off. Celeste suffered catastrophic injuries to both her legs and required amputations just below both knees. Sydney nearly lost her life with a severe injury to her femoral artery in one of her legs. Together, though, they have healed physically, and are still healing emotionally. Celeste now has new, specialized prosthetic legs that allow her to run, and has been making great strides just a year later to getting back to the things she loved. Sydney is a freshman in college and is keeping very busy. As I have gotten to know them over the past year, they have reminded me what's most important: family, friends and being there for each other in good times and bad.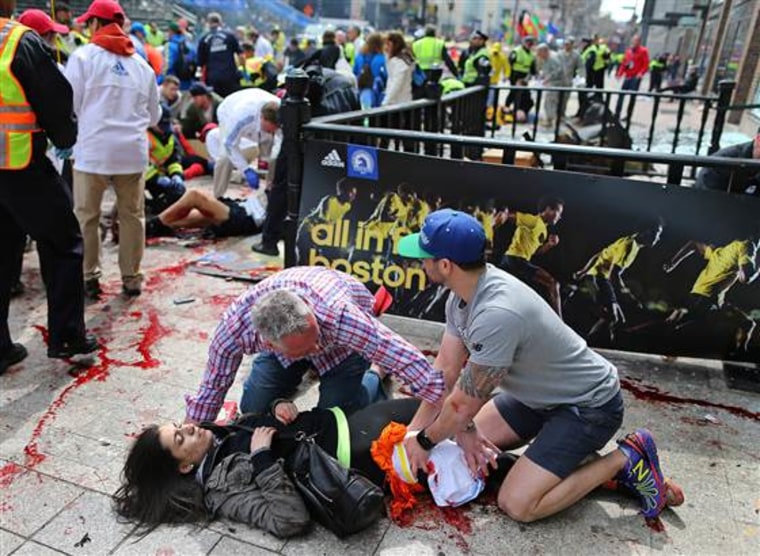 I wanted to do something to honor them and to all the victims who still have a long road ahead. For this reason, I am running the Boston Marathon. I plan to raise money to support the One Fund, which has done an amazing job supporting the victims and their families as they required long term help. I am also supporting the Challenged Athletes Foundation, which helps people of all ages with disabilities remain active in sports, such as giving them prosthetics and custom designed wheelchairs or equipment. In fact, Celeste was given her running legs through the CAF. 
Read more: Marathon will be 'very, very emotional,' says Celeste Corcoran
It will be an honor to run the Boston Marathon, and I'm sure so many will be feeling the emotions of that day. Celeste and Sydney are also planning to be there, and hope even to link arms across the finish with Celeste's sister as she finally reaches her goal, a year (though it will no doubt seem more like a lifetime) later.
With that goal in mind, training has been keeping me very busy. It's not an easy one to train for as most of the time it's been the dead of winter outside with storm after storm. (I'm not a great treadmill runner, either.) I have to say, though, the Sochi Winter Olympics worked in my favor: I spent two weeks running along the Black Sea in 50 to 60 degrees instead of on ice and in snow.
I've completed five marathons, but it's been eight years and one child since my last, and I'm a little rusty and out of shape on the training. But I have been following a plan outlined by my friend Bart Yasso at Runner's World. He is keeping me on track and on pace, though some weeks have been tough. This week I have to run a total of 55 miles, including a 20-mile long run—which means I may be in a bit of pain! But it will be well worth it. 

Most importantly, I hope I can inspire others to take up a cause they are passionate about and set a goal to make it happen. Running has always been my outlet, and I'm so happy to have this opportunity to help others along the way.