Natalie Morales got to the top the hard way -- the top of the Empire State Building, that is.
The TODAY co-anchor ran up all 1,576 steps of Manhattan's Empire State Building in just 17 minutes on Wednesday night, as part of a stair race to raise money for the Multiple Myeloma Research Foundation.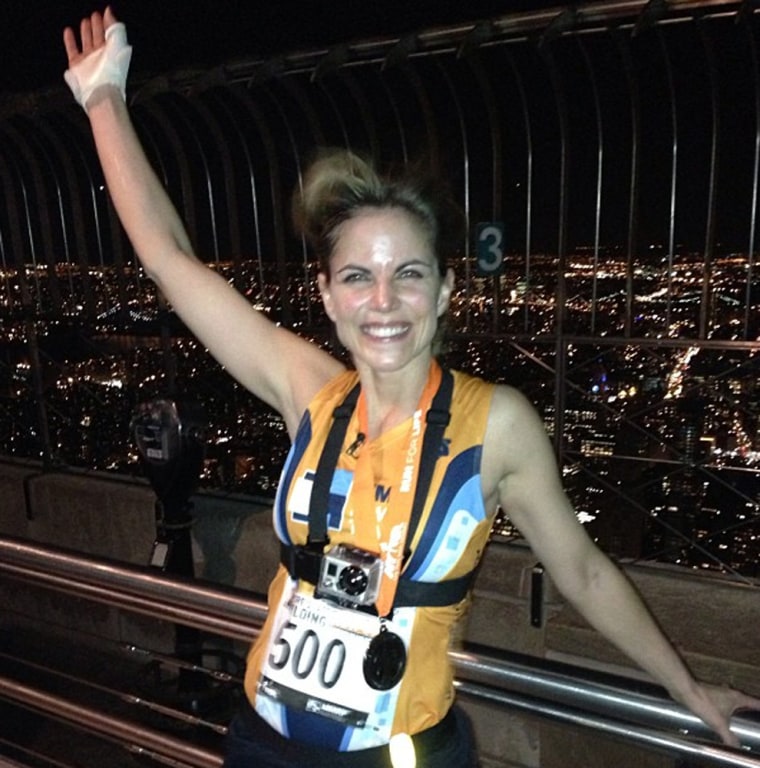 "Whoa, what was I thinking?" Natalie wondered out loud as she looked up at the iconic skyscraper from the sidewalk. After getting some tips from veterans -- two steps at a time, use your upper body when possible, and pace yourself -- she was off.
On the 20th floor, she was feeling the pain: "This is brutal, hardest thing I've ever done," said Natalie, an experienced runner who has competed marathons.
On floor 40, she jokingly asked where the elevators were.
By the 65th floor, she was reduced to a one-word gasp: "HARD!"
But she was all smiles when she made it to the 86th floor observation deck in just 17 minutes and five seconds. "It doesn't get any better than this," she said, gazing triumphantly at the lights of New York City from the Empire State Building's observation deck.
Morales ran with Sally Kalksma who has multiple myeloma, a type of blood cancer. "I did it last year and wow, it was tough, and I said I would never do it again," Kalksma said, "and here I am."
The next morning on TODAY, Natalie said, "My lungs are still burning." Still, she said, the hardest race of her life "is nothing compared to what people dealing with multiple myeloma" go through. 
More from TODAY Health:
Natalie Morales on the workout that whipped her into shape
Jenna Wolfe kicks Natalie Morales's butt with a 10-minute workout