Most months my menstrual periods are beyond painful. I can't walk, my lower back is wracked with unbearable pain and my pelvic area feels like it's on fire. I've tried everything from Percocet to muscle relaxers, getting little to no relief.
When I heard there was a new device on the market promising to instantly ease severe menstrual pain, I had to try it.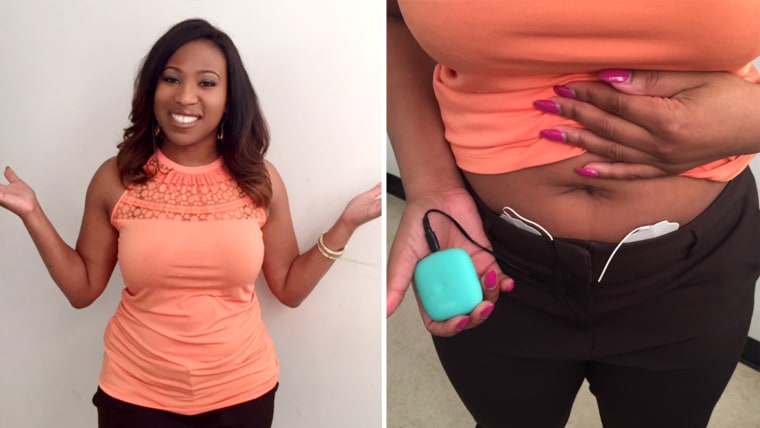 It's a new product called Livia, which became available earlier this year. Livia uses transcutaneous electric nerve stimulation (TENS) and was designed to be an "off switch" for severe menstrual cramps. TENS therapy has been used for decades and is considered safe and effective: It works by sending electrical currents through electrodes placed on the skin, stimulating nerves in the area of pain, such as neck, back or shoulders. This stimulation keeps pain signals from reaching the brain.
RELATED: 8 doctor-approved ways to banish menstrual cramps and migraines
I suffer from endometriosis, an incurable disease that occurs when cells that line the uterus spread to other places of the body, creating implants and adhesions. It also causes agonizing periods, difficult bowel movements, pelvic and lower back pain. It's not an easy disease to live with — especially during that time of the month.
When I tried Livia, it gave me relief instantly.
In general, other TENS devices are used to treat pain in various places of the body, such as the back or shoulders.
Menstrual pain is one of the most common disorders treated by gynecologists, and affects more than half of women with periods, according to the American College of Obstetrics and Gynecology. Research suggests TENS may help treat dysmenorrhea, or debilitating menstrual pain, although it's still not standard treatment.
"It's still pretty rare and not a standard thing OBGYNs would be discussing or probably offering to their patients," said Dr. Nathaniel DeNicola, gynecologist at the Penn Medicine Center for Health Care Innovation.
RELATED: Britain's Coexist to offer flexible 'period policy' for women with painful cycles
There don't seem to be major risks from the devices, although DeNicola said some of his patients have experienced worse pain using other TENS-based devices for cramps.
But Livia is different from traditional TENS devices, creator and co-founder Chen Nachum told TODAY. Although Livia uses similar technology as traditional TENS devices, it specifically targets pain from menstrual cramps, which tend to come in waves. Livia tries to stop those waves of pain before they crest.
"We took existent technologies and adjusted them especially for that type of pain," says Nachum.
RELATED: 'Normal Barbie' doll comes with a new accessory — menstrual pads
My cramps disappeared
I spoke to my doctor about Livia and my painful periods. He had no objection to my trying it.
The device is very small and comes in a variety of colors. It can be worn discreetly under clothes and doesn't require batteries — staying charged for up to 15 hours.
I clipped Livia to my pants and attached the two gel stickers to my lower abdomen. Once turned on, it emits impulses that feel like mini vibrations. It has three levels of strength that can be adjusted according to one's pain (I used the first level).
My pain quickly went away as soon as I turned it on.
RELATED: Do you get your period in space?
I was shocked and surprised at how fast my cramps disappeared. I wore it all day at work and used a heating pad while it was recharging. This was the first period I had where I did not have to take any sort of pain medicine to feel comfortable.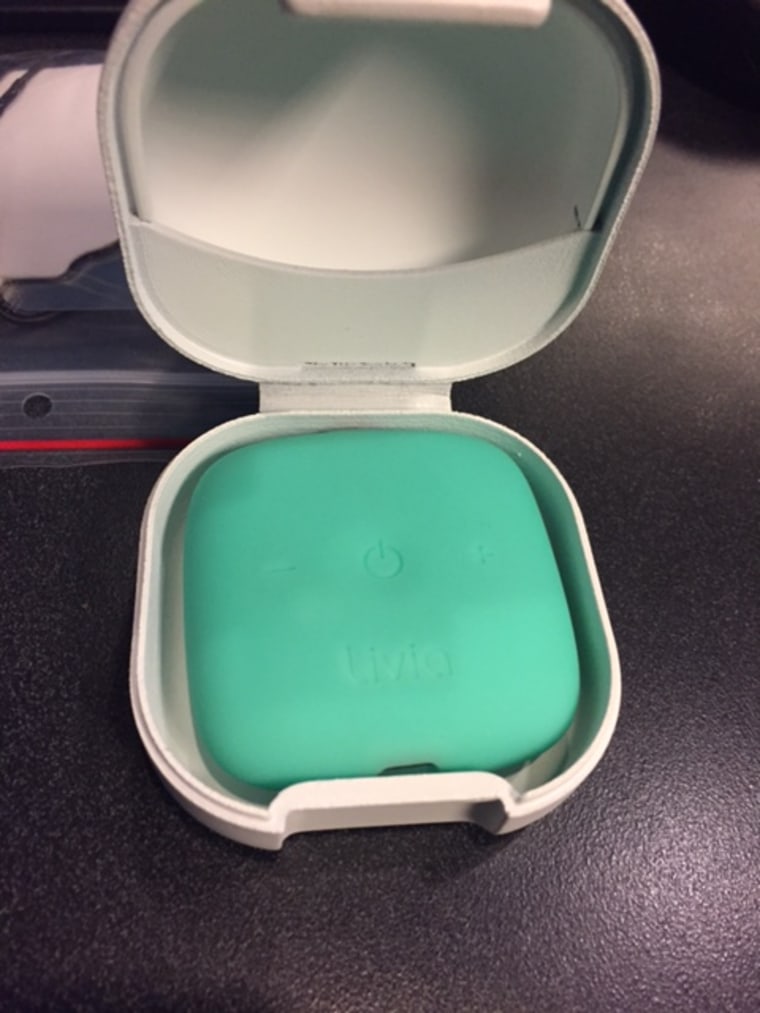 My doctor was happy I found something to manage my pain that wasn't in the form of a pill, and encouraged me to continue using Livia.
Livia isn't approved by the Food and Drug Administration yet and the company is currently conducting clinical trials. But it can be preordered online at Indiegogo for $85, with delivery expected around October.
Gynecologist DeNicola said the device falls in the category of alternative medicine and that doctors are looking for non-drug treatments for pain. Wearable devices like Livia are "where medicine is headed," but DeNicola cautioned that while it may ease dysmenorrhea, women should be careful about using it for pain in other areas of the body.
If you're considering trying it like I did, check with your doctor first.
Chandelis Duster is with NBC News, Washington, D.C.