Thanks to her husband, Juli Alvarez is a dedicated liquid dieter.
"I'm very conscious about what goes in my mouth, but then you get caught up in things, get lazy and eat one too many cupcakes," says the New Yorker whose husband is a pastry chef. "I wish I could say I never gain weight but I have gone up and down."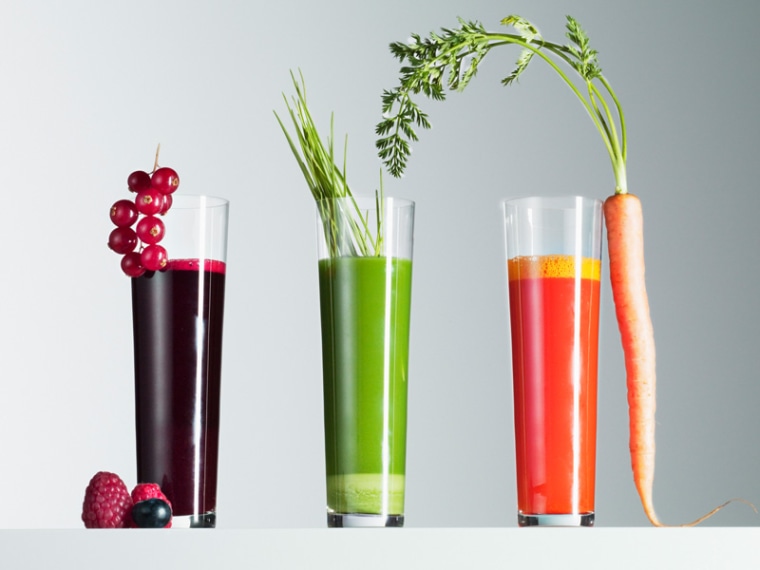 To maintain her weight, Alvarez (who declined to give her age) has endured the intense 10-day liquid fast, the Master Cleanse (a diet of water, lemon juice, organic maple syrup and cayenne pepper), three separate times, losing and then gaining back between 5 and 10 pounds each time.
More recently, though, she and others looking for a dramatic diet fix have turned to a new contender in the get-thin-quick field: juice fasting.
The practice has been given the slurp of approval by everyone from Gwyneth Paltrow to Sarah Jessica Parker. Starbucks has even climbed on board the juice train, opening its first juice bar chain, Evolution Fresh, in March.
Juicy dieters either squeeze fruits and vegetables themselves or buy commercial products such as the organic Love Deep Cleanse or the trendy Blue Print Juice Cleanse, which helped Alvarez drop six pounds in just six days.
"One of the downsides of any juice cleanse is that you constantly go to the bathroom," says Alvarez of her recent juicing regime. "But you do have more energy on the Blue Print cleanse than on something like the Master Cleanse."
The first day, she says, is always the easiest -- while the second and third are the hardest. After that, you just "bide your time until the end."
"The only thing I didn't like about this cleanse is that they recommend doing colonics with the juice," she says. "You're cleansing all the way through; not just to lose weight but also to clean out."
According to Dr. Madelyn Fernstom, TODAY's diet and nutrition editor, "cleaning out" or "detoxing" your digestive system -- a current preoccupation among the weight and health conscious -- is completely unnecessary.
"A normal healthy digestive system does not need a rest," she says. "Fiber is nature's Roto-Rooter."
According to the Mayo Clinic website (and Fernstrom), there's no scientific evidence that juice fasting provides any of the other benefits that its proponents claim it does: it won't reduce the risk of cancer, boost the immune system, aid digestion or promote any kind of permanent weight loss. 
Juice fasts aren't easy, either.
Peg Rosen, a 48-year-old health writer who lives in Montclair, New Jersey, says she has few fond memories of the three-day juice fast she completed at a spa in 2010.
"I felt like I was starving to death and found myself eating the weird seasonings set out on the tables in the dining room, hoping for something -- anything -- to chew on," she says. "I felt like I was in prison. And I paid for that! I ate so much when I got home that I probably ended up putrefying myself doubly."
Because of the regime's difficulties, some people almost see juice fasting as a new competitive sport.
"I wanted to test my willpower, just see if I could do it," says Abby Gardner, a 36-year-old web editor in New York. "And I did, twice, without cheating. It gave me a weird sense of accomplishment."
Despite the ultra-competitive rewards (and the mixed results), Fernstrom cautions that using juice as a meal replacement can cause fatigue after a few days due to the lack of dietary protein. A steady diet of juice can also cause a decline in muscle mass as well as thinning hair and nails (ill effects that seem counterproductive to those who fast in the pursuit of beauty).
Juicing fasts can also produce the dreaded yo-yo diet effect.
"With weight loss, when it comes off quickly, it comes back on quickly," she says. "If you stay under 1,000 calories a day with liquids or solids, you'll lose weight at the same rate."
But it's not all bad news for juicers.
"No one eats enough fruits and vegetables and one way to get them is to drink them," says Fernstrom, who says a glass of vegetable juice daily, along with a healthy diet of actual solid food, can actually be a good idea for some. 
For weight loss, though, Fernstrom suggests sticking to green juices, or to mix vegetables and fruits, since fruit can add a lot of calories.
"One glass of fruit juice has the calories of two pieces of whole fruit," she says. 
One last pitfall: fresh-squeezed juice needs to be consumed right away to avoid fast-growing harmful bacteria.
"To avoid food-borne illnesses, make your own juice, and drink it immediately, because harmful bacteria can grow in juice quickly," says Fernstrom. "And if you're buying a commercial juice, get one that is pasteurized."
Christina Kelly is a freelance writer who lives in Montclair, New Jersey.
More from TODAY Health:
Can Miley Cyrus' gluten-free diet help you lose weight?