Taylor Bingaman, an avid sportsman from Mifflinburg, Pennsylvania, suffered a traumatic brain injury after falling down a flight of stairs in 2012. Doctors said the 21-year-old would probably not live. Taylor's physical recovery was arduous and in some ways miraculous, but he was never again the same person. His mother, Nicole Bingaman, writes about the family's journey in her book, "Falling Away From You." Bingaman, 45, shares why she is on a crusade to help others understand the heartbreak of a brain injury.
I am probably a person who keeps on the sunny side of life, but I will say this is the most excruciating thing I have gone through. I know we are fortunate, but sometimes we paint things with a light brush.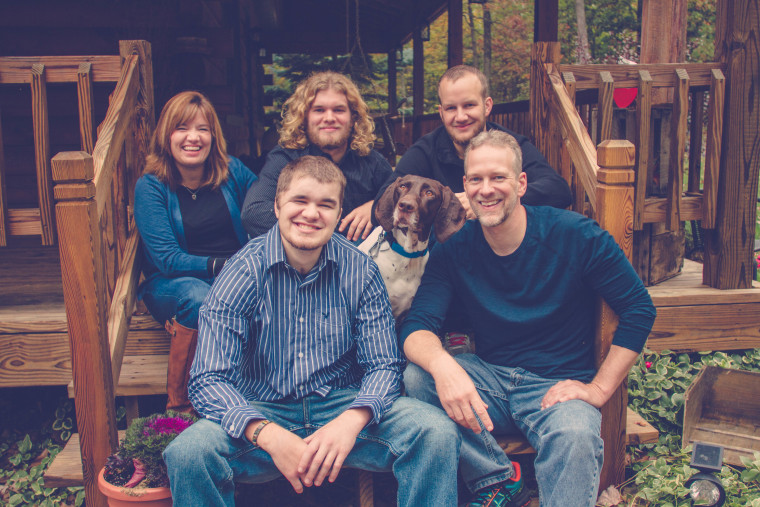 Taylor is a very different person than he was three years ago. He's had to relearn everything again — going to the bathroom, walking, talking, eating and brushing his teeth. He didn't recognize one of his brothers when he was initially emerging from the coma, and he still continues to have lots of memory issues.
Taylor was once a big, strong strapping guy. My other kids were more into music and sports, but Taylor loved hunting and fishing, his pick-up truck and country music. He liked hard physical work and he was good at it.
Then, on Thanksgiving Eve in 2012, he fell down the stairs in our home. They talk about something happening in all the right ways, this happened in all the wrong ways. His head really led the force of the fall and was the only part of his body damaged.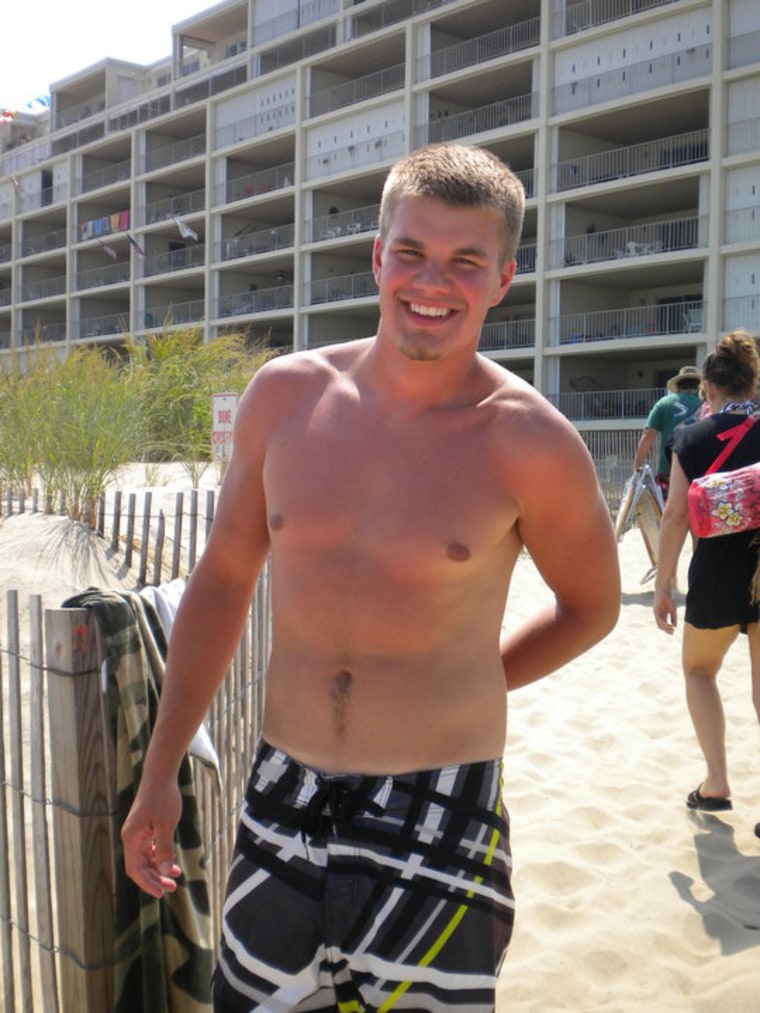 When the EMTs arrived and briefly examined Taylor, they saw something unusual and dangerous when prying his eyes open. Taylor was unconscious and airlifted to the hospital. But when we met up with the ambulance after they put him in the helicopter, the driver said they were less concerned than initially, so we kind of thought we would bring him home later.
In the ER, the chaplain immediately came to us and asked us to come into a room. I distinctly remember thinking that if I don't go back to the room, they won't be able to tell me my son is dead.
The doctors explained that the injury Taylor sustained was significant and the brain was swelling to extraordinary levels. They weren't sure they could save him and asked us to prepare to see him for the last time.
Taylor was unresponsive in every sense of the word, but he didn't die in surgery. They removed a large piece of skull and froze it to put back in later when the brain swelling went down. He spent a month in the ICU in a coma. He got pneumonia, extremely high fevers and infections.
Both his brothers were like German shepherds, highly protective and on guard. Avery, who was 19 at the time, stepped into the oldest son role. He was a sophomore in college preparing for his exams and he wouldn't leave Taylor's side. He insisted my husband and I get our rest and he did the night shift. Someone was always with Taylor.
Tanner, the kid everyone loved and was a happy beam of life, responded by retreating, and his social life took a big turn. It was extremely difficult for him.
In the hospital they put Taylor in a chair for an hour or so a day and maybe he opened his eyes once or twice, like there were dead weights on his eyelids. It was agonizing.
A couple of days before his 22nd birthday, Taylor transitioned to rehab for four months. He began to emerge from the coma almost immediately. I was absolutely flabbergasted because they had talked about putting him in a nursing home. Slowly, day by day, we began to see improvements.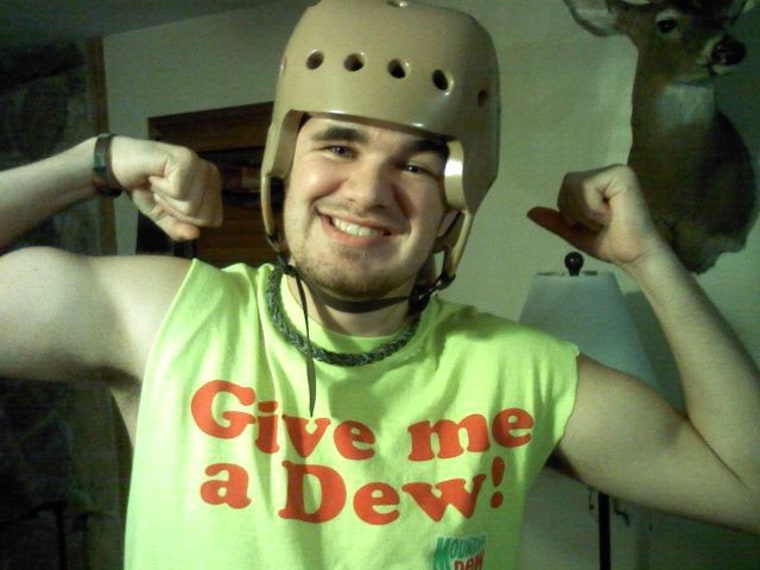 Taylor had some major setbacks — he almost died three months after coming home. He got an E. coli infection and his skull plate had to be removed. He developed a seizure disorder.
Now, two and a half years later, Taylor is taking yoga and art lessons. He goes to the gym and also swims. He has left side deficits, joint and muscle atrophy, but he's doing things he could not do a year ago.
Taylor still has some aphasia: He may say something like, "pass the finger," when he wants a fork. But he has shown improvement in identifying objects and reading.
We've had a wonderful and supportive community. Everyone wants to focus on the fact that Taylor is alive and he wasn't supposed to be able do all these things. But it's hard to express to others the pain of knowing that your son and brother of three years ago is gone.
Taylor lives at home and requires constant supervision and care. Because his frontal lobe was damaged, he displays very poor judgment and is extremely impulsive.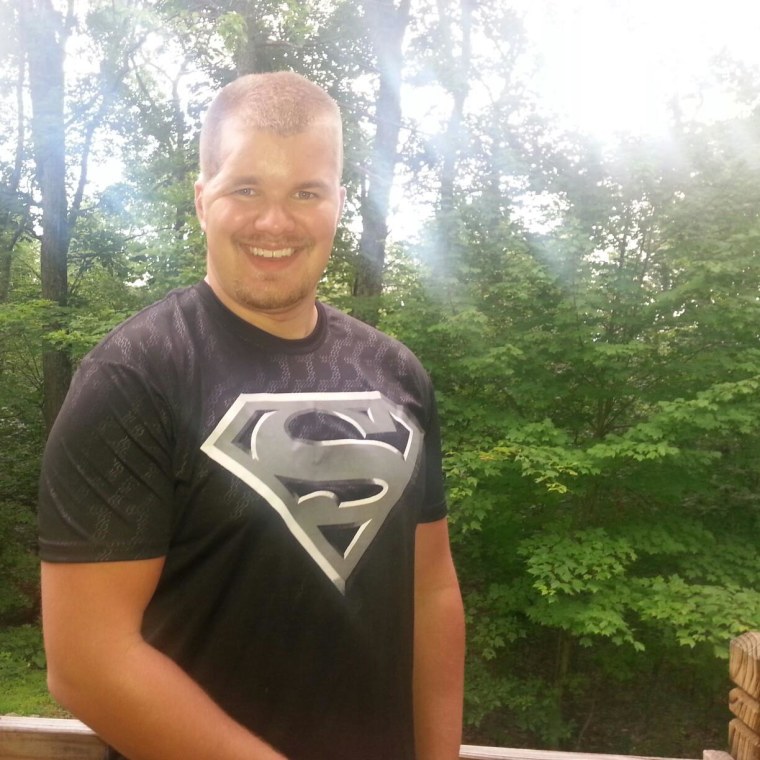 He deals with periods of earth-shaking depression, a lot of self-esteem issues and sadness over the loss of friends. When we had his cognitive ability tested, we were told he was functioning like a 9-year-old.
Though Taylor is now 24, he is extremely immature emotionally and often self-centered. I wasn't prepared for that.
One day in rehab, a patient who was not so severe was waving and smiling at his family. Taylor started bouncing in his wheelchair up and down, screaming and swearing at me. He was never angry like this before.
Yes, of course, we are fortunate Taylor is with us, but there has been a loss. Ambiguous loss feels very much like a death and is difficult for people to understand.
Yet my family and I are not alone.
Although I've always been in the social work field, I never knew what happens behind the walls of a brain injury unit. It is fascinating to watch people emerge, but you also watch the heartbreak of how many people are affected by brain injuries.
What I learned is that it is too painful, and mothers and father don't always want to talk about it.
Over time, I thought about the strong women I knew. I didn't want to be ashamed of Taylor and his injury. I gained the courage to post updates about him on Facebook and I began to talk to other patients' families and help them. A publishing company contacted me and said they would help me write a book.
I want people to understand a brain injury is not pretty. Families show pictures of their kids smiling, but underneath they are in terrific pain because of the loss. When a loved one loses his or her brain, they lose everything, their personality included.
But it's also important to understand that love is stronger than horrific pain, stronger than the things you feel will break you into a million pieces. Love is the driving force when we face something like a brain injury.
Love fights and protects and heals. It doesn't mean that you are not battered and bruised and broken, but love does win.
For more information on brain injuries, go to Brainline.org
As told to TODAY contributor Susan Donaldson James