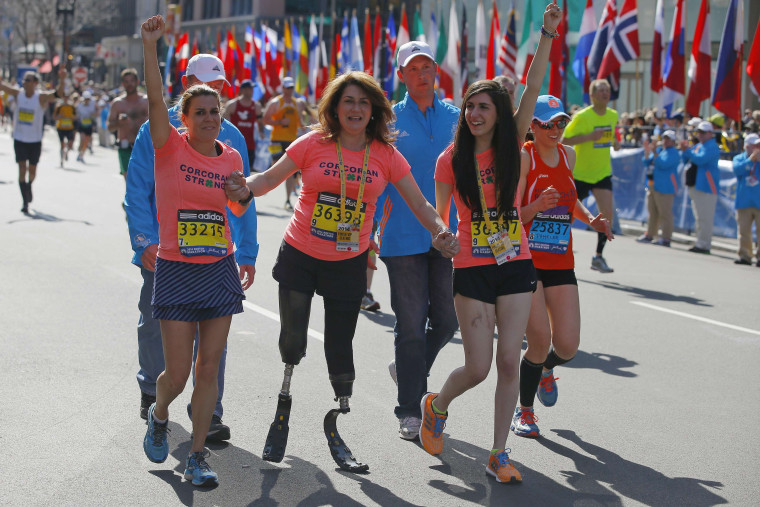 Last year, Celeste Corcoran didn't get to see her sister Carmen Acabbo cross the finish line at the Boston Marathon. Wounded by bomb blasts, Celeste, 47, lost both legs below the knee, and her daughter Sydney, now 18, also suffered severe injuries.
At this year's marathon, the Corcorans helped Carmen finish what she started, and achieved a milestone themselves.
The mother-daughter duo joined Acabbo for the last stretch of the race, and the family crossed the finish line holding hands, thanks to their determination and a set of specialized prosthetic legs.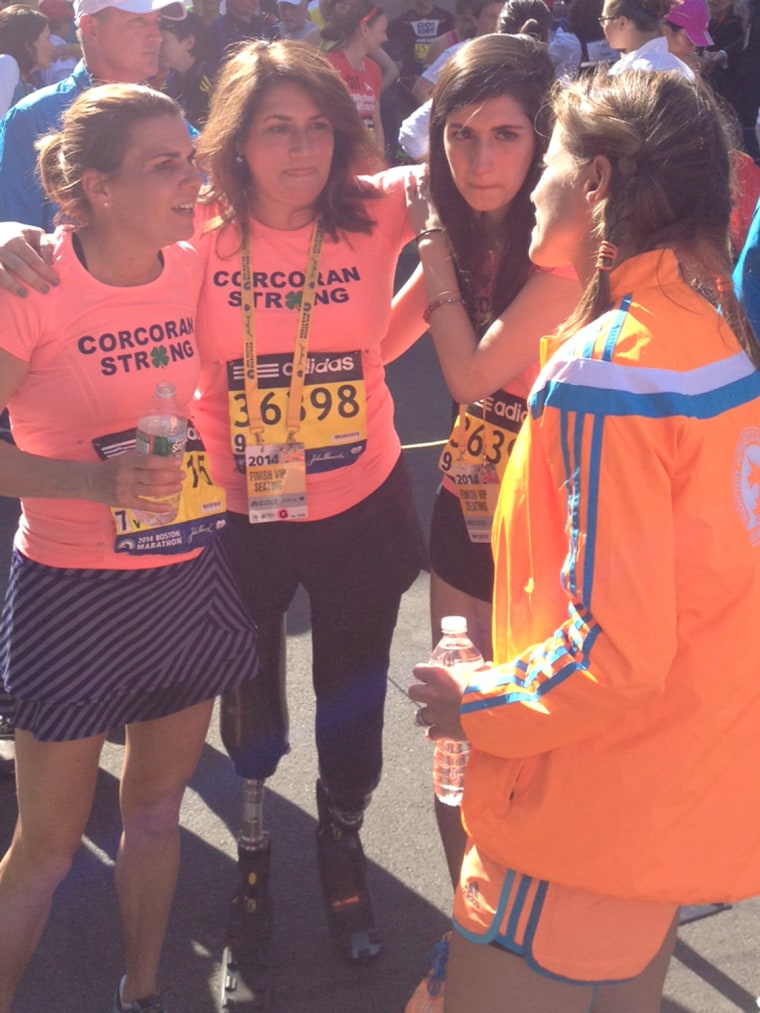 The Corcorans entered the race with Acabbo at Exeter and Boylston streets and completed roughly the last block of the marathon together.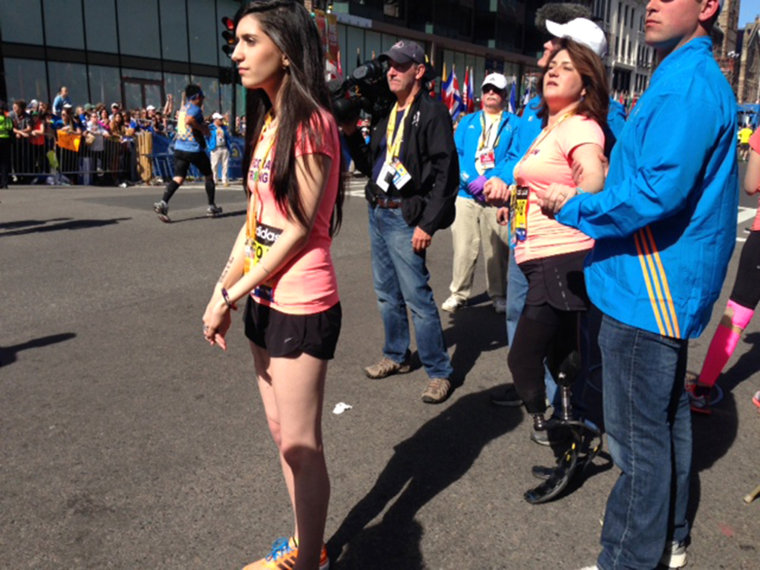 Afterwards, they chatted with TODAY's Natalie Morales, who had run with Acabbo in honor of the pair, and all those affected by the bombings.

Corcoran, her husband Kevin, and their daughter Sydney were at the finish line last year to watch Acabbo complete the race, but while Acabbo was still two-tenths of a mile away, the first bomb detonated. Celeste's legs were so badly damaged that she had to have both of them amputated, and she also had to have surgery for a ruptured right eardrum. Sydney nearly bled to death after shrapnel flew into her right thigh, and has since developed an eating disorder and shown symptoms of post-traumatic stress disorder, according to the Boston Globe. 

Acabbo spoke with Morales before Monday's race, as the family focused on creating a positive memory after the tragedy of last year. Acabbo and Morales both wore pink shirts with "Corcoran Strong" on them during the race. 
"I think she's looking forward to the finish,'' Acabbo said about her sister before the race. "There's definitely anxiety around this whole situation, but as a family, we're just looking forward to crossing together. I hope we can just do it. I think it's just going to be unbelievable. It's going to be such a special moment of closure for us to just finally say that we're crossing this together." 

""There's been ups and downs and more, lately, more ups than downs," Celeste told Matt Lauer on TODAY last month. "I think we're headed in the right direction. This is going to a be a positive reclaiming of a space that was taken away from us."

In the year since the bombing, Sydney has begun her freshman year in college, and Celeste has worked to adjust to specialized prosthetic legs that allow her to run. The prosthetics came from the Challenged Athletes Foundation, which Morales helped raise more than $17,000 for by running in Monday's race. 
"I don't think we'll ever get the normal that we had before but I think we'll definitely find a new normal," Sydney Corcoran said on TODAY last month, adding: "Haven't found it yet, but we're getting closer to it."
The 118th Boston Marathon was filled with pride, love and solidarity; here are some of those moments during the race.