Despite repeated warnings to parents, infants are still being put to bed with bumper pads, pillows and stuffed animals, sleep positioners and similar items.
A new study based on videos recorded in 160 children's homes found that 91 percent of 1-month-old infants had been placed in cribs with unsafe bedding, according to a report published Monday in Pediatrics. Perhaps even more alarming, researchers found that 14 percent of the babies had been placed on their sides or on their stomachs rather than on their backs.
All of these practices increase the risk of sleep-related infant death, the most common cause of death in babies this age, says Dr. Ian M. Paul, a professor of pediatrics and public health sciences and chief of the division of general pediatrics at the Penn State College of Medicine.
While rates for Sudden Infant Death Syndrome have declined since 1990, rates for accidental suffocation and strangulation in bed have been increasing since the late 1990s, with the highest rate — 21.4 deaths for every 100,000 live births — reached in 2014, according to the Centers for Disease Control and Prevention.
There are a number of reasons parents ignore the warnings about unsafe bedding, among them: "Parents don't think it's going to happen to them, even though 3,500 infants die each year," Paul said.
One of the other big factors is the heavy marketing of these types of bedding to consumers, Paul says. "They think that if these products are being sold, they are safe," he added.
For the new study, Paul and his colleagues got permission from parent participants to place video cameras around the home in places where the infants typically ended up sleeping. The cameras were left in place at three intervals, for one night each: when the babies were 1 month old, 3 months old and 6 months old. The researchers examined the videos to see what types of bedding were used and what position each baby was placed in.
More than two-thirds of the mothers had college degrees and over 80 percent had at least some college. The average age was 29.
While 86 percent of the 1-month-olds were placed on their backs initially, that often changed during the night when the babies awakened and were put down again, sometimes in a new location. When the researchers looked at infant positions throughout the night, they found that only 64 percent were always on their backs.
Similarly, although 82 percent of the 3-month-olds started the night on their backs, only 65 percent were on their backs all through the night.
Efforts to educate the public about risk factors for sleep-related infant death began in 1992, when the American Academy of Pediatrics recommended that parents always place babies on their backs. Subsequent advisories warned of the dangers of loose bedding, blankets, stuffed animals, pillows, bumper pads and sleep positioners.
As a general rule, Paul says, the sleeping area "should contain nothing but the baby and what the baby is wearing."
RELATED: OK to let baby cry it out, experts say
Parents may not realize that even though infants aren't very mobile, "they do move some during the night," Paul says. "And while the parents put a blanket on so it's not covering the baby's face, babies can wiggle, and as they wiggle, the blanket will move, too."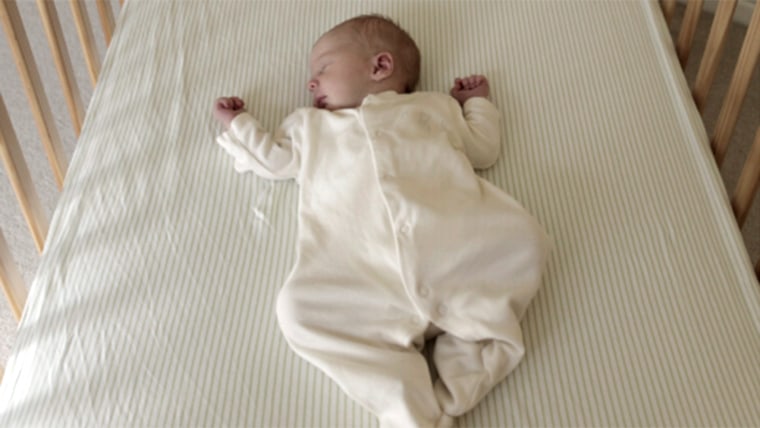 If the blanket ends up covering the baby's face, suffocation can result, Paul explains.
How long does the sleeping area need to be kept free of loose objects?
Until the baby is 1- year-old, Paul says.
RELATED: At 22 weeks, my baby wasn't considered viable — why doctors saved her life
The fact that 9 out of 10 parents were putting items in their 1-month-old infants' cribs came as a surprise to Dr. Raymond Pitetti, associate chief of the emergency department of the Children's Hospital of Pittsburgh.
"This tells me we still have a long way to go in terms of educating parents and getting them to understand the risks," he says. "It's shocking."
What's particularly concerning, Pitetti says, "is that parents knowing that they were being videotaped and knowing the recommendations were still doing this."
Pitetti suspects that organizations like the AAP need to come up with a better way of communicating the dangers to parents. "For a long time the focus was on 'Back to Sleep,' he says. "That was a great slogan. It really put the emphasis on putting babies on their backs to sleep, but it doesn't include the other factors. Maybe we have to come up with a new slogan."