When Darline Miller got breast augmentation surgery 16 years ago, she wanted to fit in with a culture that prized women's large breast size. She went up from her natural "B" cup to a fuller "C" on her petite frame.
But about a year ago, Miller was tired of her bigger chest. It was a pain shopping for supportive running bras or bikini tops that didn't reveal "too much side boob." Her breasts got in the way of her golf swing. She also worried breast implants might pose long-term health risks.
"I was at that point in my life that I didn't need any more hassle," said the 45-year-old San Diego resident, who works as a property manager. "When I first got them, I wanted to conform. Now that I'm in my 40s, I just want to be me."
So Miller did what she never imagined 16 years ago: She had her breast implants removed.
Miller is part of a growing trend of women opting for breast "explant" surgeries. British Vogue recently faced a backlash when it asked "whatever happened to the cleavage" in its December issue, after noting the lack of pushed-up breasts on runways and red carpets. But some plastic surgeons are clearly seeing more requests for a smaller look.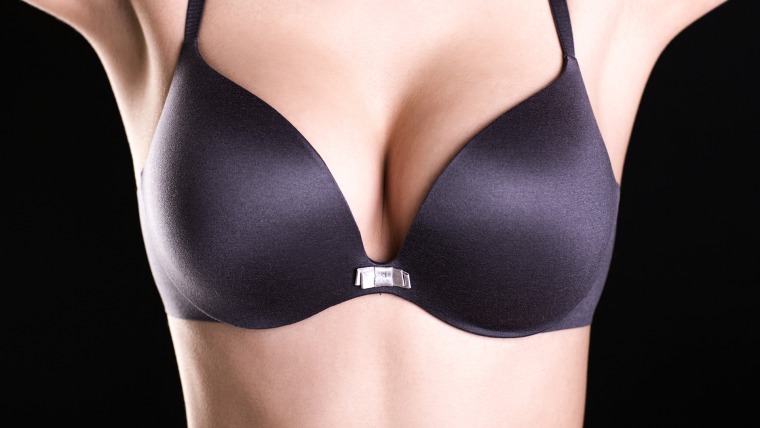 In 2015, there were more than 38,000 breast implant removals performed, according to the American Society for Aesthetic Plastic Surgery, which started tracking the procedures just last year because plastic surgeons reported more patients were requesting them. During the first nine months of 2016, more than 400,000 people visited the Breast Implant Removal forum on RealSelf, an online community for plastic surgery consumers — a 22 percent increase since 2015.
The majority of women ask for the implants to be replaced with smaller ones.
"Women are downsizing or having them taken out altogether," said Laguna Beach, California, plastic surgeon Dr. Daniel Mills, president of the ASAPS. Mills performs about 110 explant surgeries a year that cost between $8,000 and $12,000. The majority of his patients have had their implants for decades.
Implants wear out
Explant surgeries are highest in the 35-50 age group. "They might have gained weight and now feel their breasts are too massive," said Mills. "Or they realize they're not going to Coyote Ugly and dancing on the bar anymore. They've got kids in soccer."
There may be another factor: Implants wear out.
Manufacturers of both silicone and saline implants recommend replacing them every 10 years. The Food and Drug Administration warns of potential complications, including hardening of the area around the implant, rupture, asymmetry and scarring that might require re-operation or implant removal.
Related: Why is Brazil the plastic surgery capital of the world?
Even if a more natural, flatter look is in fashion, breast augmentation surgeries are still the second most popular cosmetic surgery for women after liposuction in the U.S. More than 300,000 procedures were performed in 2015, double the rate from 2000. Numbers for 2016 aren't available yet, so it's not clear if fewer women are getting them in the first place.
The women who do are opting for smaller sizes or requesting breast lifts or fat-grafting, which only increases size about a cup.
Related: What the 'ideal' body really looks like for men and women?
'I just like the natural look'
Culturally, the love of big breasts is still as strong as ever, even if they're not quite as enormous as before, said David B. Sarwer, associate dean for research at the College of Public Health at Temple University.
"We see the ideal is still curvy bodies with large breasts," said Sarwer, who studies the psychological aspects of cosmetic surgery. "Yet women are also engaging in higher levels of intense physical activity, and they're finding that the larger-sized implant impairs their ability to be as active as they want to be."
Another sign of the trend: sales of bralettes, the flimsy athletic undergarments that don't support larger breast sizes, are soaring, said Elisabeth Dale, founder of The Breast Life, a website about lingerie trends and breast health.
Before her breast explant surgery in September, Miller worried she'd regret it.
"My implants had been such a part of me for so long," she said.
She decided against smaller implants, instead going for an internal lift of the extra skin that left her breasts slightly bigger than they were before implants.
She's happy with the results. "I just like the natural look of it," she said. "It's like there's no barrier between me and the world anymore."