As the smallest baby ever delivered at the University of California, San Diego Medical Center, Alexis Clarke has amazed even her doctors. Born six months ago weighing barely 11 ounces — less than a can of soda — little Alexis now tops the scales at more than 7 pounds.

Her mother, Laurie Clarke, is full of gratitude for her daughter's progress. "In all honesty, even 10 years ago we may not have had the same outcome," said Clarke, 34, a first-time mother from Carlsbad, Calif. "We are so lucky." 
Alexis was born after she'd been in the womb just over 25 weeks; a typical pregnancy lasts 40 weeks. Babies born before 37 weeks are considered premature, but with medical and technological advances, it's no longer unusual for very preterm babies to survive. The key, in general, is a steroid for mothers and a drug for their babies.
Alexis' journey has been marked by ups and downs. Just as her parents thought she was ready to be discharged in time for Thanksgiving, one of her doctors told them she needed emergency eye surgery. Then a small cough raised concerns that she'd contracted whooping cough, prompting her to be put into isolation (tests came back clear). But an MRI of her brain delivered the good news that her development seems to be proceeding normally. In early December, the tiny baby's right eye caused her more trouble - the retinal detachment has gotten worse, her doctors say, and they are working on getting her an emergency life flight out to Michigan to see a specialist.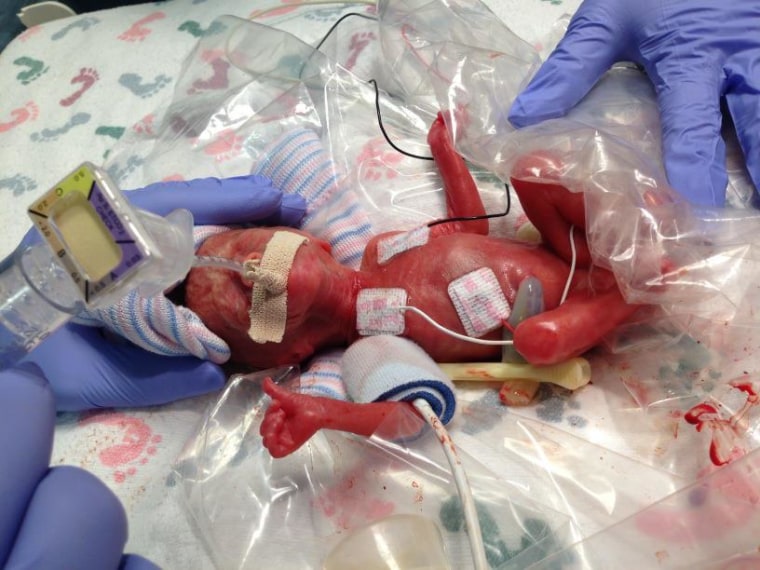 Baby Alexis is hardly the tiniest preemie born, but her journey from neonatal intensive care to home is typical of other extremely premature babies. In 2011, less than 1 percent of live births in the U.S. were considered "extremely preterm," delivered before 28 weeks. That represents more than 28,000 babies. Meanwhile, the total number of premature births in the U.S declined last year to 450,000, or 11.5 percent, the lowest preterm birth rate in 15 years.

"In the past six years we've had babies survive that we didn't think could survive," Dr. Krishelle Marc-Aurele, one of Alexis' doctors, told NBC San Diego.
Some hospitals are divided on treating babies born in the "gray zone," between 23 and 25 weeks. In the U.S, up to 90 percent of neonatal units resuscitate babies born as soon as 23 weeks. Younger than that and most doctors believe a baby is not viable. "The lower level of viability is inching down," said Dr. John Muraskas, who resuscitated the smallest surviving baby on record, Rumaisa Rahman, born in 2004 weighing 9.2 ounces.
Muraskas, a professor of pediatrics and neonatal/perinatal medicine at Loyola University Medical Center, said the key treatments began in the 1990s and have made all the difference.
Now doctors routinely give moms on the brink of delivering too soon two doses of steroids to help the baby or babies' lungs mature quicker and strengthen the blood vessels in the brain. That reduces the risk of a premature infant developing a brain bleed.
Once born, preemies receive surfactant, a drug administered through a breathing tube into their lungs that makes them stronger and less stiff, and able to breathe independently sooner.
There have been some other strides made as well. For one thing, March of Dimes chief medical officer Dr. Ed McCabe says neonatal intensive care units are no longer loud and brightly lit. "Now we know it's better to make it darker and quieter to mimic the environment in the womb," said McCabe.
When it comes to survival, babies who don't even weigh in at a pound sound alarming. But gestational age is actually more important than weight. The longer a baby stays in the womb, the better she does.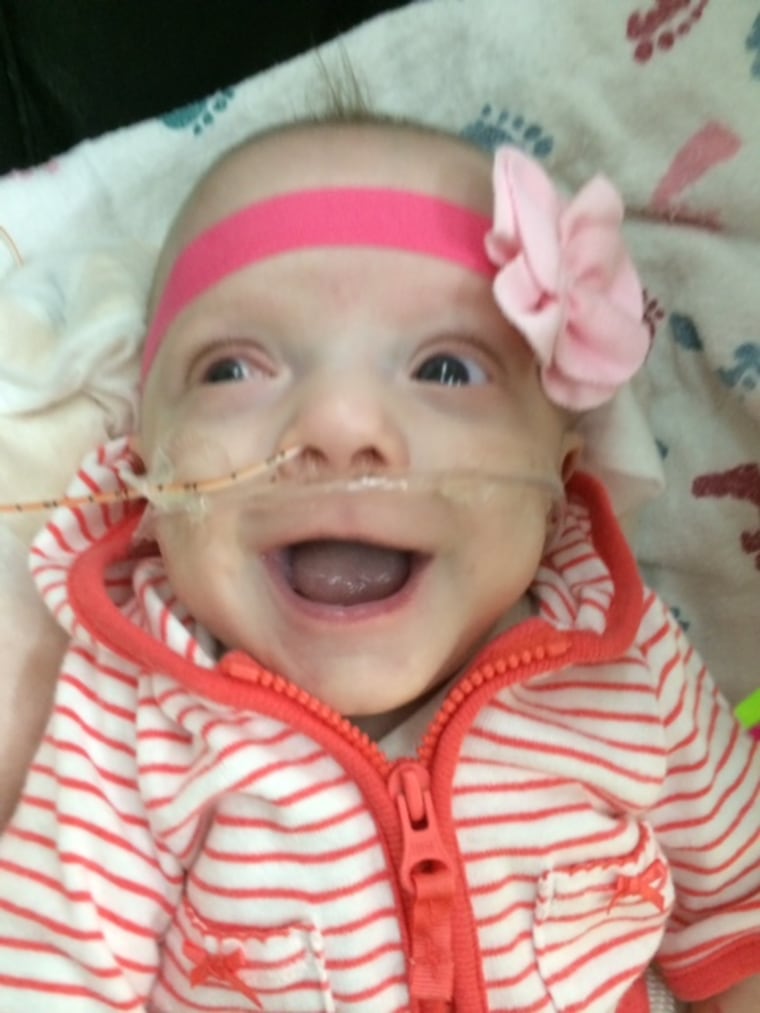 Gender matters too. For reasons still unknown to researchers, girls born early are hardier than boys. About 80 percent of girls born at 25 weeks survive to celebrate their first birthday compared to 75 percent of boys, said Muraskas. The risk of serious disabilities such as blindness, deafness or severe cerebral palsy is 10 percent for girls and 15 percent for boys born at 25 weeks.

More common are mild or moderate outcomes that include behavioral problems, learning disabilities and some degree of cerebral palsy. Recent research has also suggested an association between prematurity and autism.
Muraskas worries that long-term effects of being born extremely premature aren't always considered. "We try to err on the side of life," he said. "The problem with our field is that we don't have a crystal ball."
Neither did Beverly Roach, whose twin daughters were born in 1986 at 25 weeks, the same as Alexis Clarke. Roach, of Plainview, N.Y., recalls being offered surfactant for her twins as part of a research study, but she decided against it because the government had yet to approve the drug. Steroids weren't an option because one of the twins' amniotic sacs had ruptured. 
Now 27, the twins still bear the marks of being born too soon. Ellen, who weighed 1 pound, 8 ounces, has a shunt in her head to drain the fluid in her brain caused by hydrocephaly. She can't read and can't hold a job, but she can walk and talk. 
Robyn, who weighed 1 pound, 11 ounces, wears hearing aids and graduated from high school. Cerebral palsy leaves her unaBLe to drive, but she dates and works an office job two days a week at an early-intervention school. Roach calls her daughters "the light of my life."
Within the past few years, both sisters moved to group homes, where they've made friends.
Sometimes, Roach will call to ask if she can come visit only to be told no. "They'll say, Mom, we're going out," said Roach. "They're going out on a Saturday night and I'm at home."