It seems to be the unspoken rule with toddlers is: If it fits in your mouth, it was meant to be swallowed.
Just as parents figured out how to live without bite-sized batteries and magnets, a new threat appeared: Toddlers around the country are mistaking handy single-use laundry detergent packets for tasty treats.
There have now been 2,950 cases of kids aged 5 and younger swallowing the colorful packets, according to the American Association of Poison Control Centers. That's nearly 13 cases a day that are being reported nationwide. The number of children ingesting the detergent pods is up from the figure initially recorded by the AAPCC in May, when there were 443 reported incidences.
Various manufacturers, including Tide and Purex, started selling the packets widely this spring, which are designed to dissolve as soon as they hit the washing machine water. They're handy for busy parents, going right in the wash with no need to pour or measure.
"You put one in, close the laundry, and you're all set," Tara Oolie told TODAY.
But Oolie's 5-year-old daughter, Calliope, saw the hidden threat right away.
"It feels like soap, but it looks like candy," Calliope said.
The pods are especially dangerous for youngsters because the detergent is so concentrated, Dr. Michael Wahl, medical director for the Illinois Poison Center told TODAY. 
"So, when little kids bite into this concentrated detergent, it really reacts within their bodies in a different way than regular detergent does," Wahl said.
Jessica Sutton knows that only too well having had a close call with her daughter this past spring. Sutton's then 20-month-old daughter found a laundry pod on the floor and tried to eat it and was soon vomiting.
"She had diarrhea," Sutton recalled.  "It was pretty much the symptoms of a stomach virus."
Poison centers around the country have been warning parents about the dangerous mix of toddlers and detergent packets and alerting them to the signs of pod ingestion, which include vomiting, drowsiness and respiratory problems. While symptoms passed in some kids, others have required hospitalization and a ventilator.
The Consumer Product Safety Commission isn't ready to banish the packets as of now. But it's looking into the issue.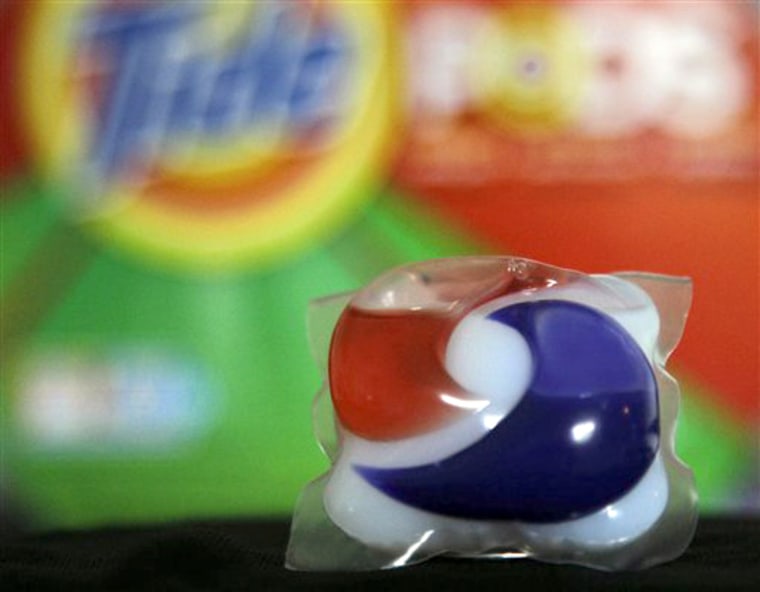 "CPSC has been a longtime partner with the poison control centers and Poison Prevention Week Council in addressing household poisoning risks to children," said Scott Wolfson, a spokesman for the commission. "CPSC staff is actively investigating various brands of laundry packs and working with the manufacturers due to information coming to our attention of children ingesting the material inside the packs. Parents and caregivers are reminded to keep all laundry and other hazardous products, regardless of their packaging, locked up and out of the reach of children."
Wahl thinks the danger is pretty clear now.
"I've never seen a consumer product that had that degree of injury in a child," he said.
In a statement to NBC News, the American Cleaning Institute noted:
"Detergent manufacturers are re-emphasizing the importance of keeping single unit dose laundry detergent packets out of the reach of children. We are obviously concerned whenever these situations occur."
Parents and caregivers of children who have experienced an incident with a laundry packet should call the Poison Control Center at 800 222-1222. The CPSC has also requested that parents and caregivers report all incidents on the its website.
More from TODAY Health: