When Jenn Andrews first discovered a pea-sized bump on her right foot in 2013 after she went to get a pedicure, she didn't think it was that big of a deal.
She had a physician in her family take a glance, and he figured it was probably just a benign ganglion cyst.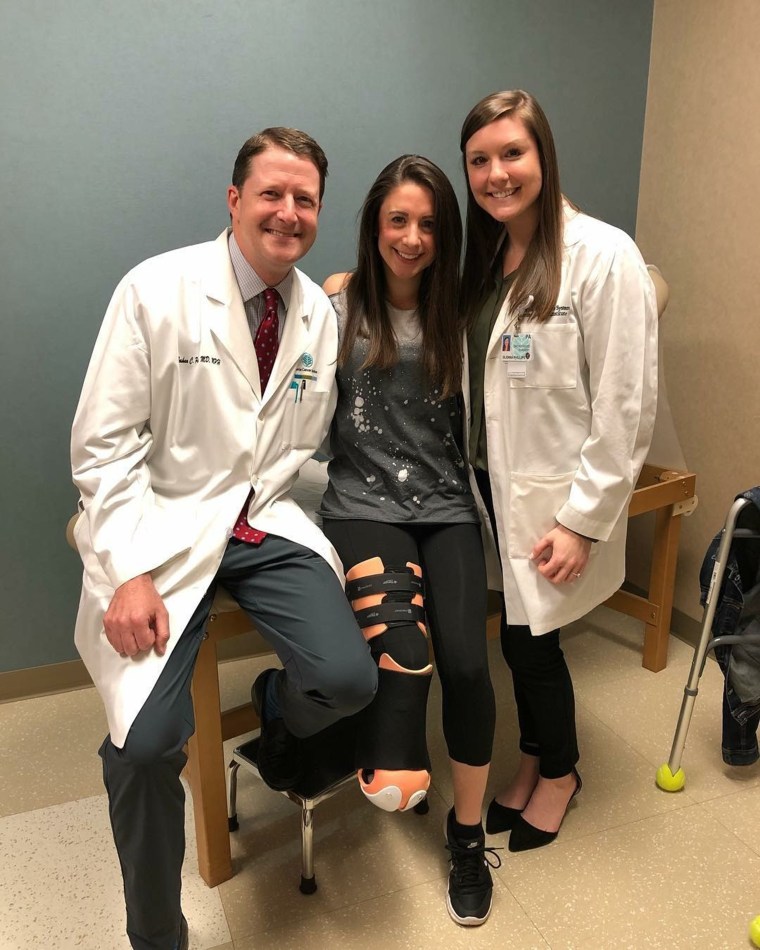 It turned out to be the beginning of a five-year ordeal that ultimately resulted in the mother of two from Charlotte, North Carolina, having her leg amputated below the shin last month.
"If you find something, don't wait on it,'' Andrews told TODAY. "If it's continuous, you need to go to the doctor. It's scary and you might be told something you don't want to be told, but the more proactive you are and the quicker you go, the better chance you have at it not being this large issue."
Andrews, 33, was pregnant with her daughter, Hannah, now 4, when the bump was first noticed. She had a difficult recovery from a cesarean section and was so focused on healing from that issue that her foot was not a priority.
However, during her second pregnancy with her son, Ari, 3, she noticed the mass had grown to the size of a golf ball. Following her recovery from a second C-section, she had the mass removed.
She went to a routine follow-up appointment 10 days later only to be stunned when her doctor told her it was a cancerous mass known as low-grade myxoid sarcoma.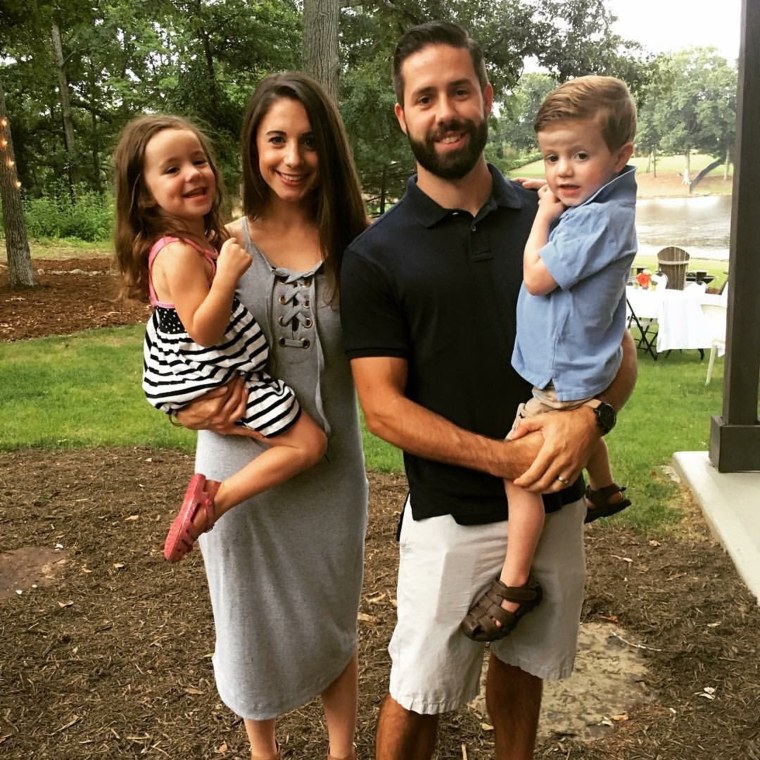 "I was shocked and kind of numb, and I heard maybe a third of what he said after that,'' she said.
Andrews followed by having regular scans on her foot and lungs, where sarcoma can spread, for two years. Bad news came on Jan. 2 when Dr. Joshua Patt, an orthopedic oncologist at Atrium Health's Levine Cancer Institute in Charlotte, discovered the tumor had returned.
The tumor's location on her foot, rather than a place like her thigh, posed a problem because there wasn't any room to excise it without also having to cut tendons, skin and ligaments.
"The goal of sarcoma surgery is to take the tumor out with a rind of normal tissue around it we call margin,'' Patt told TODAY. "If you can't get a good margin on a tumor, then you significantly increase your chances of it growing back."
Andrews could either have another surgery that could severely reduce the functionality of her foot and still potentially fail to eradicate the cancer, or she could have her leg amputated below the knee.
"(Patt) said, 'If you don't want to deal with this again, you're going to have to lose your right foot, and I never expected him to say that in a million years,'' she said.
Andrews and her husband, Miles, sought multiple second opinions from other doctors before deciding on the latter option.
"I love life; I love my family, and when he told me my (cancer) recurrence rate after amputation was 1 percent, it was a no-brainer,'' she said. "It was an easy decision to make, but it was a hard decision to accept."
Andrews set the date of March 12 for her amputation surgery. Normally an upbeat person as a health and wellness coach, she went into a shell as the surgery approached.
"I became this person I wasn't,'' she said. "I was antisocial, a recluse. I was so deeply depressed."
"When we first made that decision, she didn't even think she would make it to the hospital that morning for the surgery because she didn't think she would be able to bring herself to do it,'' Patt said.
She recorded an emotional video on Facebook asking people to get out and exercise on the day of her surgery, using the hashtag #MoveForJenn. People worldwide responded with pictures and videos of themselves being active.
"I really can't even put it into words,'' Andrews said. "I'm humbled that people even use the word 'inspiration' and my name in the same sentence. It brought me to tears."
"That really turned into an amazing thing for her,'' Patt said. "The support and empowerment she got was life-changing. She came to the hospital that day, and I was amazed by her attitude and her calm demeanor."
When Andrews woke up from her surgery, she felt relief instead of depression. The amputation gave her an 8-centimeter margin from the edge of her tumor, which Patt says has given her a very good chance of having no further issues of recurrence.
A takeaway from Andrews' ordeal is that anyone with a mass that continues to grow over time should get it examined, Patt said.
"The scary thing about sarcoma is that typically sarcomas don't hurt," Patt said. "If you notice it continue to grow even if it doesn't hurt, have it evaluated."
That directive is especially important for women who are pregnant.
"There are quite a few tumors that respond to hormone stimulation and can actually grow through things like pregnancy, so (Andrews') pregnancy may have actually helped stimulate some growth (in her tumor),'' Patt said.
Andrews is adjusting to life after the amputation, including being fitted for a prosthetic leg.
"Being able to walk on two feet is a luxury,'' she said. "It's not something that everybody has, and obviously it was something that I never even thought about until I went through my situation."
Katie Covington, a longtime friend of Andrews, has started a GoFundMe page under "Move For Jenn" to raise money for different types of prosthetic legs. Andrews said her insurance only covers a basic prosthetic leg and she is looking to get about three other different prostheses, including a blade for running, which can cost up to $20,000 apiece and has to be replaced every three to five years.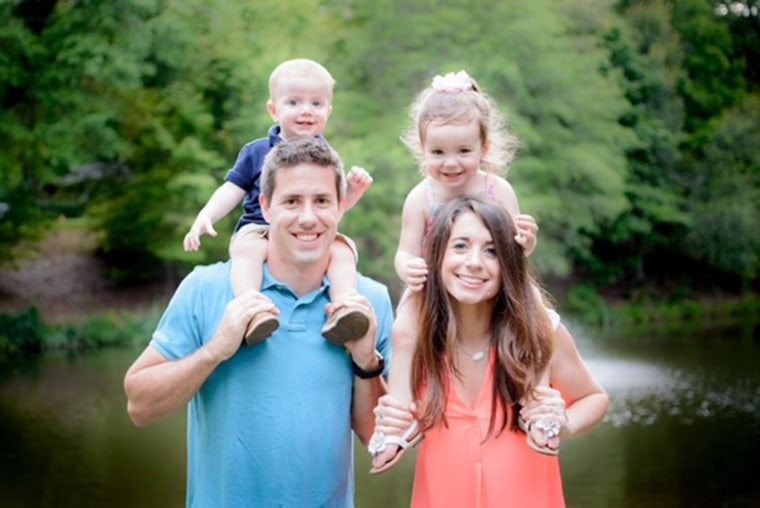 Andrews has had a couple falls, including one on the concrete in front of her house, and experienced phantom pain in her right leg during her recovery, which Patt said can take anywhere between six months and two years. She has used a temporary prosthesis as well as a walker and crutches to get around as she awaits a permanent prosthetic leg.
She remains upbeat and determined to raise awareness of sarcoma while also showing that losing her foot will not stop her from living an active life.
"I'm focusing on getting better, but I'm not focusing on my loss,'' she said. "Mindset is everything."
Andrews also aims to help raise money for prostheses for other amputees, particularly children looking to participate in athletics.
"If there can be something good to come out of such a bad situation, let it be helping somebody else,'' she said.
Follow TODAY.com writer Scott Stump on Twitter.