Can you fail a drug test by eating poppy seed bagels?
A Maryland mom says she is living proof that you can after doctors told her she tested positive for opiates following the birth of her daughter this spring.
Elizabeth Eden told NBC affiliate WBAL-TV that she ate a poppy seed bagel for breakfast on the morning of April 4, the day she gave birth to her daughter Beatrice at University of Maryland St. Joseph Medical Center in Towson, near Baltimore.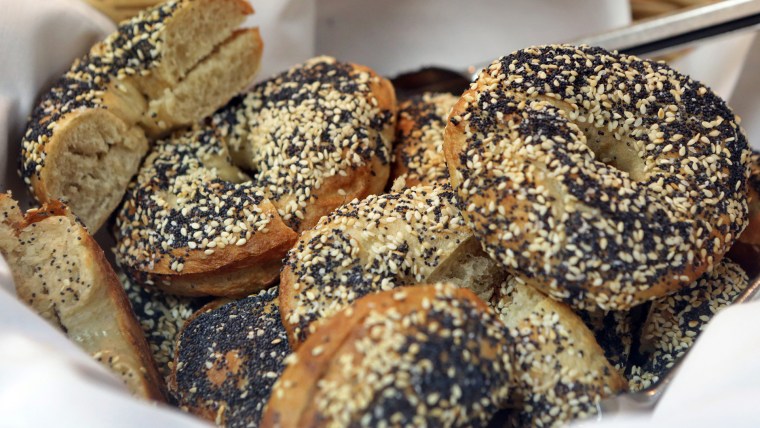 Eden said the meal triggered a false-positive test for opiates. A doctor told her she'd failed a drug test while she was going into labor.
"I said (to the doctor), 'Well, can you test me again? And I ate a poppy seed bagel this morning for breakfast,' and she said, 'No, you've been reported to the state,'" Eden said.
To many, the ordeal likely recalls the lighthearted "Seinfeld" episode where the character Elaine fails a drug test at work after eating poppy seed muffins.
But Eden's situation was no joke; child services had to get involved, WBAL reported.
Her daughter had to stay in the hospital for an extra five days while a caseworker inspected Eden's home and monitored her behavior.
The case was closed after it was determined her explanation was legitimate.
"It was traumatizing," Eden told the station.
Poppy seeds contain small amounts of opiates because they come from the opium poppy plant. At St. Joseph hospital, urine tests thats show opiate levels of 300 nanograms per milliliter can trigger positive tests.
A teaspoon of poppy seeds can cause a person's levels to reach 1,200 nanograms per milliliter, the station reported.
In a letter to the hospital, Eden argued the threshold should be raised and suggested informing expectant mothers about the issues surrounding poppy seeds and drug tests.
In a statement to TODAY, Dr. Judith Pratt Rossiter, the chief of OB-GYN at St. Joseph Medical Center, acknowledged that eating a small amount of poppy seeds can leave trace amounts of opiates in a patients bloodstream and result in false-positive tests.
"All Maryland hospitals are required by the state to test mothers and newborns for controlled substances, including opiates, and report any positive tests. Maryland law defines the reporting requirements," the statement said.
"Pregnant women should always consult with their OB-GYN to discuss any questions about what is safe to eat during pregnancy."
Follow TODAY.com writer Scott Stump on Twitter.