Pregnancy is a beautiful experience, but for one mom, being pregnant disguised alarming symptoms of melanoma.
When Danielle Dick was 19 weeks pregnant with twins, she was frequently frustrated when she couldn't seem to find the right words. Worried, she and her husband visited the obstetrician who thought it was probably "pregnancy brain."
"That made sense to us," Tyler Dick, her husband, told TODAY.
But one day when Danielle couldn't speak at all, the couple rushed to the emergency room, where doctors performed an MRI. They discovered three masses nestled in her brain and tests revealed they were melanoma.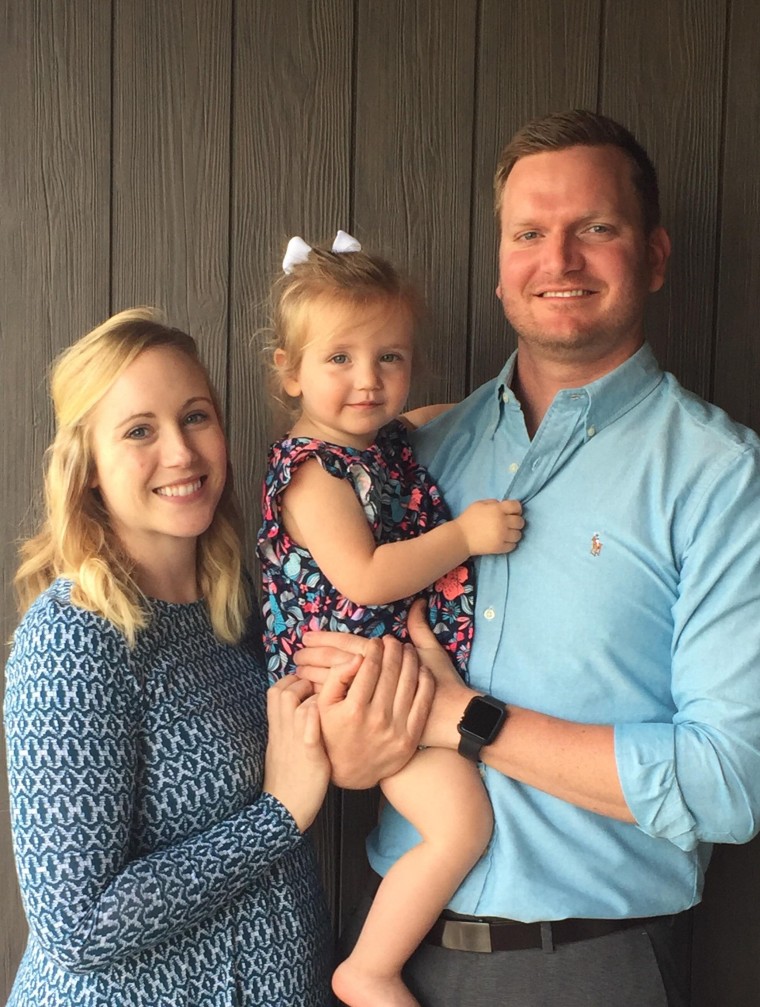 The cancer quickly spread through her body, threatening both her health and that of her unborn twins. Despite numerous interventions and the birth of healthy twins, Danielle died at age 32, less than a year after doctors found the cancer. Her husband is now sharing her story to raise awareness about how serious skin cancer is.
"I hope that people realize the importance of going to the dermatologist regularly. That is what she wanted people to know as well," Dick, 32, of Goddard, Kansas, said.
An unusual mole becomes cancer.
Years earlier, in 2011, Dick, a nurse anesthetist, noticed a weird mole on his wife's back. He suggested she see a dermatologist. The doctor took a biopsy of it but said it was fine and the couple relaxed. When the mole grew back, Dick recommended that Danielle see another doctor, who agreed the spot looked worrisome. This time the biopsy revealed troubling news: It was melanoma.
Doctors removed the mole and the lymph nodes — and thought they removed all the cancer.
"Everything looked OK," Dick said.
Afterward, Danielle visited the dermatologist every six months for mole checks and the family became dedicated to always using sunscreen when they went outside. In 2015, Danielle, a physical therapist, gave birth to the couple's first child, Taylor, and became pregnant again in 2016.
This pregnancy came with a huge surprise: Danielle was carrying twins.
"There are no twins in either of our families," Dick said.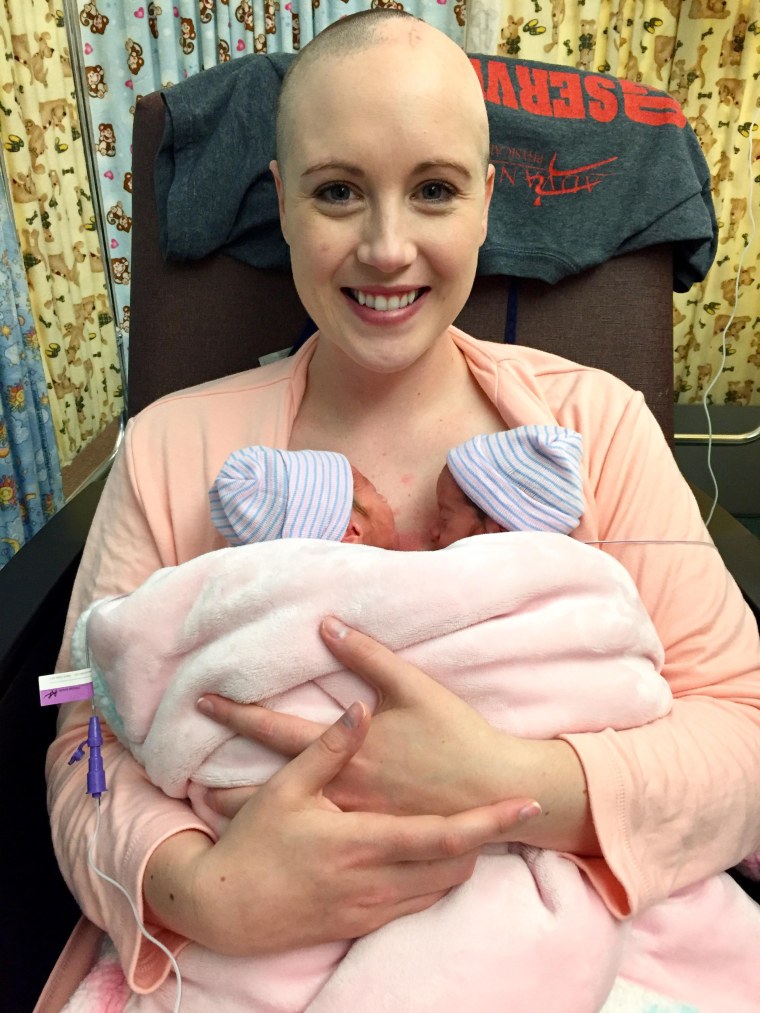 Then in April 2017, Danielle found herself struggling to remember words. Suddenly, she lost the ability to speak. That was when doctors discovered the melanoma in her brain. While pregnant, she took a chemotherapy pill and underwent some pinpoint radiation.
Doctors decided to deliver the babies at 29 weeks, giving them more time to develop and allowing Danielle to start more aggressive treatment earlier. On July 12, Reagan and Colby were born via Caesarean section. After only a week and a half in the neonatal intensive care unit, they were thriving.
"They were doing great," Dick said. "We still have to get a lot of ultrasounds and chest X-rays to just keep an eye out to possible spread (of cancer) to them."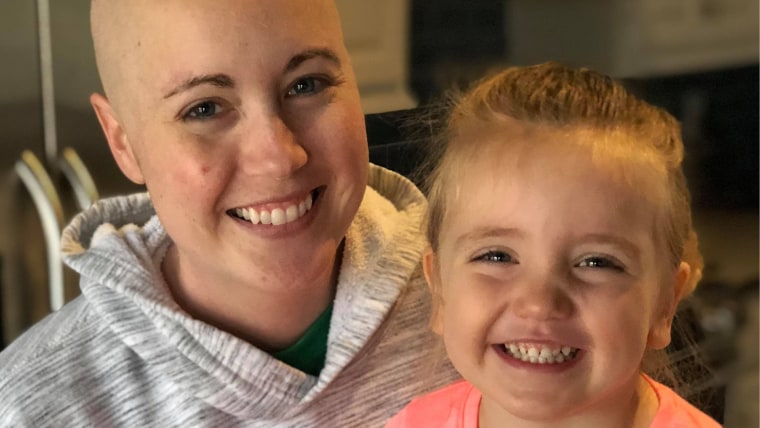 'She never got any breaks.'
After she delivered the babies, doctors put Danielle on more chemotherapy pills and she underwent four rounds of radiation. But it didn't work so they switched back to targeted therapy. That's when doctors discovered about 20 new masses in her brain and she started full brain radiation.
"She never got any breaks. Every time she went to the doctor she got the worst news of her life," Dick said. "It was just shocking how they would get one (tumor) to shrink or go away and another would pop up."
Yet, Danielle always remained upbeat.
"She would say, 'Oh well, it could be worse,'" he said.
Even though Danielle sometimes felt sick and exhausted she made time to create memories with her children. Between naps and medication, she took them to the library and park or worked on crafts with Taylor.
"She loved those babies so much," Dick said.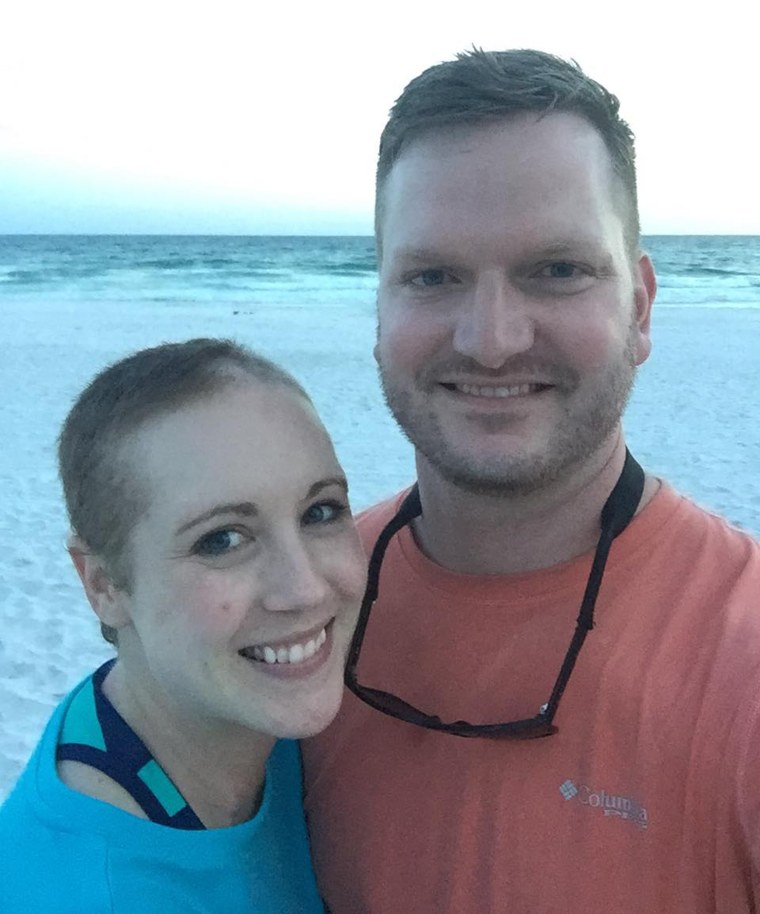 The couple also completed several bucket list activities, such as swimming with dolphins, seeing a favorite band, The Killers, and watching a few March Madness games.
"I'm glad she felt good enough to do those things," Dick said.
In the beginning of 2018, Danielle's back hurt and her hands became numb. Tests revealed the cancer had spread to her spinal cord. By April 2018, her local doctors recommended she travel to MD Anderson Center, in Houston, Texas, for treatment. There, doctors placed a catheter in her skull to directly inject chemotherapy into the spinal cord. It was too late.
"She started getting so sick she wasn't able to start treatments," Dick said.
On April 25, less than a year from her diagnosis, Danielle died. While Dick feels stunned since losing his "best friend," sharing her story keeps her memory alive and helps others.
Danielle's wish to warn others about melanoma is important. Melanoma is the deadliest form of skin cancer. More than 9,000 people die of it annually, according to the American Cancer Society.
People with fair skin, red hair and moles are at a higher risk. Experts recommend that people consider the ABCDEs of moles and visit a doctor if they observe any of the following:
A ASYMMETRY: The two sides look dissimilar.
B BORDER: The borders are irregular, scalloped or poorly defined.
C COLOR: The color isn't consistent across the mole.
D DIAMETER: Melanomas are normally greater than 6 mm, but they can be smaller.
E EVOLVING: A spot that changes or looks different than others.
"Go to an annual skin visit," Dick said. "Danielle just hoped that people would become aware of how scary skin cancer could be."