Christine Stone loved watching her mom's reaction to learning she was about to become a grandmother — each and every time she surprised her with the news.
She repeatedly told her 77-year-old mother, who has Alzheimer's, that she was pregnant. Sometimes she would tell her a dozen times during a visit, even several times within a single hour. And each time her mom broke out in a wide grin, a giggle and sometimes even clapped her hands in delight.
"What? When? Oh good, Christine! I'm so glad!" Setsuko Harmon is seen saying at the beginning of a video her daughter compiled of her reactions during two recent weekend visits with her.
Stone, 38, is expecting her daughter in October. This is her first pregnancy, but she also has two teenage stepchildren.
She said every time she came to visit her parents, she would point out her growing belly and ask her mom about it.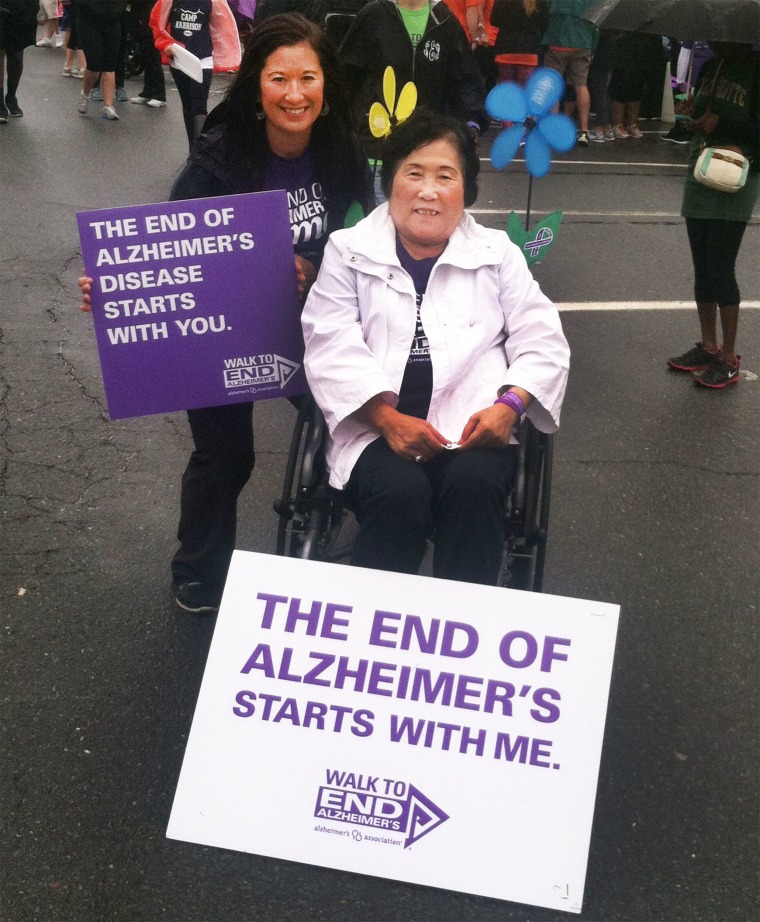 "She gets excited every time. It would make me happy to see her so happy," she told TODAY. "I know she's not going to be around forever, and I wanted my baby to see how excited her grandmother was that she was coming. That's one of the reasons I filmed it. I thought it was adorable how she got so excited and surprised."
Her other reason for filming was to raise awareness about Alzheimer's. Harmon first began showing symptoms about 10 years ago.
"I wanted to show people, yes, it's a terrible disease, but you can still find moments of joy through it," Stone said.
Twice a month, Stone drives from her home in Florence, South Carolina, to see her parents in Charlotte, North Carolina, so that she can relieve her father, who is his wife's full-time caretaker.
She received her dad's permission to post the video on her Facebook page and then, later, on YouTube, but he didn't feel the same way about the recordings as she did.
"It's a nice video but it just reminds me of Alzheimer's," Bob Harmon said. "Everything is question after question. Where's this room? Where's that? People who don't know about Alzheimer's, really don't understand what's going on."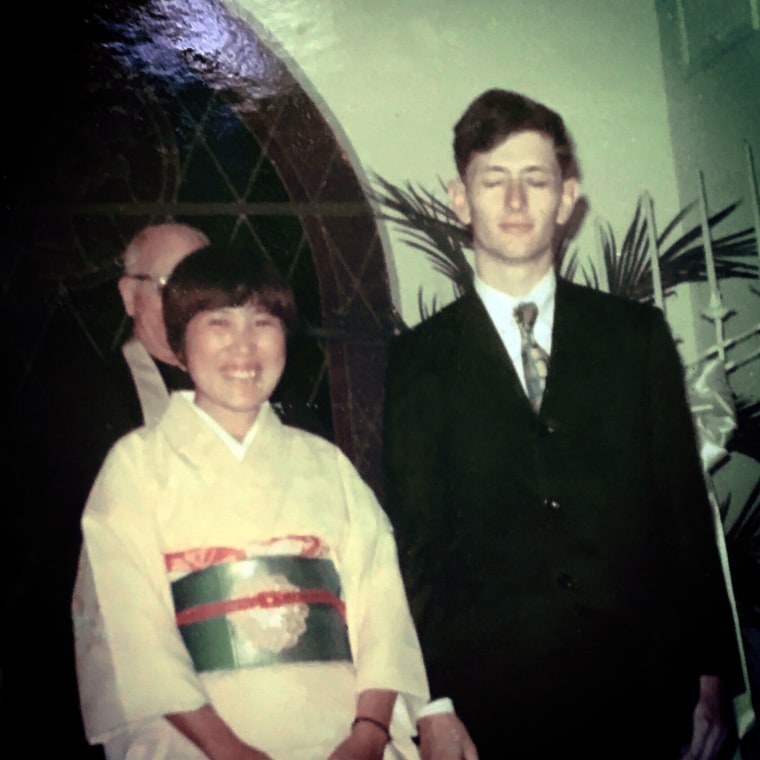 Harmon and his wife have been married for more than 46 years ago. His wife is originally from Japan and taught herself English, he said. She was a housewife who raised two kids — Stone and her brother, who now lives in Japan. She later earned her pilot's license and often spent time flying a Cessna they owned.
Stone noted that her mom is a survivor. She beat breast cancer only to be diagnosed years later with stage 4 colon cancer, which had spread to her liver. Doctors gave her six months to live, but Stone's mom eventually emerged cancer-free.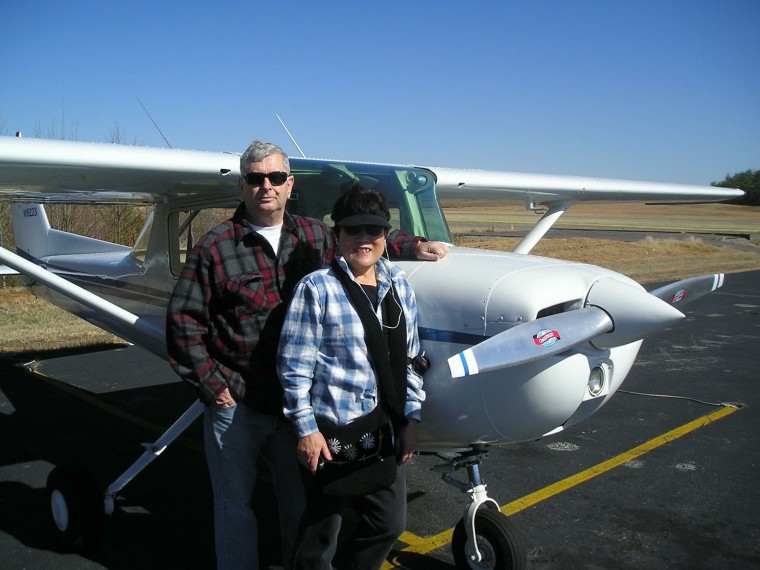 "At that time, because of her Alzheimer's, she didn't know she was sick," Stone recalled. "The Alzheimer's actually helped, along with prayer, and she just beat the cancer."
Stone hopes the video of her repeatedly sharing her pregnancy news with her mom will spread some joy and inspiration to others going through similar struggles with the disease her mother is fighting.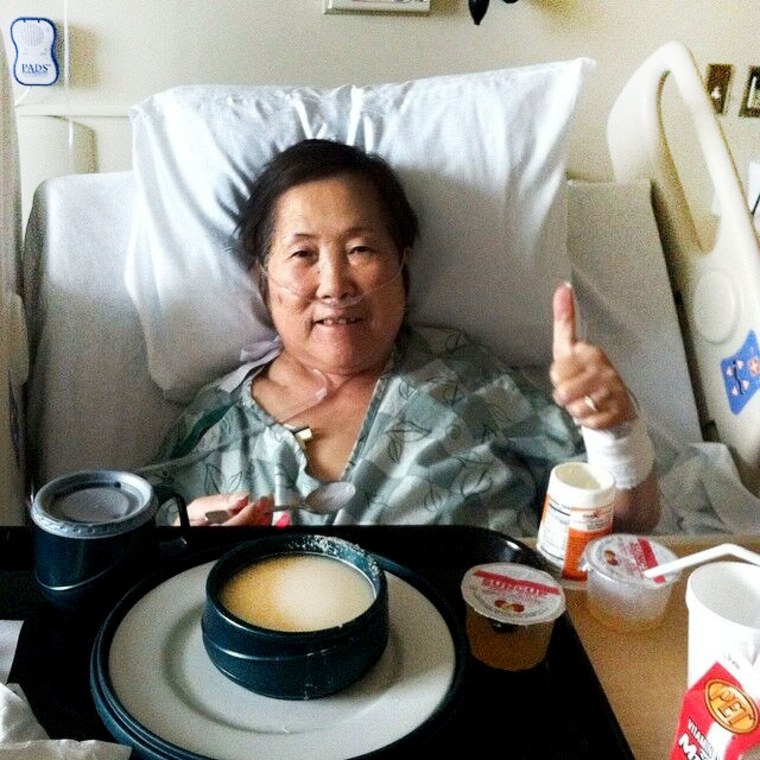 "When someone asks you the same question 20 times in a row, nonstop in an hour, it's hard not to get frustrated, but it's not their fault," she said. "I hope this video can help people trying to make the best out of a difficult situation. There's always something good that can come out of anything."
RELATED:
Man with Alzheimer's sings to his favorite tunes in hit YouTube videos
25 tips for visiting a person with Alzheimer's
Bride opts for wedding reception at Alzheimer's home so ailing mom can attend