Baltimore Orioles first baseman Trey Mancini hopes to have a big season ahead of him as Major League Baseball is back in business this week. But no matter how it shapes up, it's unlikely to match the drama and emotion of what happened to him last season — off the field.
In 2020, when Mancini reported for spring training, just days before training was suspended due to the coronavirus pandemic, a routine physical revealed something shocking: The then 27-year-old had colon cancer.
"It was a normal physical," he told TODAY's Craig Melvin Tuesday. "We did a blood draw, and the CBC (complete blood count) showed that my hemoglobin and hematocrit were really low. They scheduled a colonoscopy and endoscopy for me, and the doctor found a tumor in my colon."
His father, who is a doctor, had suffered from colon cancer years earlier, but Mancini said, despite that family link, he never suspected he had anything to worry about at such a young age.
"At the time I only thought that it really affected people age 50 and older, for the most part," he recalled. That's what a lot of people think, but colorectal cancers are on the rise in adults in their 20s and 30s. Colorectal cancer is the third most common cancer diagnosed in the U.S. and the third leading cause of cancer deaths in American men and women combined, according to the Centers for Disease Control and Prevention.
While his fellow MLB players took a long break before returning for an abbreviated season in the summer, Mancini found himself undergoing surgery, followed by six months of chemotherapy.
"It was very difficult," he said of the trauma occurring amid the pandemic. "You know, nobody was able to go to my treatments with me throughout the entire thing. My girlfriend Sarah and I were in Washington, D.C., and I was getting treated at Hopkins. She wasn't even allowed to come in with me, so that was a really tough part of it. But she took plenty enough care of me at home."
Even then, with both his world and the world at large changing so rapidly, Mancini found he could count on more than just his girlfriend, teammates and family — his Baltimore Orioles fans were still cheering him on, too. They were showing their support by buying shirts with his No. 16 alongside the word "fight," and they helped raise more than $80,000 for the Colorectal Cancer Alliance.
One supporter in particular touched the athlete: Mo Gabba, a teenage Baltimore Orioles and Ravens super fan who had cancer since infancy, reached out to check in on him. Gabba died in July.
"His entire life he was in the hospital going through chemotherapy treatments, and he never ever had a bad attitude or felt sorry for himself," Mancini recalled. "I tried to emulate how he was every single day. He really inspired me."
Thanks to early detection and rapid treatment, the now 29-year-old has been declared cancer-free.
And he's not just back from battling colon cancer — he's back in the game. He rejoined the Orioles for spring training last month, and fans in the stands greeted him with a standing ovation.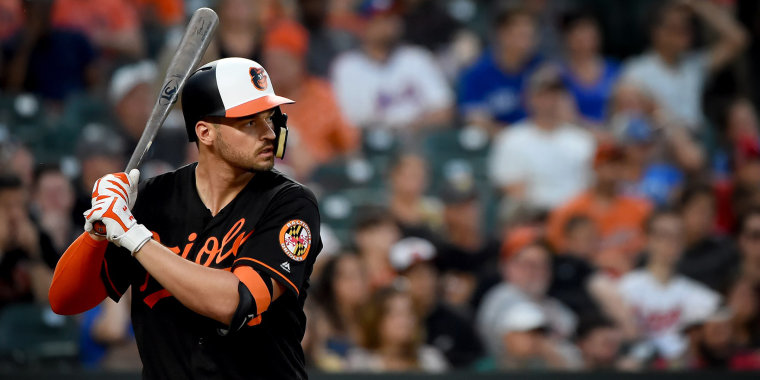 "I was thinking, 'Don't cry!' the whole time," he said of his return. "I was really emotional."
Looking back on it all now, he also knows he's been really lucky.
"I am extremely, extremely fortunate to be a major league baseball player and have the medical care I do," he said. "So I really do feel like I, you know, have a lot of work to do as far as spreading awareness and getting some tests in the hands of people that might not be as fortunate as myself."
Because he continues to be a team player.