Medical science performs miracles every day but physicians and researchers can't always do it alone.
The human body, after all, is the most complex structure on Earth, and more often than we realize, when something goes wrong, only another body contains the answer.
But how to find that other body and its helpful component?
That is a desperate search for a patient you're about to meet.
--Tom Brokaw
Until she hit 40, Dr. Tracy Jalbuena was one of the fortunate few who seem to have it all. She had a husband she loved, two healthy children, the perfect job and a house in an idyllic spot in Maine.
"My husband and I used to joke that in a movie, this is the part where the couple discovers they've moved into a house built on top of a cemetery and all hell breaks loose," Jalbuena, now 43, says. "And then it did."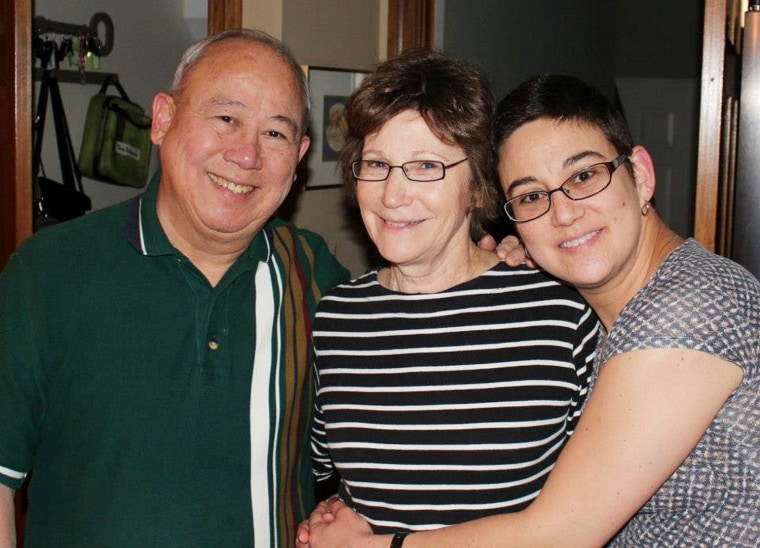 Jalbuena's charmed life ended with a string of medical misfortunes that would turn her world upside down and spotlight the heart-wrenching challenges of finding a bone marrow match for mixed race patients.
In 2012 Jalbuena started to experience symptoms that at first seemed so minor they were easy to dismiss, even for a doctor like herself. But those subtle signs heralded the beginning of her extremely rare illness, leaving her with an uncertain future and depending on someone, somewhere donating bone marrow that would match her exceedingly rare tissue type.
In early 2012, "I started feeling a little more tired," Jalbuena remembers. "My joints were stiff. I had night sweats. I started thinking I was getting old."
But then she noticed bubbles in her urine, a sign that she was spilling protein out of her kidneys, and her body started to swell. All those disparate symptoms suddenly crystallized in her mind. She realized something might be terribly wrong.
When test results pointed to a problem with the cells in her bone marrow, Jalbuena understood the diagnosis would be dire.
"I was driving home by myself and I hyperventilated the whole way," she remembers. "I knew then it was really bad and life changing and I was never going to get back to where [I] was before."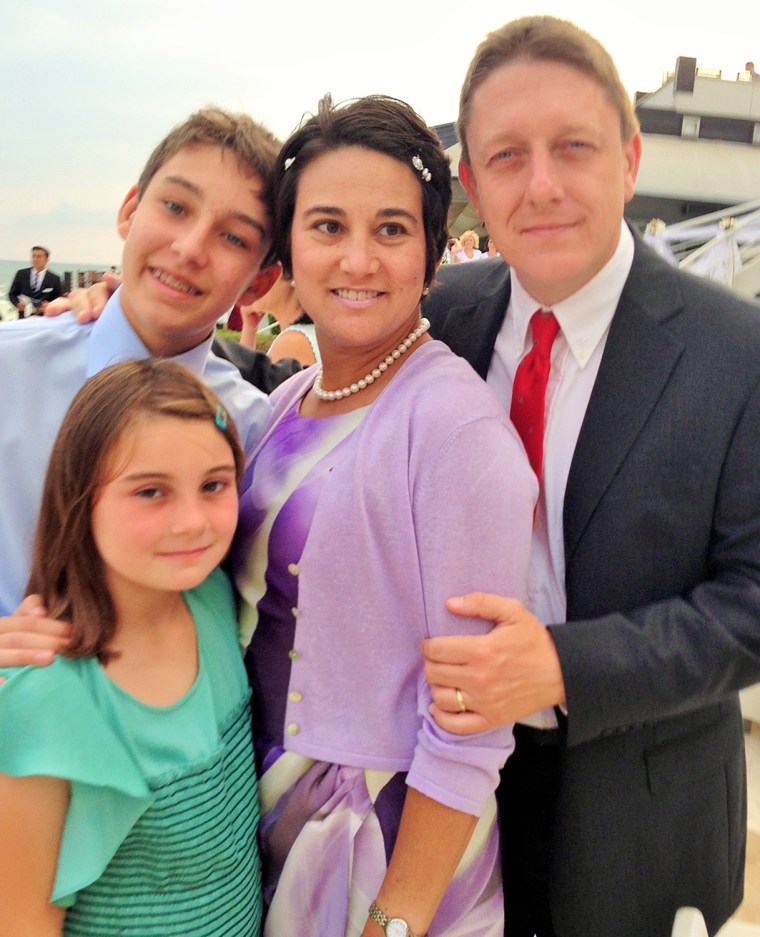 In March 2012 Jalbuena was diagnosed with primary amyloidosis, a rare condition in which some of the bone marrow cells go haywire and start producing abnormal proteins that can gunk up all the major organs of the body. About 3,000 new cases of AL are diagnosed each year, according to the Amyloidosis Foundation.
In Jalbuena's case, there was some good news: only her kidneys were involved so far.
"It was a very heavy diagnosis," she says. "It's very scary when you're 40 and you have two little kids at home."
The best treatment for the disease involves killing off the patient's bone marrow through chemotherapy and sometimes radiation and then transplanting some of her own stem cells that had been harvested and frozen earlier. Those cells migrate to the bones and create new, hopefully healthy, marrow. It's not a cure, but it can be a very long-lasting treatment when it works.
The process was tough. "I came home in mid-July, tired, depressed and bald," Jalbuena says.
Within months, it was clear the therapy was helping. By February, life was starting to come back to normal. Jalbuena was back at work part-time, exercising and traveling with her family.
But then in May 2014 she started to experience intense pain in her spine. She immediately went to her doctors.
Scans showed that the pain in her back was caused by a tumor in the bone. Worse, there were other tumors in bones all over her body. Though she had battled back the amyloidosis, Jalbuena now had developed another type of bone marrow disease, multiple myeloma, a cancer of the very same plasma cells that are involved in amyloidosis.
After hearing the diagnosis Jalbuena and her husband, James, got in the car and drove to a spot where they could look out at the ocean.
"I remember collapsing into his lap and sobbing and saying I can't do this again," she remembers, her voice cracking. "I felt like I had just reclaimed my life and things were going well again. It was really hard."
While it's not unheard of for a patient to have both amyloidosis and multiple myeloma, it's extremely rare, says Dr. Jacob Laubach, one of Jalbuena's current doctors and a professor of medicine at the Harvard Medical School and the clinical director of the Jerome Lipper Multiple Myeloma Center at the Dana Farber Cancer Institute.
Tom Brokaw: Cancer has 'deepened my awe of my wife'
The really bad news was that the best therapy for multiple myeloma wasn't an option for Jalbuena. That's because it is the same therapy she'd been given for amyloidosis and, clearly, it hadn't prevented her from developing multiple myeloma.
The only other option would be getting a bone marrow transplant from someone whose tissues matched Jalbuena's. And that's where things got really tricky.
None of her siblings turned out to be a match. And her particular genetic combination turned out to be exceedingly rare. Jalbuena's mom is of German and Irish ancestry, while her dad is Filipino.
If she'd been Caucasian there would be a 97 percent chance of finding a match among the people who are in the bone marrow registry.
"For Filipinos it's a lot lower, probably closer to 83 percent," says Tonya Davis, community engagement representative for the Be the Match Registry. "And then because Tracy is of mixed race, that poses an extra challenge. Those patients have more varied tissue types."
As of yet, a perfect match hasn't been found among the 11 million Americans who have volunteered to be marrow donors, says her mother, Kathryn Jalbuena.
For more about Tracy Jalbuena visit her page on Be the Match here
Sometimes it seemed to Jalbuena that her daughter's unique qualities were working against her.
"My husband and I have always known that our first born was a one-of-a-kind, with a personality that stands out and shines brightly," says Kathryn Jalbuena. "But when it comes to this misfortune it means no match."
Chemotherapy has bought Tracy Jalbuena some time while her family mounts a campaign to try to get more people of mixed Filipino and European ancestry to volunteer to become donors.
A study published earlier this year in the New England Journal of Medicine found the chemotherapy regime Jalbuena is now taking could keep the disease at bay for more than two years.
If a perfect match is found, Jalbuena has a 30 percent chance of being completely cured, Laubach says.
But, he adds, "the relapse rate at three years is at least 50 percent, if not higher, and there's a high rate of transplant-related mortality — estimated at 15 percent — in contrast to the auto transplant where patients receive their own cells as Tracy did in the past where the mortality rate is less than 1 percent. The [donor]transplant is being considered in her case because the disease has become somewhat aggressive and because she is quite young to have been diagnosed with myeloma."
Ultimately, for Jalbuena, the most important thing is to have as much time with her kids as possible.
"People tell me I am very brave," she says. "But it doesn't feel like that. It's sort of like I just keep waking up every day and doing the things I need to do. "
That could be the very definition of bravery.
Linda Carroll is a regular contributor to NBCNews.com and TODAY.com. She is co-author of "The Concussion Crisis: Anatomy of a Silent Epidemic" and the recently released "Duel for the Crown: Affirmed, Alydar, and Racing's Greatest Rivalry"