Looking at Crosby Gebura's big smile, there's little hint the toddler grew up surrounded by machines keeping him alive. He spent the first 19 months of his life in the hospital — the longest neonatal intensive care unit patient in the history of Cleveland Clinic Children's.
Born three months early, the preemie arrived into the world with a rare birth defect that left some of his organs outside his belly. Many surgeries and setbacks later, Crosby is finally home, celebrating his second birthday and learning to be a typical kid. The hospital calls him a "miracle NICU baby."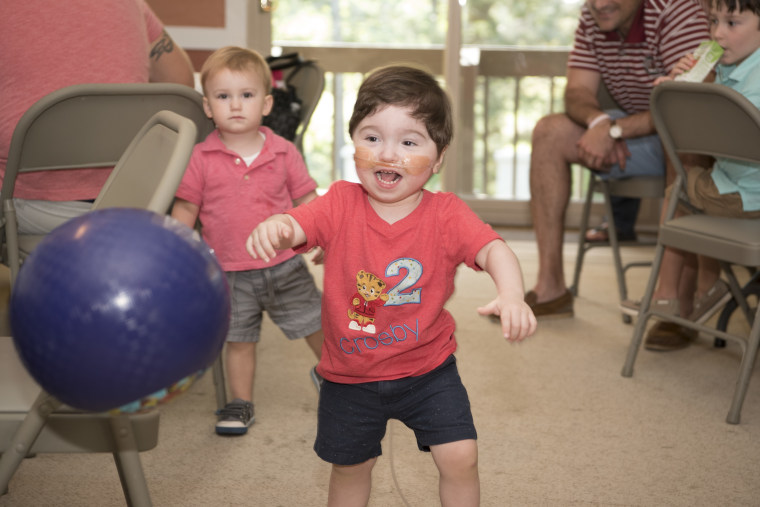 "There were some days where you just lived minute by minute," Crosby's mom, Courtney Gebura, 34, told TODAY about the experience.
"You can't get too high or too low. It's a roller coaster, it's a marathon. You somehow have to find the joy in being a parent and try not to worry about the health part," added his dad, Justin Gebura, 34.
The long medical journey started in the spring of 2015. Courtney's pregnancy had been progressing normally when a 12-week ultrasound revealed the fetus had an omphalocele, an abdominal wall defect that affects one out of every 5,386 babies born in the U.S., according to the Centers for Disease Control and Prevention.
Courtney was expected to carry to full term, but she suddenly went into labor 28 weeks into her pregnancy. After a few days of bed rest to try to give the baby as much time as possible to develop, she gave birth to a baby boy on September 21, 2015. Crosby weighed 2 pounds 8 ounces.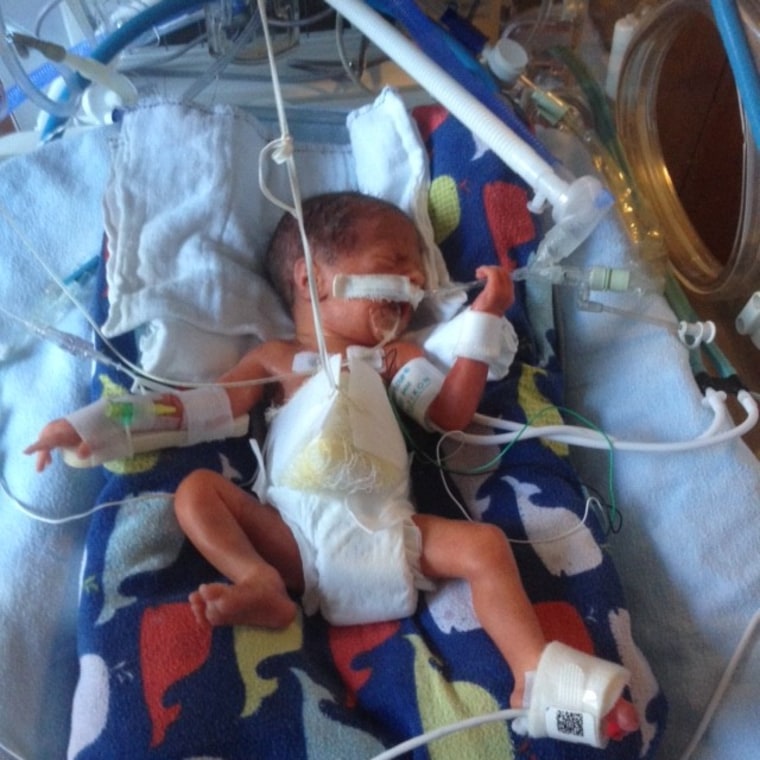 "He was moving, he was kicking, he was feisty from day one, which was definitely going to help us out on that long journey," Justin recalled.
As expected, the little boy's liver and part of his intestines were outside of his belly, covered by a thin layer of umbilical cord, said Dr. Ricardo Rodriguez, a neonatologist at Cleveland Clinic Children's.
Surgeries would fix the defect, but doctors had to wait until Crosby grew a bit. His stay in the NICU began that night. A week later, the baby's condition suddenly deteriorated.
"Being a preemie all by itself is a very high-risk situation and Crosby unfortunately had complications," Rodriguez said.
Crosby suffered a pulmonary hemorrhage, or major internal bleeding from the lungs. He went into respiratory and cardiac distress, and needed compressions to bring him back to life. With a baby this tiny, doctors gently perform chest compressions with one finger, Courtney said. The situation was so dire that she texted Justin, who was at work, "Come quick, we don't know if he's going to make it." Her husband got there in time to see his baby breathing again: "That was super frightening," he recalled.
Crosby depended on a specialized ventilator to keep him alive, Rodriguez said. There were more setbacks ahead. At 2 weeks old, Crosby flat-lined and needed blood transfusions. Just after turning 1, he suffered a partially collapsed lung. There were digestive issues and a cold. He needed several surgeries to fix his birth defect. There were many instances where Rodriguez thought the baby wouldn't make it, but Crosby hung on.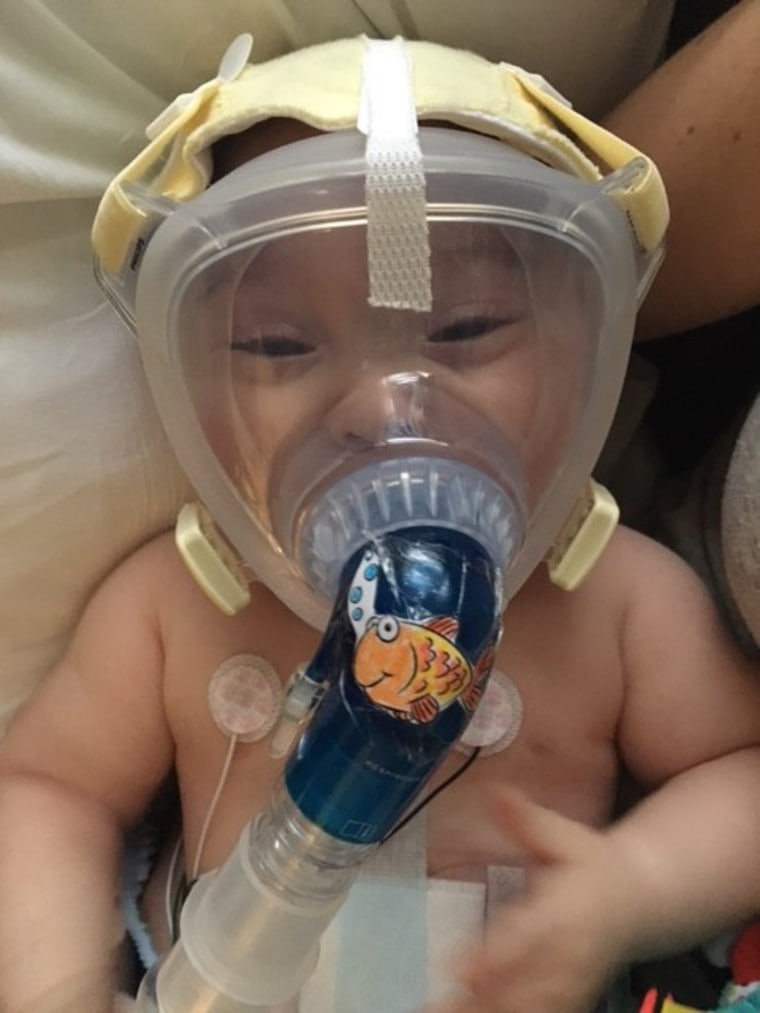 "He came through all of that with flying colors. He's a fighter, I mean, that kid is just amazing. He wanted to live and he was not going to give up, and we were not going to give up either," Rodriguez said.
The Geburas, who live 45 minutes away from Cleveland Clinic Children's in Copley, Ohio, moved into a Ronald McDonald House near the hospital and lived there for more than 18 months. Both worked full-time and then spent most of their waking moments at Crosby's bedside.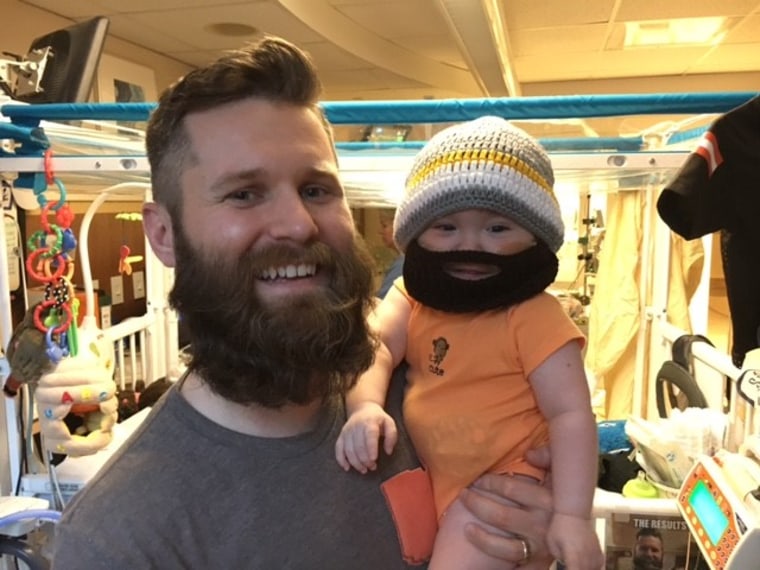 "Our lives were forever changed," Courtney said. The hospital "became our home… it's a totally different world."
Finally, Crosby began improving. He started breathing on his own and with his organs now inside his body, he went home in May. Four months later, he's crawling and walking, and hitting developmental milestones. For everything Crosby been through, he's doing remarkably well, Rodriguez said. The toddler is still on oxygen and slowly adjusting to eating by mouth.
Courtney, who found the medical journey a traumatic experience, is constantly vigilant about his health.
"I want him to live in a bubble so we never go back" to the hospital, she said. "We're so proud of him."