Millennials are entitled, spoiled, lazy, obsessed with social media and lack a strong work ethic... The list goes on. And on. Over the past three decades, millennials have earned a bad rap. But is it really warranted?
TODAY teamed up with Greatist, a health and wellness website for millennials, to find out what this generation is really like. Spoiler alert: They're not all that bad.
"Millennials are a generation that is very much about owning and controlling their destiny in a way that other generations haven't been," said Derek Flanzraich, 29, Greatist founder and CEO.
Like most of us, millennials are happiest spending time with their family and friends. Salary isn't everything: They value finding a sense of purpose in their work more than their income. Though they are arguably the most tech-savvy generation, they feel that human connection is the best way to keep in touch. That doesn't mean millennials don't love social media — in fact, almost 75 percent of them check multiple sites, multiple times a day.
Here are a few more surprising statistics: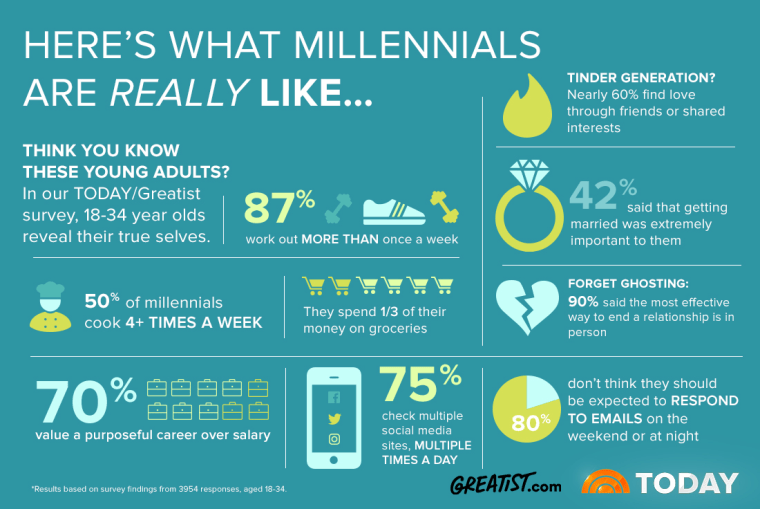 "Most importantly they value happiness — they define success in a different way. This idea that happiness is the outcome as opposed to wealth is a profound shift," noted Flanzaich.
Tune in the rest of the week as TODAY busts more misconceptions about who this generation is and how they work and love.
RELATED:
Millennials: Lazy, entitled — or maybe just young
Millennials are the most likely to use credit cards for small transactions
Botox use among millennials is skyrocketing: Are selfies to blame?