When Mikayla Holmgren glided across the stage during the Miss Minnesota USA pageant last week, she accomplished what no one before her ever had: She became the first person with Down syndrome to compete in the Miss Minnesota USA state pageant.
"I just loved this day," Mikayla told TODAY. "I was on that stage and they called my name, I was in tears. I was very emotional."
In 2015, Holmgren, 22, participated in and won the Junior Miss Amazing competition, which is a pageant for people with disabilities. When she approached her mom, Sandi Holmgren, about entering the 2017 Miss Minnesota USA pageant, her mom said yes. At the time, Sandi had no idea what Mikayla joined.
"It didn't really hit me that it was the Miss USA, Miss Universe pageant. There are so many pageants," Sandi told TODAY. "She chose the pageants of pageants and I got nervous."
But Mikayla felt confident. She has been dancing for 16 years and participated in gymnastics in the Special Olympics. She had advocated for people with Down syndrome at her state government and spoke at the Best Buddies Leadership Conference, an event that brings together leaders with and without intellectual and developmental disabilities.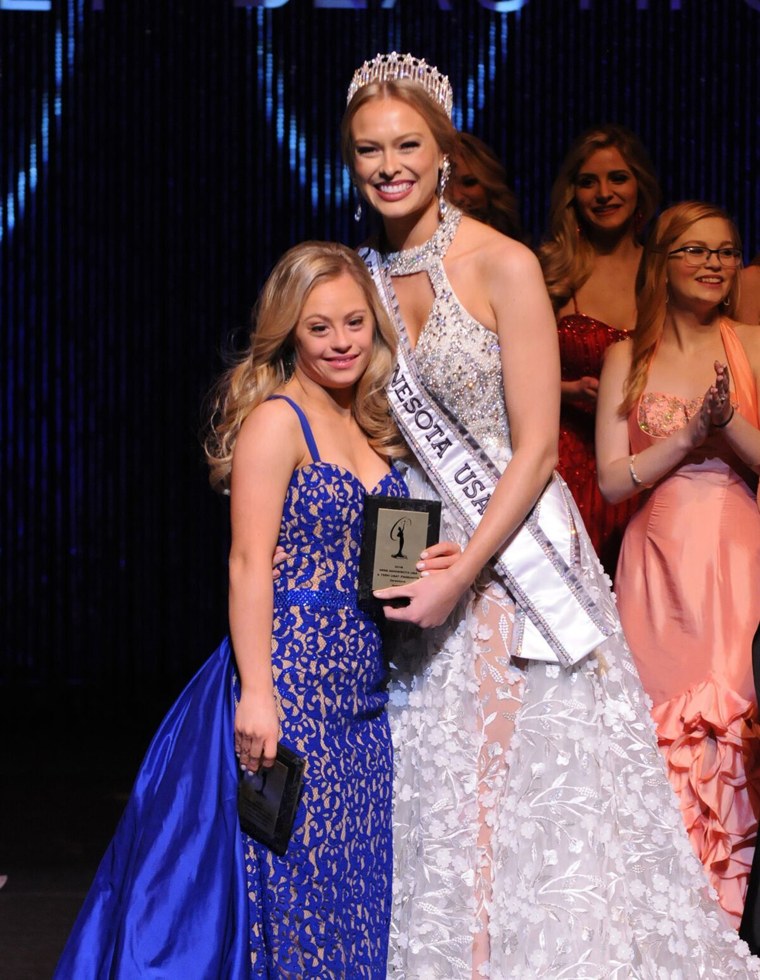 "I was not nervous," she said, about preparing for the pageant.
She practiced walking in heels without tripping and participated in mock interviews. While she enjoyed making new friends, dressing up and performing on stage, Mikayla hoped to set an example for others.
"I want others to believe in themselves," she said.
Before she stepped onto the stage, Mikayla sent her mom a text summing up how she felt:
"I am thankful for the stage, a place for awareness of Down syndrome."
"As if I didn't have enough to cry over before she got out there," Sandi remembered thinking.
While Mikayla did not win the contest, she took home two awards that night, the Miss Minnesota USA Spirit Award and the Director's Award.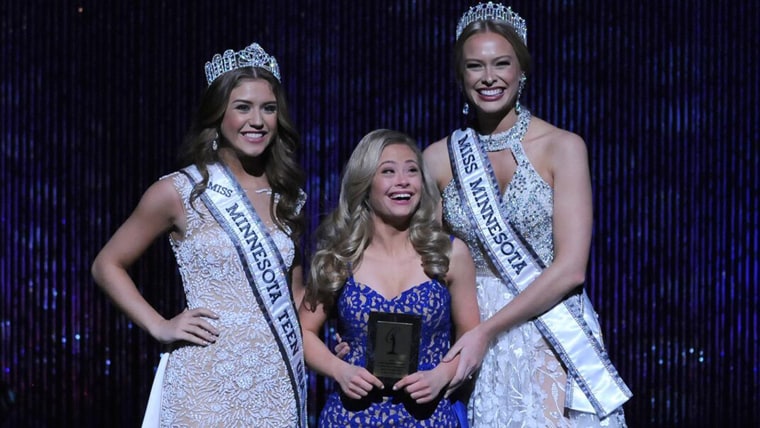 Her acceptance prompted a standing ovation and admiration from the other competitors, who were clamoring to see Mikayla and wiping tears from their faces.
"That spoke volumes of the characters of these participants. I was already crying on stage and I lost it," Sandi, who was watching from the side stage, recalled.
Mikayla also felt moved.
"It was incredible. My mom was in tears, my dad was, too," she said.
Mikayla, who is studying at Bethel University, loved her experience and hopes to do more because she now considers herself a "pageant lady." She believes her performance will inspire others.
"It is making a difference in the world," she said.
When Mikayla was first born, Holmgren said she wondered if the world would accept her daughter because of her differences. She feels proud her daughter is now shaping the conversation about Down syndrome and inclusion.
"This pageant was just another step in showing what inclusion looks like," Sandi said.