As with most micropreemies, life had a harrowing start for Trevor Frolek. Born at just 23 weeks and weighing a little over a pound, the tiny boy fought to survive.
But look at him now.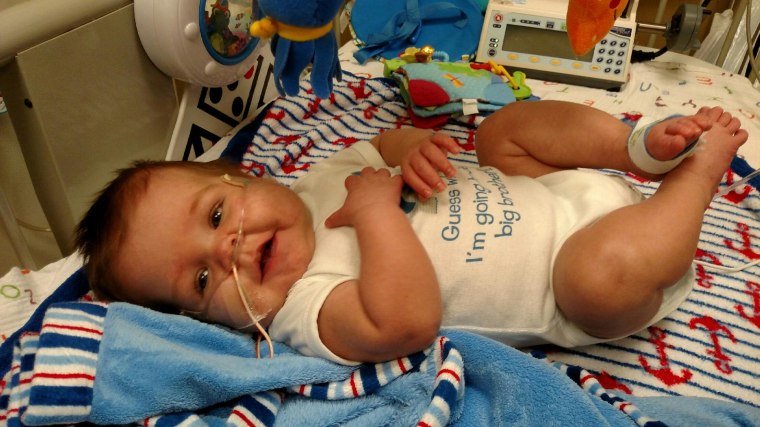 After 345 days in the neonatal intensive care unit at a Fargo, North Dakota, hospital, Trevor is a smiling, 20-pound baby and he's finally home. Both his family and the medical staff celebrated his release with a party last week.
"It's just a complete miracle. The doctors and nurses have worked so hard to get him to this point. It's beyond amazing," his mom Becky Frolek told TODAY.
"You look at him and it's like, 'You are a little miracle. You are supposed to be here,'" added Vicki Holtan, the NICU clinical supervisor at Essentia Health in Fargo where Trevor was born and spent almost a year.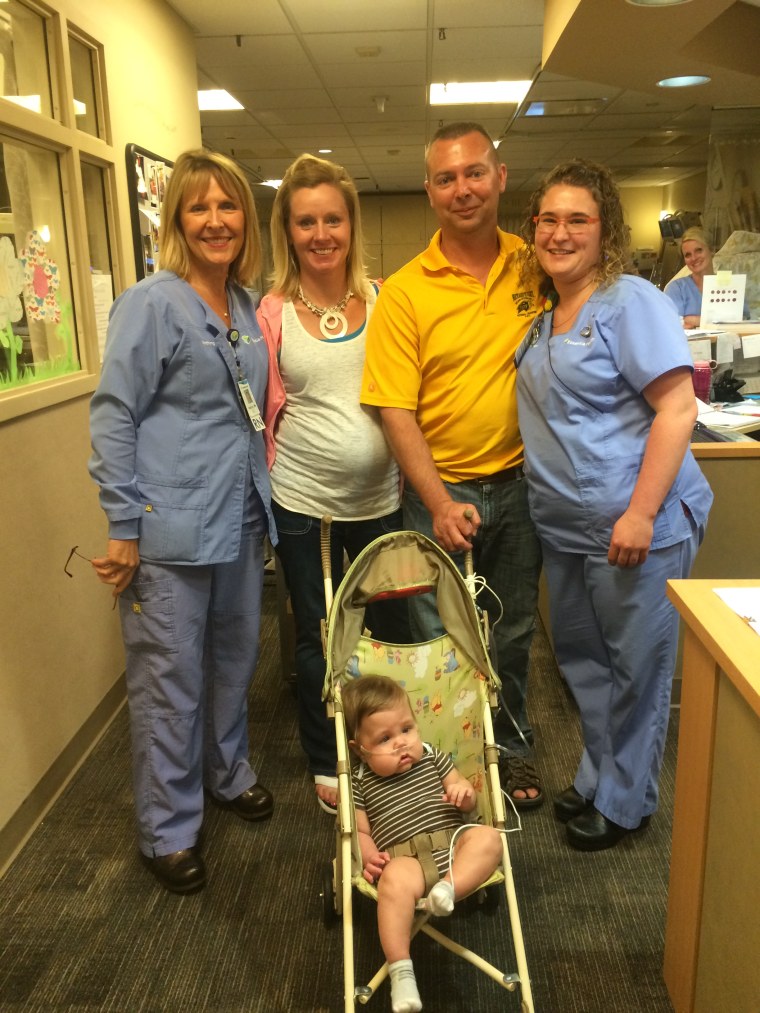 The baby was due last December, but when Becky suddenly began cramping on Aug. 12, 2014, she and her husband rushed to the hospital. There, the tiny boy was quickly came into the world.
Holtan and Erin Kuehl, the NICU's lead nurse, had only 15 minutes to get ready.
They knew what was next. Like most babies delivered at 23 weeks gestation, Trevor did not breathe on his own and needed life support. He was incredibly fragile with skin that was gelatinous, easy to tear and bruise — almost like that of a burn patient, Holtan said. To keep him warm, the nurses wrapped him in plastic.
"My husband just said, 'Save the baby if you can… do whatever you can,'" Becky recalled as the medical team whisked Trevor away.
"(It would be) minute by minute, hour by hour for quite a while."
Read more: Some preemies can survive at 22 weeks, depending on hospital care
Bo Frolek asked that his little boy be baptized just in case he didn't make it. When the priest arrived, Becky finally had a chance to glimpse her son for the first time, but she was afraid of what she'd see. A nurse finally coaxed her inside the NICU.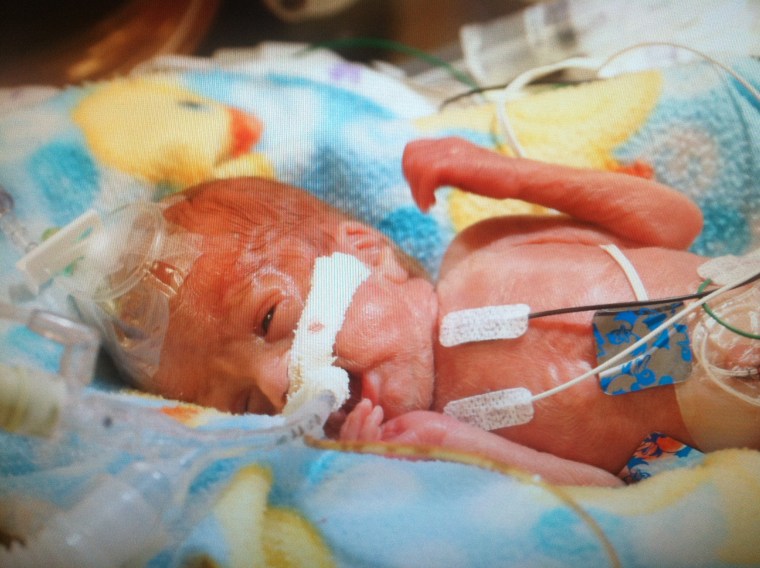 "It was scary but he was more human-like than I expected. All his fingers, all his toes, everything was there just so tiny," she recalled. "His skin was so transparent and fragile."
But the nurses soon saw signs that Trevor was a fighter. He was pink, moving around and upset at all the fuss around him, Kuehl said. That spunk carried him a long way.
Still, there were setbacks. Babies born that early have lots of challenges to all their body systems, Holtan said.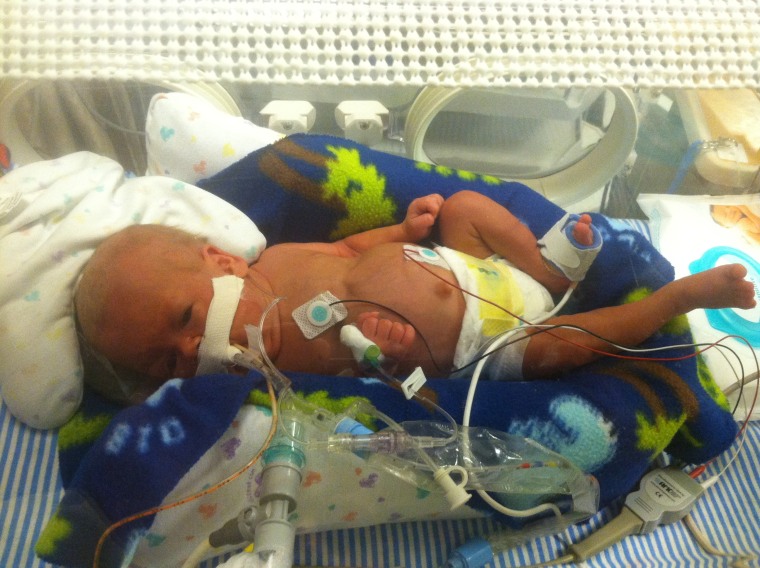 In September, a doctor called the Froleks at midnight and urged them to rush to the hospital. Trevor wasn't doing very well so the couple sat by the baby's side for hours, watching his face and his eyes, which were still fused shut.
"We said bye… we were ready to hold him and let him go, if he needed to," Becky recalled. "By the time we went to sleep, he opened his eyes that night for the first time. So that was kind of our sign that he'd be with us for a while longer. He pulled through that night."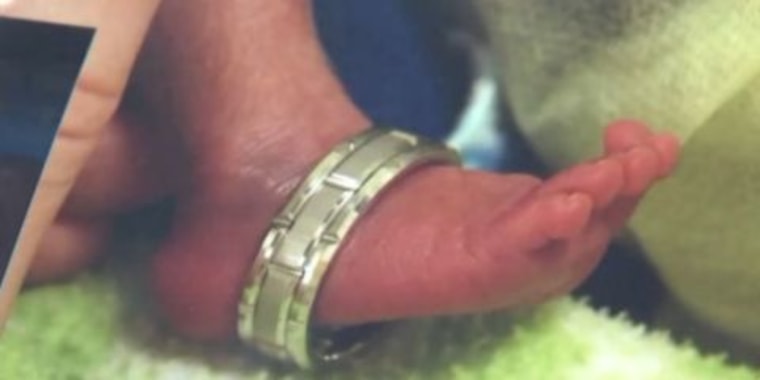 Trevor had to have heart and eye surgery for problems common to micropreemies. He has fragile lungs and has trouble eating, so his NICU stay stretched for longer than everyone imagined.
At 345 days, it was a long stay but not a record, said Dr. Christine Gleason, a neonatologist and medical adviser to March of Dimes. There have been cases of babies staying in the hospital for two years or even longer, she noted.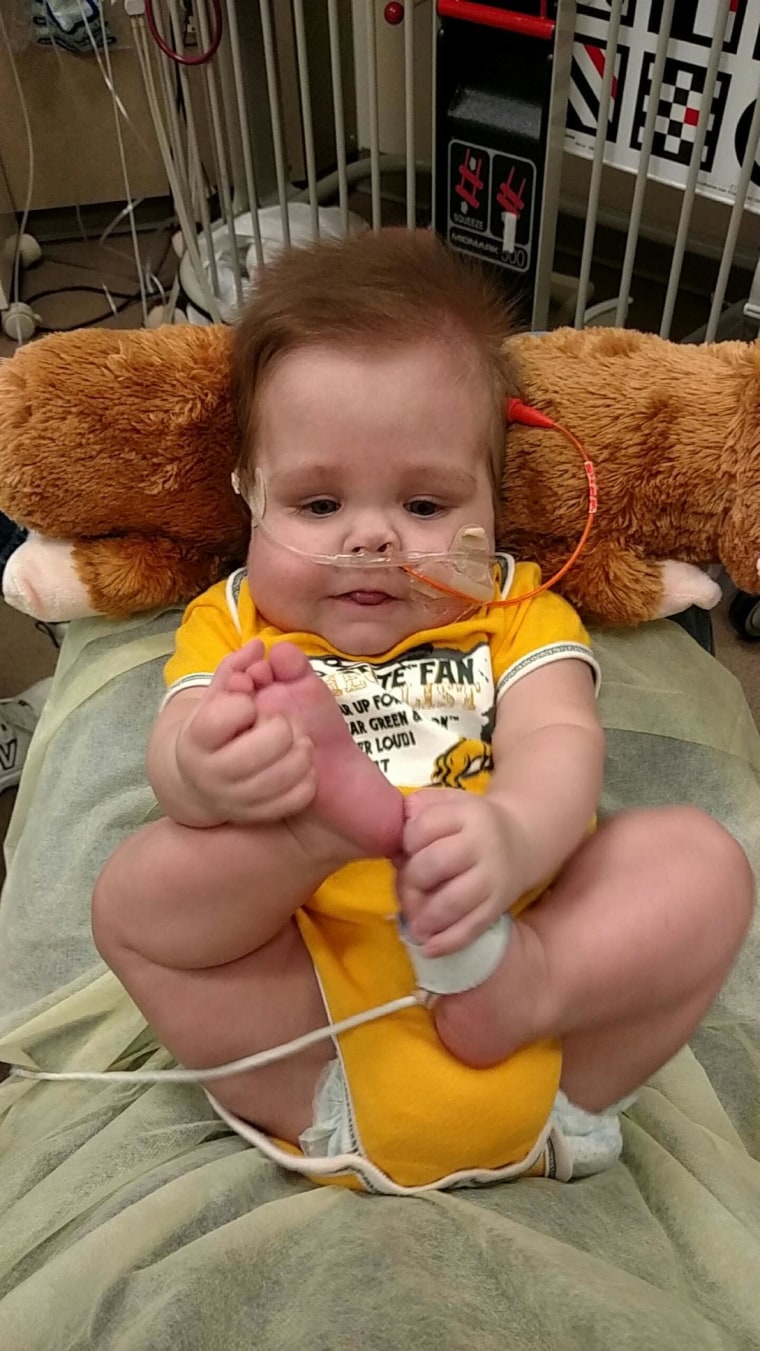 When Trevor was finally discharged last Friday, it was bittersweet for both the family and the medical staff.
"You really do get attached. You get to know the baby and the family," Kuehl said. "Seeing this baby almost not make it, and to have him pull through now and looking at us and smiling at us… Trevor is very special to all of our staff."
Doctors will closely monitor Trevor's condition and any problems that arise. Even though he's at home, he's still on oxygen and has a feeding tube. A heart and oxygen monitor alerts his parents to any issues.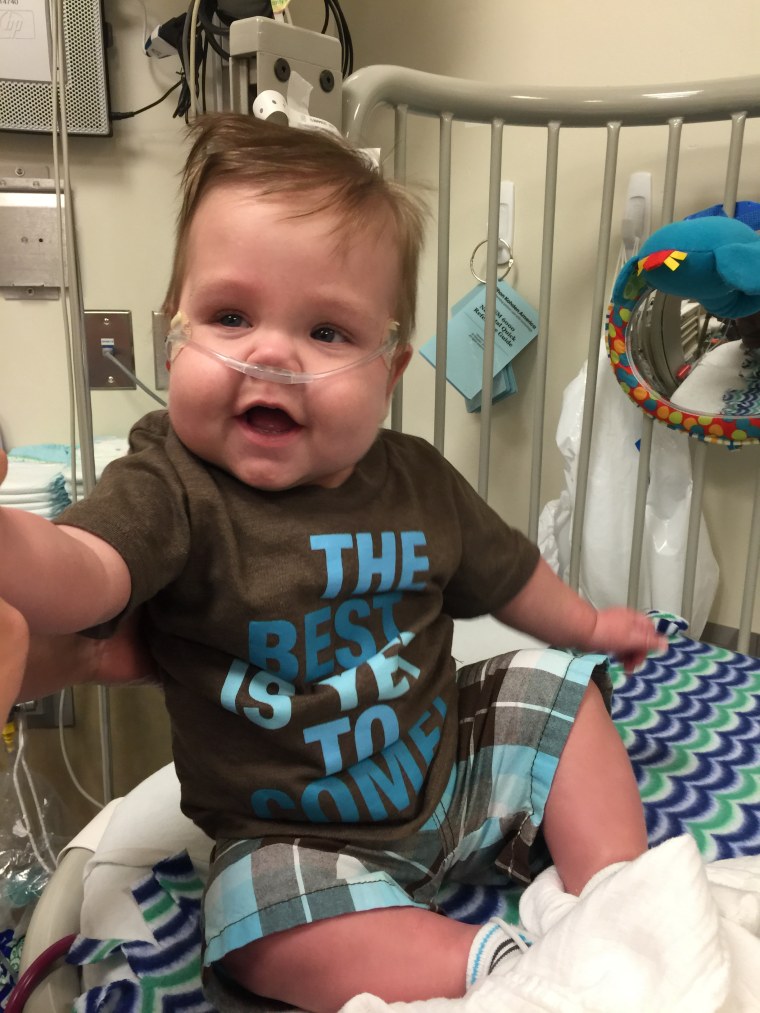 Given his harrowing start, it will be harder for Trevor to meet his milestones and he'll have to have physical and occupational therapy, his mom said. But he has an opportunity to be a pretty normal kid, Holtan said.
Meanwhile, the Frolek family has another reason to celebrate. Becky is pregnant so Trevor, the once-tiny preemie, will soon be a big brother.