Speaking about her son's battle with liver cancer for the first time since his diagnosis in November, actress Luisana Lopilato, the wife of singer Michael Buble, was happy to report that his treatment has been successful.
Lopilato was at a press conference on Tuesday in her home country of Argentina for her newest movie when she provided an update on the couple's son, Noah, 3, who underwent chemotherapy for the last four months in Los Angeles.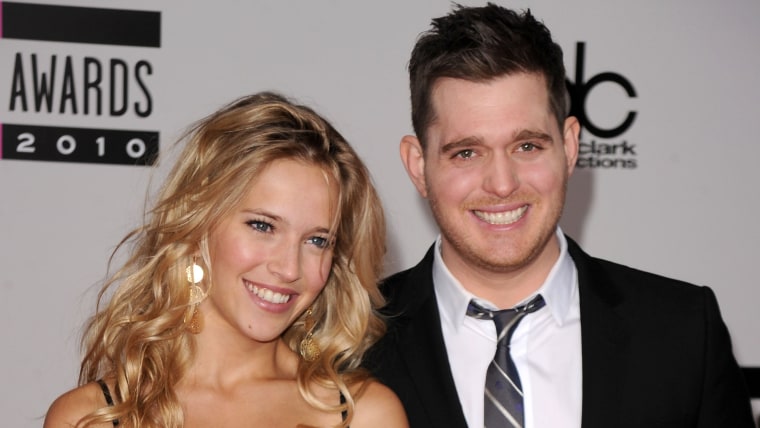 "Thank God, my son is well,'' she said in Spanish. "When things like those that happened to us occur, you take on life changes. It happened to us. Now I value life much more, the now and the today."
RELATED: Michael Bublé says doctors 'optimistic' on 3-year-old son's cancer treatment
Lopilato also expressed thanks for the outpouring of support during an emotional time: "I want them to know that they reached us and that it helped us a lot to come through this. It's difficult for me to speak about this, it's very recent and I'm still a bit sensitive about the subject."
"But the love is daily, when people stop me in the street," she added. "It's wonderful to know that you're accompanied in life and that people love you."
The couple had not spoken publicly about Noah's condition since an update Buble posted to Facebook on Feb. 3 that their oldest son's treatments were going well.
Buble had confirmed Noah had cancer in a Facebook post on Nov. 4 in which he said they were putting their careers on hold to care for him.
Noah continues to return to doctors for checkups, but Lopilato said the outlook is bright. She returned to Argentina to complete the movie "Those Who Love and Hate," after abruptly dropping out when Noah was diagnosed.
"We are very happy,'' she said. "We are looking forward to thinking about the future, to seeing our children grow. Seeing Noah grow and being happy gave me the strength to return and finish this film."
Follow TODAY.com writer Scott Stump on Twitter.