Michael Bublé made his first public appearance since revealing last fall that his son is battling cancer.
The crooner made a rare appearance in Ottawa along with other Canadian entertainers who were honored Wednesday with a National Arts Centre Award. Bublé did not specifically mention his 3-year-old son, Noah, during his acceptance speech but spoke emotionally about his family.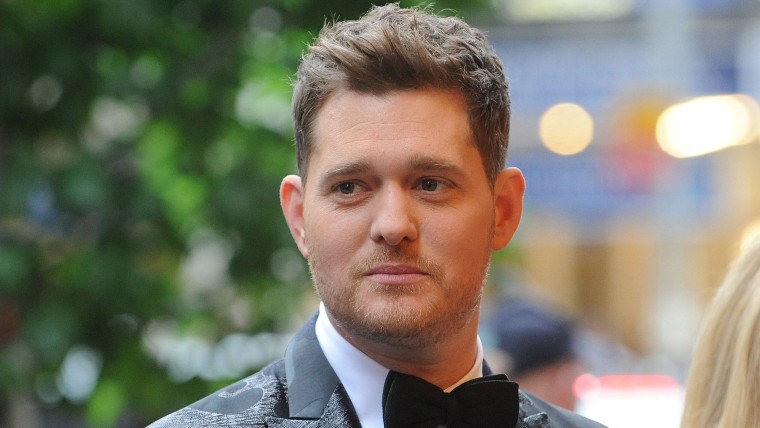 "I stand here truly humbled that I have been allowed to be one of your musical representatives and that you would choose to bestow this honor upon me during what has been an emotional and difficult time for my family," he said.
"I thank you for the love and support that you've given me and for the pride I'm filled with every single time I'm able to stand on a stage and say, 'My name is Michael Steven Bublé and I am Canadian.'"
Bublé, 41, revealed last November that Noah had been diagnosed with cancer and that he and his wife, actress Luisana Lopilato, would put their professional careers on hold while they sought medical treatment for their son in the United States.
The couple, who also have a 17-month-old son, released an update three months later through a joint statement on Facebook, saying that Noah had been "progressing well."
On Wednesday, Bublé thanked his wife, parents, children, siblings and manager for their support.
"There are no words to describe how I feel about you," he said. "Sometimes, 'I love you' just isn't enough because what I feel is just so much more."
Bublé's wife gave another promising update about her son last April during a news conference in Buenos Aires for her film, "Those Who Love, Hate." She said she was "sensitive" about discussing her son but said he continued to do well.
"My son's recovery is a long process as you all know and he has to continue with check-ups," she said, according to People magazine. "But we are very happy. We are looking forward to thinking about the future, to seeing our children grow."