A meteorologist and new mom in Mississippi took to Facebook to hit back at a viewer who made derogatory comments about her weight — posting a screenshot of the scathing email and responding "ugly people always have something ugly to say."
Carrie Duncan, who works for television station WLOX in southern Mississippi, blocked out the name of the sender in the screenshot of the email which she posted last week. The message began, "Why in the world have you continued to tear your health up with all that weight?" The viewer said Duncan, who gave birth to a second child in December, had a "horrid gut" and "huge arms" and "my husband will not watch the news while you are giving the forecast because he finds your appearance repulsive."
But Duncan stayed positive, noting she decided to share the email to show what some people have to go through.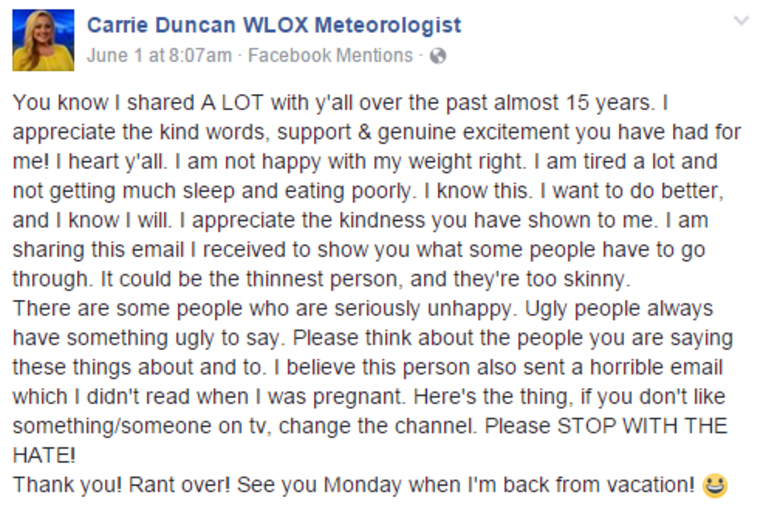 "It could be the thinnest person, and they're too skinny," she wrote. "There are some people who are seriously unhappy. Ugly people always have something ugly to say. Please think about the people you are saying these things about and to … Here's the thing, if you don't like something/someone on tv, change the channel. Please STOP WITH THE HATE!"
Never miss a parenting story with TODAY's newsletters! Sign up here
She also said that she isn't happy with her weight. "I am tired a lot and not getting much sleep and eating poorly," she wrote. "I know this. I want to do better, and I know I will. I appreciate the kindness you have shown to me."
Her response comes as several moms and TV personalities are fighting back against body shamers, including TV news anchor Stacey Skrysak and CNY Central meteorologist Molly Matott.
Duncan, who declined to be interviewed, received thousands of supportive messages.
"You are beautiful! You don't have to explain yourself to anyone!" wrote Shae Armstrong Martin.
"It is sad that someone would write something so horrific," wrote Kim Coleman. "You are beautiful. Don't pay them any attention, they are full of hate."