/ Source: TODAY Contributor
We all may wish we had bosses who congratulated us on our self-care when we told them we were taking a day off, but that isn't always the case.
Most of us try to cram our relaxation into our evenings and weekends. "Mental health days" sound more like unattainable luxuries than part of a normal benefits package.
But that doesn't mean that you can't create a type of mental health day for yourself if you need to. If you're experiencing burnout in the workplace, psychologist Ken Yeager advises asking yourself one important question:
"Can you recharge your batteries in the amount of time you have off?"
Yeager, who is the director of the Stress, Trauma, and Resilience Program at The Ohio State University Wexner Medical Center, told TODAY that if the answer to this question is no, then you have to rethink either how much time you have off, or what you're doing in that time.
Mental health days are in the news this week thanks to Madalyn Parker, a web developer, who took a day off to "focus on my mental health," she wrote to her team. When her CEO responded with praise, she tweeted the email with this message, "When the CEO responds to your out of the office email about taking sick leave for mental health and reaffirms your decision. 100". It's now been retweeted over 10,000 times.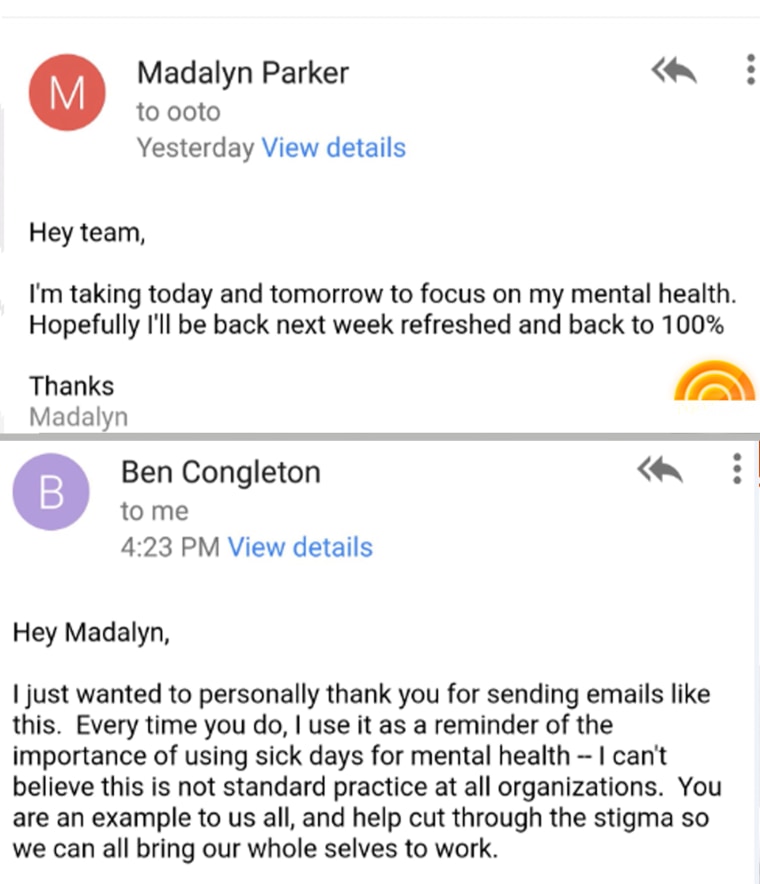 Do you need a break, too?
Signs you may be burnt out at work
You may be in need of a mental health day if:
1. You feel cynical about the workplace, frustrated and stuck in a rut.
2. You feel like your creative energy has been zapped.
3. You dread going into the office or feel a decreased sense of accomplishment.
If you're feeling this way, what can you do? Most people might not feel comfortable emailing their teammates and saying they need to take a mental health day.
Make the most of time off
First, Yeager said, look at what your routine is, especially on the weekends. If you're binging on Netflix or watching HGTV marathons, you may feel like you're relaxing, but you're not actually recharging your batteries — you're just occupying time.
Instead, he suggested, try getting outside, visiting friends or cooking with your family members. Things like taking your kids to the zoo, seeing a show or concert or even just fixing that leaky faucet give you more energy back, too, Yeager said.
"Spend time doing the things you really want to do, but haven't yet accomplished," he advised.
But what if you're making the most of your time off, and you still feel like you're in a rut at work? In that case, it may be beneficial to chat with your boss. You don't have to tell her that you're at your wit's end and need a break. Instead, have a conversation with her about ways you could increase your creative energy, either by moving projects around, switching up tasks among team members and figuring out other ways for you to move, grow and do new things, Yeager said.
You could ask about attending a new workshop, for example, or about traveling to an industry conference. "You want things that can switch up your routine and re-energize you," Yeager explained.
Even simple things, like eating lunch outside or taking a new route to work, can help you feel refreshed, Yeager said.
So don't worry if you can't take an official mental health day for yourself — there are still plenty of other ways to recharge your batteries, and come back to work refreshed.