It's not always easy to find a cool way to convince men that they absolutely must visit the doctor for a prostate exam. But the men of TODAY may have just done it with an important new PSA that aired on the show Wednesday.
In the PSA, TODAY men are shown having lunch out together and squabbling over who gets the check. "Watch What Happens Live's" Andy Cohen somehow gets involved and urges them to all get the check. Get it?
Later on, we get to see Matt Lauer, Al Roker, Carson Daly and Craig Melvin not in their on-air suits and ties, but wearing simple hospital gowns, all prepped and ready for the test.
Prostate cancer remains a major concern for men of all ages. Depending on the study, somewhere between one in eight and one in six men will be diagnosed with it in their lifetime. If you have a family history of the disease, it jumps to one in three, according to the Prostate Cancer Foundation, and African-American men are 73 percent more likely to receive a diagnosis.
And it's not an "old man's" disease by any means. "I'm 44, but I have some history with cancer in my family," notes Daly. "My father died of cancer."
Getting checked is a way to get ahead of those statistics: If diagnosed early, prostate cancer is "like 99 percent curable," says Lauer.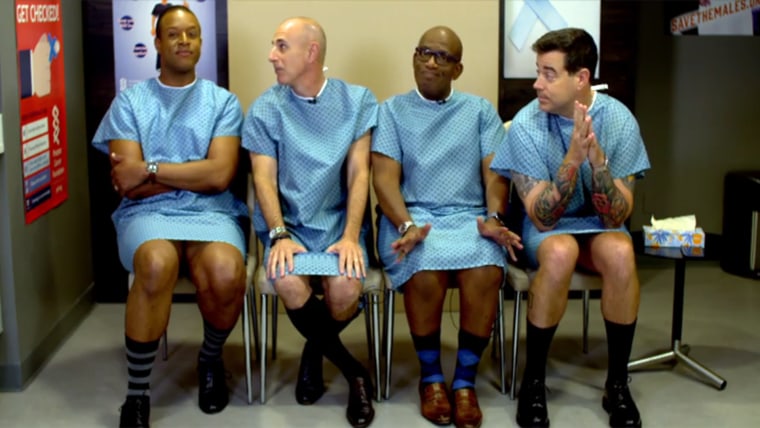 The Prostate Cancer Foundation agrees, noting that "nearly 100 percent of men diagnosed and treated [in local and regional stages] will be disease-free after five years."
"It may be a little embarrassing," says Roker. "It may be minor-ly uncomfortable."
"But it beats the alternative," notes Melvin.
"For a minute or two of your life that could save your life, it's worth it," says Daly. "Real men get checked."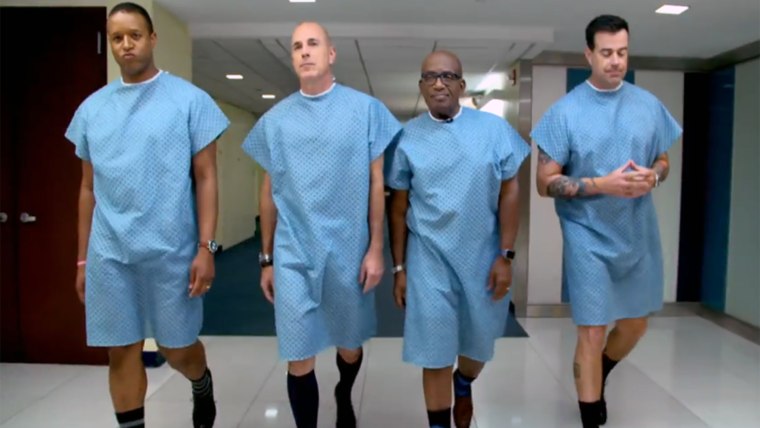 Hey, you know the guys care: Why else would they dress like this on national television?
Follow Randee Dawn on Twitter.