At 18, Alexander Bowerson is already a cardiac arrest survivor.
None of his doctors ever detected an issue with his heart before the emergency, and the teen practiced sports including football, baseball and wrestling.
He and his family didn't know a genetic disorder called hypertrophic cardiomyopathy was changing the structure of his heart, forcing it to work harder during exercise. There was little time to react when the crisis struck out of the blue.
"It was probably about 10 seconds until I was completely unconscious," Bowerson, who lives in Wales, Michigan, tells TODAY.com.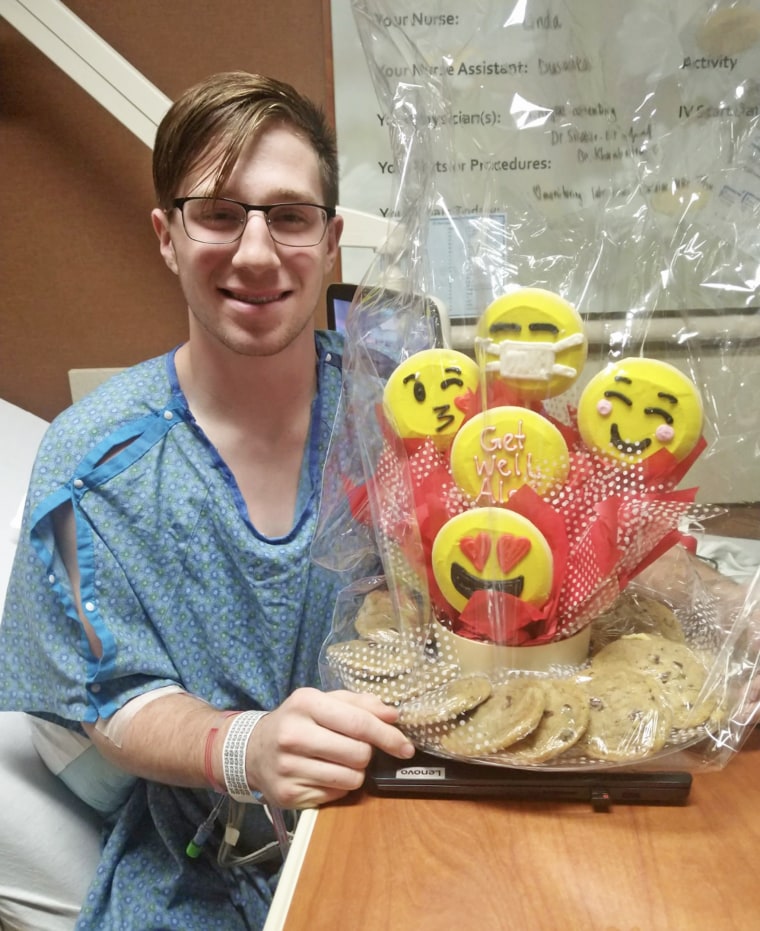 Hypertrophic cardiomyopathy is the No. 1 cause of sudden cardiac arrest in young athletes, doctors said after Bronny James, the 18-year-old son of NBA star LeBron James, suffered a cardiac arrest in July. (James' family has not publicly shared what caused his heart to stop.)
"It's the first thing you think of when you hear about a kid passing out and having an arrest," Dr. Silvestre Duran, medical director of pediatric cardiology at Corewell Health in Royal Oak, Michigan, tells TODAY.com. He didn't treat Bowerson but is familiar with his case.
"Usually the arrest is triggered by exertion — the heart is stressing itself and it's not able to work the way it should."
But parents should know cardiac arrest in children, teens and young adults in their early 20s is rare and there's been no increased prevalence of it in this age group, Duran says.
Dismissed warning signs as 'normal'
Bowerson had felt occasional chest pains and heart palpitations since middle school, but says he didn't think anything of it and didn't mention it to his parents.
"I just thought it was normal and that everyone got it," he recalls.
He also fainted twice during football games. Once during pregame in the locker room — but no one noticed so he went ahead and played the game anyways and felt fine, blaming the episode on exhaustion. The second time he fainted, the teen was just standing when he fell into one of his teammates. But once again, he never thought anything of it.
Everything changed on December 15, 2022.
Bowerson had just started wrestling practice at Memphis Junior/Senior High School in Memphis, Michigan, and had been jogging for a few minutes when he felt a tight pain in his chest.
"It was a lot worse than usual," he recalls. "It was when I got this chest pain that I was like, 'Maybe this isn't normal.'"
The teen says he fell to his knees because he was too weak to stand and tried to set his hand on his chest to indicate his heart, but couldn't move after about five seconds and passed out.
Bowerson says he then felt the presence of two angels and had the sensation that "everything's going to be OK," he recalls. "Then suddenly, it felt like I spun around and there I was back on the high school floor."
While he was unconscious, the school's cheer coach, who is also a registered nurse, rushed to perform CPR and then used an automated external defibrillator to restore his heart's normal rhythm. Bowerson says she saved his life.
What is hypertrophic cardiomyopathy?
The inherited condition happens when abnormal genes cause the heart muscle to become thicker than normal, which can reduce blood flow in and out of the heart, according to the American Heart Association. It estimates 1 in every 500 people have the condition.
In many young adults, the first symptom is a sudden collapse and possible death, the National Library of Medicine warns.
Others, like Bowerson, have warning signs such as chest pain with physical exertion, shortness of breath that's out of proportion with the amount of exercise a person is doing or fainting episodes.
"Sometimes, teenagers will kind of brush them off," Duran says. "But if you're an athlete, especially… that's something you should be aware of."
The heart can start out as normal, but the condition can progress and get worse over time, he adds.
'I want to be a cardiologist now'
After he was revived, Bowerson spent six days in the hospital. Tests including an echocardiogram and a cardiac MRI confirmed he had hypertrophic cardiomyopathy. An implantable defibrillator was placed under his skin to monitor his heartbeat and deliver a shock if it ever loses normal rhythm again.
He feels fine, but can no longer wrestle, play contact sports or do strenuous weight lifting. The limits are meant to protect his heart and implanted defibrillator.
Bowerson, who graduated from high school in May, changed his major after the ordeal. He was planning to become a pilot, but that's no longer an option because of his heart disease. He'll be a freshman at the University of Michigan this fall and plans to major in biomedical engineering — a pre-med track.
"I want to be a cardiologist now and help people who went through what I went through," Bowerson says.
What parents need to know:
Duran's health system offers the Beaumont Student Heart Check, which was developed to detect abnormal heart structure or rhythms in teens 13 to 18 years old. Such programs can help detect hypertrophic cardiomyopathy, he says.
But heart-specific screening is not recommended by the AHA for every single pediatric patient, Duran notes.
The American Academy of Pediatrics urges primary care physicians to ask every child four questions to detect potential heart problems. They include:
Have you ever fainted, passed out or had an unexplained seizure suddenly and without warning, especially during exercise or in response to sudden loud noises such as doorbells, alarm clocks and ringing telephones?
Have you ever had exercise-related chest pain or shortness of breath?
Has anyone in your immediate family or other more distant relatives died of heart problems or had an unexpected sudden death before age 50?
Are you related to anyone with hypertrophic obstructive cardiomyopathy, Marfan syndrome, arrhythmogenic right ventricular cardiomyopathy, long QT syndrome, short QT syndrome, BrS, or CPVT or anyone younger than 50 years with a pacemaker or implantable defibrillator?
If any concerns show up during that screening, the child is typically referred to a cardiologist, Duran says.